Sacramento Wrongful Death Lawyer
If you suffered the untimely death of a loved one due to another person's or entity's negligence, contact the Sacramento wrongful death attorneys at Rosenthal Law. Family members who lose loved ones may sometimes obtain compensation and justice for their loss through a wrongful death lawsuit.
At Rosenthal Law, our wrongful death lawyers are profoundly compassionate and have more than 25 years of legal experience to offer clients. We operate our law firm with integrity and want to provide families with a sense of closure and any financial resources they need to move forward with their lives.
At Rosenthal Law we provide our clients:
Personalized service
Answers to any questions regarding a family's legal rights
Regular communication and case status updates
Our legal team offers a free consultation and does not charge any upfront legal fees. Contact Rosenthal Law today to learn more about your potential wrongful death claim. We only get paid if we recover compensation for you.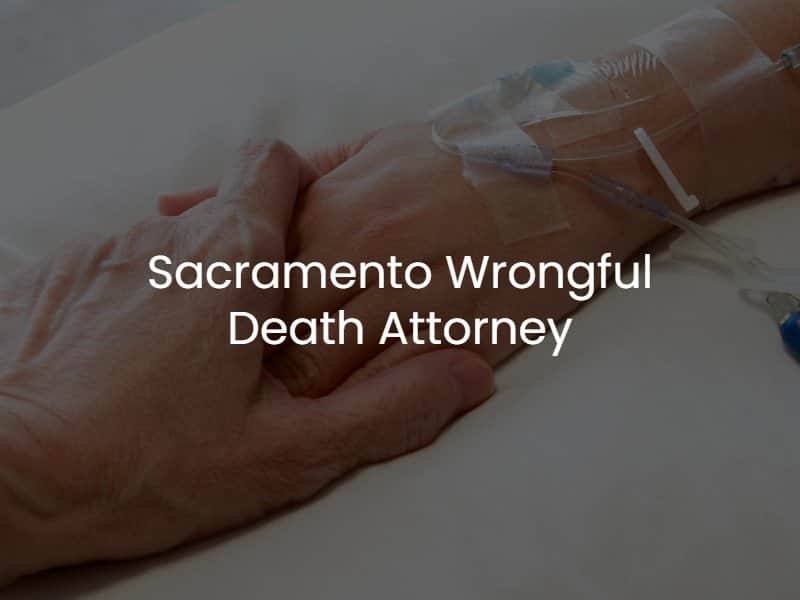 Content
What is Wrongful Death in California?
A wrongful death occurs when a person dies due to someone else's negligence or wrongful actions. Specific surviving family members are eligible to seek compensation for their loved one's medical and funeral expenses, as well as other economic and noneconomic losses that family members suffered due to their loved one's death.
Do I Have a Wrongful Death Case?
Under California law, a wrongful death claim will arise when a person dies due to the wrongful act or negligence of another person, business, or entity. There are various elements that need to be in place for a wrongful death claim to be successful. These elements can be determined by asking and answering a few questions.
Was the Duty of Care Established?
The first element that needs to be proven in a wrongful death claim is that there was a duty of care established between the victim and the alleged negligent party (the defendant). The duty of care is going to vary from case to case, depending on the situation. For example, licensed drivers that get behind the wheel owe a duty of care to drivers, passengers, and bystanders around them. Doctors have a duty of care to their patients. If there is no duty of care established, then it will be hard to prove the wrongful death. 
Was the Duty of Care Breached?
Once a duty of care has been established, it needs to be shown that the defendant breached that duty. This means that defendant failed to act in a way that a reasonable and responsible person would. For example, if a driver gets behind the wheel while intoxicated, they have breached their duty of care owed to other drivers on the roadway. Drivers that run stop signs are also breaching their duty of care by not following traffic laws. 
Did the Breach of Duty Cause the Injuries?
Simply breaching a duty of care is not enough for a successful wrongful death claim. It must be shown that the defendant's breach of duty directly caused the injuries that led to the death of the victim. For example, if a driver runs a stop sign and strikes another vehicle because of this violation, this shows that the driver's negligent actions directly led to the crash and likely the fatal injuries. However, if the victim's death had nothing to do with the defendant's decision to run the stop sign, then they cannot be held accountable for the death (i.e. the victim died due to another medical condition, not the trauma of the injuries). 
Who is Eligible to File A Wrongful Death Lawsuit?
The California Code of Civil Procedure 377.60 is specific about which parties are allowed to bring wrongful death lawsuits in the event someone dies due to the careless or negligent actions of another. Specifically, the following people are allowed to file wrongful death lawsuits in California:
The surviving spouse of the deceased.

The domestic partner of the deceased. 

The children of the deceased.

If there is no surviving person in the deceased's line of descent, then a California wrongful death claim can be brought by any person who would otherwise be entitled to the property by intestate succession. This can include the deceased's parents or siblings.
Additionally, if a person can show that they were dependent financially on the deceased person, and they also have the right to bring a wrongful death claim in the state. This can include:
The "putative" spouse of the deceased and children of the putative spouse. 

The stepchildren of the deceased. 
Why Should I Hire a Wrongful Death Lawyer?
At Rosenthal Law, we know it is challenging to manage grief while pursuing a legal claim. It is our goal to take the burdens associated with a legal claim from you. The Sacramento wrongful death lawyers at Rosenthal Law will handle your legal claim from start to finish and keep you informed every step of the way.
Allow Rosenthal Law to:
Manage all insurance company communications
Contact bill collectors and inform them of when to expect payment
Investigate your loved one's death and collect evidence
Identify all possible sources of compensation
Calculate the full present and future costs and losses as a result of your loved one's death
Aggressively negotiate with insurance companies to obtain a fair and just settlement
Take your case to court if the insurance company refuses to pay sufficient compensation
Our wrongful death attorneys are dedicated and determined to any responsible party(s) accountable for the harm they caused you and your family. At Rosenthal Law, we want to place you and your family in the best situation possible. Contact our Sacramento personal injury lawyers today as there are time limits to file.
Statute of Limitations in a California Wrongful Death Case
Each state is responsible for setting a time limit for how long family members and the estate of a deceased person have to file a civil lawsuit against alleged negligent parties. The California wrongful death statute of limitations is two years from the date of death. 
For survival action claims (claims that are similar to wrongful death claims but specifically seek compensation for survivors), the statute of limitations is two years from the later of the following:
The date of an injury that caused the death 

Six months after the death 
Due to the complexity of these cases and the strict time limits in place to file claims, it is important to work with a Sacramento wrongful death attorney as soon as possible to ensure you receive the maximum compensation and closure you are entitled to. 

What Compensation is Available in a Wrongful Death Claim?
The amount of compensation available in a wrongful death claim in California depends on the facts of an individual case. However, the types of damages do not vary. Damages are divided between compensation for monetary losses (economic damages) and compensation for personal losses (non-economic damages).
Compensation for monetary losses are associated with the death and are meant to compensate the estate. They have fixed dollar amounts and may include:
Funeral and burial expenses
Medical expenses and medical bills for the deceased, including hospital bills
Lost income and future earnings for the deceased
Compensation for personal losses are tailored to the surviving family members and may include:
The value of household services
Loss of love
Loss of companionship
Punitive damages may also be recovered in a wrongful death lawsuit in the state of California.
Common Causes of Wrongful Death
Wrongful death cases arise in numerous ways in and around the Sacramento area. At Rosenthal Law, our qualified wrongful death attorneys have extensive experience helping clients who have been injured due to the following fatal accidents:
Commercial truck accidents

Motorcycle accidents

Bicycle accidents

Uber and Lyft accidents

Autonomous vehicle accidents

Construction excellence

Property owner negligence incidents

Swimming pool accidents

Medical malpractice
This is certainly not an all-inclusive list of the ways people lose their lives due to the negligent, careless, or intentional actions of others. You should speak to an experienced Sacramento wrongful death lawyer about your case as soon as possible to determine the best steps of moving forward for your situation. 
Who Can Be Held Liable in a Wrongful Death Case?
There may be various parties that could be held liable in a wrongful death claim in California. The negligent party that causes a wrongful death can generally be held accountable for the pain and suffering of the survivors. The alleged negligent party could be responsible for paying financial compensation to surviving family members for their losses.
It is not uncommon for the attorneys at Rosenthal Law to determine that the following types of individuals are responsible for the wrongful death of another:
A driver

A doctor or surgeon

A person who breaks the law

A property owner

An employer

A business owner

A government entity 
It could also be the case that more than one party is responsible for the death of another. For example, suppose a person needs to have a hip replaced. Tragically, the hip that was implanted was defective and ultimately led to the death of the patient. 
In this situation, a lawyer will look at both the surgeon who implanted the device as well as the company that manufactured the device for liability. Perhaps the surgeon implanted the device incorrectly. Alternatively, it could be the case that the manufacturer released a faulty or defective product. During the course of an investigation, it could even be determined that the surgeon and the device manufacturer were working together to encourage patients to implant these devices, even though they knew there was a chance they could cause death. 
Determining liability in a wrongful death case can be incredibly difficult, and it is important to have a skilled Sacramento wrongful death lawyer involved as early as possible to ensure the case is handled properly. 
Contact a Sacramento Wrongful Death Attorney Today
If you have lost a family member due to the careless, negligent, or intentional actions of another party, contact Rosenthal Law as soon as possible. We pledge to conduct a complete investigation into your case in order to secure the financial support and compensation you are entitled to. Our wrongful death lawyers in Sacramento believe every individual who suffers human loss due to the wrongful act of another deserves to be held accountable.
Our Sacramento county law firm proudly serves the Sacramento area and may be able to help you recover financial compensation for the loss of a loved one through a wrongful death suit. We can help guide you during your legal process and this difficult time.
"David Rosenthal will really be on your side, be compassionate, and loyal to you and your case. Thank you so much to David Rosenthal and to his dedicated team." – Rachel