Roseville Spinal Cord Injury Attorney
Suffering a spinal cord injury can be a life-altering experience, affecting not only the physical and emotional well-being of the victim but also their financial stability. Seeking legal representation from a skilled and experienced Roseville spinal cord injury attorney can make all the difference in obtaining the compensation and justice you deserve.
With years of experience in handling complex spinal cord injury cases, we understand the physical, emotional, and financial toll that such injuries can take on a person and their family. Let Rosenthal Law help you recover compensation today.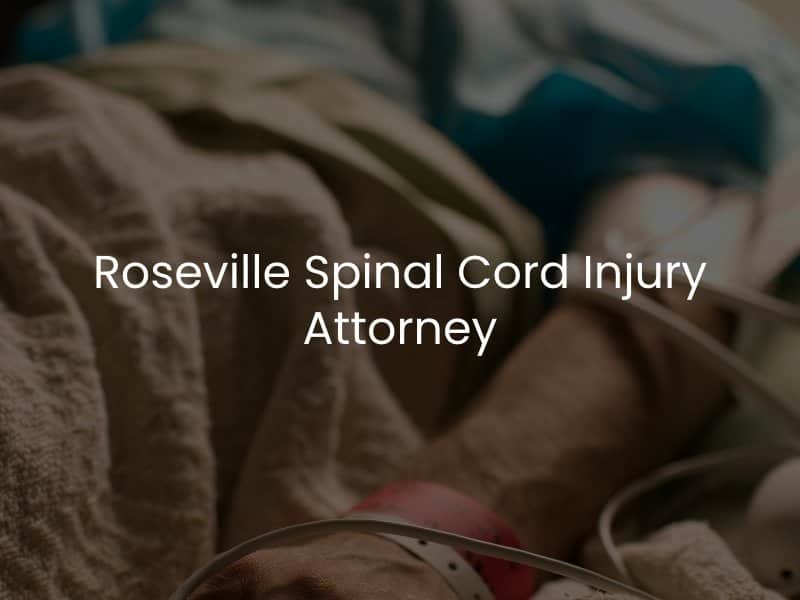 How Can a Roseville Spinal Injury Lawyer Help My Case?
There are often significant complications that arise with a spinal cord injury claim in the Roseville area. It is not uncommon for those accused of causing the injury to rely on insurance carriers and legal teams to help them pay less compensation. If you have a skilled Roseville spinal injury lawyer by your side, you will have an advocate ready to handle every aspect of the claim on your behalf.
An attorney will be the one to handle all investigations into the incident in order to determine liability. They will help properly add up all compensation that you should be owed and handle communication with the insurance carriers. If necessary, a Roseville personal injury attorney will vigorously pursue full compensation through a personal injury trial against the at-fault party.
What Damages Can I Recover for My Injury?
According to the National Spinal Cord Injury Statistical Center (NSCISC), the medical costs for treating a spinal cord injury can be tremendous. The first year of care can range anywhere from around $375,000 to more than $1 million, depending on the level of severity of the injury. However, every year after the first also results in injury expenses rising upwards of $200,000 annually. Unfortunately, these are just the medical costs associated with a spinal cord injury.
Spinal cord injury victims will also sustain various other losses, including lost wages, new household and transportation expenses, as well as tremendous loss of quality of life damages. At Rosenthal Law, our goal is to ensure Roseville spinal cord injury victims recover compensation for all medical bills and every other expense they incur as a result of the negligence of another party.
Statute of Limitations for Spinal Injuries
Spinal cord injury victims in the Roseville area need to file their claims as soon as possible. The statute of limitations for California is two years from the date an injury occurs. If a spinal cord injury victim fails to file a lawsuit against the alleged negligent party within this timeframe, their ability to recover compensation will essentially disappear.
Additionally, we encourage you to work with a skilled spinal cord injury lawyer who can ensure the claim gets filed on time, not just at the civil court level but also with the insurance carriers. Each insurance carrier will have its own reporting deadline that must not be missed.
Speak with a Roseville Spinal Injury Lawyer Today
If you or somebody you care about has sustained a spinal cord injury caused by the negligent actions of another entity or individual, reach out to the team at Rosenthal Law for help today. We have extensive experience handling complex injury claims throughout California, and we have the resources necessary to take on the at-fault parties. Let us get to work when you need a Roseville spinal cord injury attorney. You can contact us for a free consultation by clicking here or calling us at (916) 774-7200.