Sacramento Recreational Vehicle Accident Attorney
The experienced Sacramento recreational vehicle accident attorneys at Rosenthal Law have helped many clients involved in RV collisions and understand how easily a simple motor vehicle crash can result in a serious or deadly injury. These types of vehicles can often involve legal regulations that do not apply to most vehicles, especially if the RV was rented, borrowed or previously owned.
Rosenthal Law has been helping injury victims in Northern California for more than 25 years. Call (916) 774-7200 to learn more about our firm's successful history handling RV accidents and to discuss your options with a lawyer today. Our personal injury lawyers in Sacramento investigate collisions to ensure that the responsible parties are held accountable, whether it is the dealer, installer, manufacturer, municipality or another driver.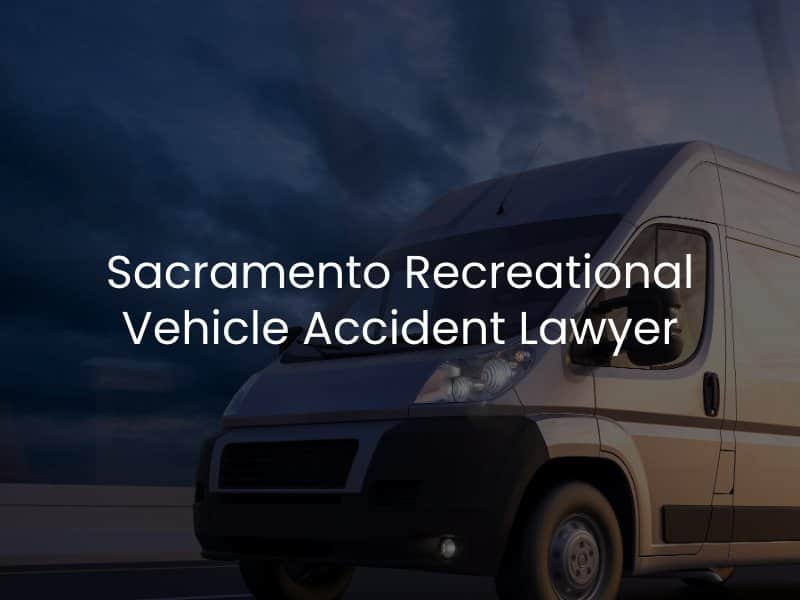 How a Sacramento Recreational Vehicle Accident Attorney Can Help
With more recreational vehicles on the road every day, it is clear that families are continuing to enjoy using RVs for vacations, road trips, and cross-country transportation. Despite their popularity, however, these vehicles are still prone to accidents, and especially rollovers.At Rosenthal Law, our team has a deep understanding of how injuries can affect individuals and their families, and we strive to help clients recover the compensation they need.
For more than 25 years, we have been trusted by injury victims and their family members as we stand up to insurance carriers and at-fault parties on their behalf.
Our team of Sacramento accident attorneys never collect any legal fees until after we successfully recover the compensation our clients need. If we do not win the claim, clients pay nothing.
We can come to you if you cannot make it to our offices. We will meet you at the hospital, a rehabilitation facility, or at your home if necessary.
What Damages Can I Recover after an RV Accident?
After an RV accident occurs, individuals may be able to recover various types of compensation. If another party was responsible for causing the incident, RV accident victims should be able to recover both economic and non-economic damages. At Rosenthal Law, we strive to recover the damages needed to help make our clients "whole."
Economic Damages
Economic damages revolve around the most common expenses people think about after a serious accident occurs. These are the calculable losses victims are likely to sustain as a result of the incident. Using receipts, bills, and other documentable methods, some of the most common economic damages sought in these cases include the following:
Any emergency medical expenses
Follow-up hospital or surgical needs
All follow-up doctor visits
Rehabilitation or physical therapy
Lost income or loss of future earnings
Property damage expenses
Non-Economic Damages
Non-economic damages cover a different aspect of the compensation prism, focusing on losses that are not as easily calculable after an RV accident occurs in Sacramento. These types of losses do not have receipts or bills that can necessarily be added up, but the losses are equally as important. These types of damages include physical pain and suffering damages, emotional and psychological trauma, loss of quality of life, and loss of enjoyment of life.
How Much Compensation is Available?
There is no set amount of compensation paid to recreational vehicle accident victims if their claim is successful. Rather, several factors can influence total compensation amounts. We strongly encourage you to speak to a Sacramento recreational vehicle accident lawyer about how much compensation you may be able to expect for your particular case.
Some of the factors that can influence compensation include the severity of the initial injury, the extent of medical care needed, how long it takes a person to recover, whether or not they are able to earn an income during the recovery process, and other factors.
Determining Fault in an RV Accident
Determining liability after an RV accident can be challenging. Just like any other vehicle accident, an RV incident must be thoroughly investigated by various individuals. First, law enforcement officials need to come to the scene of an RV accident in order to conduct an initial investigation. Additionally, individuals involved in the incident need to use various tools at their disposal to record the scene. This can include using a cell phone or another type of camera to take photographs of vehicle damage, injuries, possible causes of the crash, and more.
There may also be video surveillance footage from nearby cameras on homes or businesses or perhaps a dashcam. Eyewitnesses to the incident could provide valuable statements to insurance carriers or a personal injury, so their contact information should be written down promptly.
We strongly encourage working with a recreational vehicle accident attorney in Sacramento who can get involved quickly. An attorney can more thoroughly investigate the incident and work to uncover all possible liable parties. Ultimately, an attorney will need to show that the alleged negligent party owed a duty of care to the plaintiff (the injury victim) and that they breached their duty of care in some way. If the attorney can show that the breach of duty led to the plaintiff's injuries and that the plaintiff sustained some sort of monetary loss, there is a good chance the claim will be successful.
What Types of Accidents Are Caused by RVs?
There are various types of accidents that can be caused by an RV and an RV operator. This includes, but is not limited to, the following:
Rear-end accidents. Because these vehicles are often heavier than passenger vehicles, it is important for RV drivers to keep their distance while following others. If an RV driver does not take proper precautions, this could increase the chance of a rear-end accident occurring if other vehicles on the roadway have to come to a quick stop.
Sideswipe accidents. Sideswipe accidents could occur if an RV driver fails to check their blind spots before performing a lane change.
Turning incidents. Turning becomes much more of a challenge when a vehicle is longer. For longer RVs, particularly Class A and Class C RVs, drivers could misjudge a turn and strike another vehicle during the turn process.
Tire blowout incident. RV tires should be regularly inspected for any defects in order to avoid a tire blowout incident on the roadway.
Causes of Recreational Vehicle Accidents
There are various types of accidents that could be caused by RVs on the roadway. Just like any other larger vehicle on the road today, these types of vehicles have the potential to cause significant damage to smaller vehicles on the roadway. However, RVs and motorhomes do not undergo the same type of rigorous crash testing as automobiles, so they are not as safe during a crash.
Some of the most common causes of RV accidents include:
Fatigued driving. Individuals who operate RVs are often driving for long periods of time. It is safer for drivers to swap out and share driving responsibilities or for a driver to pull over and sleep if needed. Driving while fatigued is incredibly dangerous.
Strong winds. Because RVs sit higher off the roadway than most other vehicles, they are more susceptible to strong winds while driving. Windy conditions can send a camper swaying along the roadway, particularly if it is being towed behind another vehicle.
Too much weight. RVs could become weighed down with too much stuff. If RVs carry more than the weight recommended by the manufacturer, this could increase the chance of rig damage or a tire blowout.
Blind spot incidents. RVs certainly have larger blind spots than automobiles, and even with the right types of mirrors, it can be difficult to see every single blind spot around an RV. RV operators need to be particularly careful when changing lanes or reversing in order to avoid accidents.
Driver error. Just like any other type of accident, RV drivers can make mistakes. This can include speeding, failing to use a turn signal, failing to yield the right of way, and more.
Types of Motorhomes
There are many different types of motorhomes on the roadways from many different manufacturers. However, there are currently four classes of motorhomes on the market: Class A, Class B, Class B+, and Class C.
Class A
These are the biggest RVs on the market, and this is the type of RV that individuals often think about when people take extended trips with larger families. Class A motorhomes will offer the largest square footage available in an RV, and they can range anywhere from approximately 30 to 45 feet long. These RVs often sleep between six and eight individuals.
Class B
These types of RVs are the smallest type of motorhome available, often referred to as van campers because they look like an oversized family van. These types of motor homes will typically range anywhere from 18 to 24 feet long and sleep approximately four people at a time. These motor homes are typically easier for individuals to maneuver around and have gained popularity over the years. These are also good starter RVs for younger individuals or families.
Class B+
These types of motorhomes are the newest class of RVs and are a hybrid between Class B and Class C motorhomes. Class B+ RVs may offer a stand up shower/bath combo as opposed to a wet bath that would typically be found in a Class B. In a Class B+, the living space, kitchen, sleeping space, and other areas may be bigger.
Class C
Class C is the middle ground between Class A and Class B motorhomes. These look like a larger version of a van camper but will have an overhead cabin above where the driver and passenger seats are. This allows for extra sleeping or storage accommodation space. These types of motor homes range anywhere from 30 to 33 feet long and can sleep up to 8 individuals.
Why Accidents Happen
Determining liability in an accident involves a complex set of determinations. Most often, RV accidents involve rollovers because of the high center of gravity in vehicles such as:
Motorhomes
Conversion vans
Truck campers
Travel trailers
Whether it is a strong gust of wind or debris on the road, a recreational vehicle can easily become involved in a serious accident. Common causes for such accidents include defective parts, blown tires, inadequate maintenance, and poor road construction. With more than two decades of experience helping victims of recreational vehicle rollovers, our attorneys know what to look for when investigating a personal injury case.
Learn About Your Options During A Free Initial Consultation
If you have been seriously injured in a recreational vehicle accident, call the experienced Sacramento accident attorneys at Rosenthal Law. Your first consultation is always free, and you do not have to pay any fees upfront. Call (916) 774-7200 or complete this online form to get started.