Sacramento Negligent Security Attorney
If you or a loved one has been injured in an accident that could have been prevented if the property owner had implemented better security measures, you should contact a Sacramento negligent security lawyer immediately. Property owners have a responsibility to ensure a safe environment for all lawful visitors. This includes taking the necessary measures to ensure their safety at all times. When that responsibility is not met, it places innocent people at risk of serious injury.
At Rosenthal Law, we represent clients throughout the Sacramento area who are suffering because of a property owner's negligence. We know your rights and we know how to protect them. You can rely on us to hold the property owner accountable and diligently pursue the full measure of compensation available for your case.
The attorneys at Rosenthal Law are:
Experienced and knowledgeable in negligent security claims
Committed to holding negligent property owners responsible for preventable injuries
Dedicated to serving our clients with integrity from the beginning to the end of their injury claim
We offer a free case review with a managing attorney and never charge upfront fees. Contact Rosenthal Law today. It is vital to pursue property owners to prevent similar incidents in the future.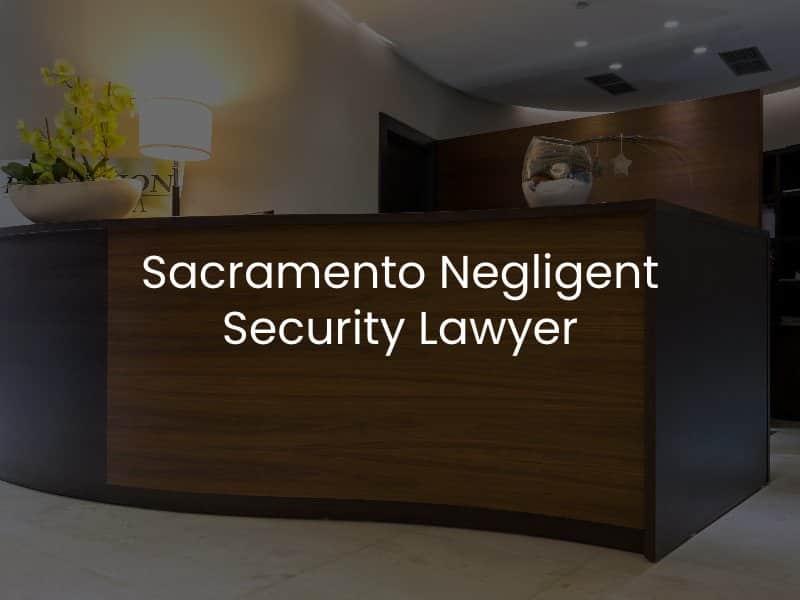 How a Sacramento Negligent Security Attorney Can Help
Negligent security cases are complicated. To prove a negligent security case, a victim must prove a property owner had a duty to provide adequate security to the victim and was negligent in doing so. The Sacramento negligent security attorneys at Rosenthal Law gather the evidence needed to build a strong negligence case by:
Investigating the property and location of the crime
Examining any form of security the owner had in place
Interviewing security guards on the property
Interviewing any witnesses
Obtaining information on any previous crimes committed in the area and on the property
Consult with security experts for supporting evidence
Handle all settlement negotiations
Take your case to trial if necessary
Talk to the negligent security attorneys at Rosenthal Law today. We look forward to presenting your legal options and mapping out a plan for your recovery. Never settle your negligent security case without learning its real value from an experienced Sacramento personal injury attorney.
What Damages Can I Recover for Negligent Security?
Individuals who are harmed due to the negligent actions of a property owner, including incidents of negligent security, may be able to recover a wide range of types of compensation if their claim is successful. A successful claim would include an insurance settlement that adequately meets the financial needs of the injury victim or competition awarded by a personal injury jury through a civil personal injury lawsuit.
Our team strives to help clients recover both "special" and "general" damages at levels adequate enough to make them "whole." This includes:
Special Damages
You may also hear these referred to as economic losses in a premises liability claim. This includes calculable types of damages that can be analyzed and added up by gathering receipts, medical bills, invoices, and more after the incident occurs. Some of the most common types of economic damages available through a network and security claim include:
Emergency hospital and medical expenses
Any ongoing doctor's bills
Coverage of physical therapy and rehabilitation
Lost wages if a person is unable to work
Property damage and out-of-pocket expenses
General Damages
These types of losses are also referred to as non-economic damages in a premises liability lawsuit. However, these types of damages are not as easy to calculate because they may not necessarily have receipts, invoices, or bills that will come in after the incident occurs. These are more subjective losses that revolve around unseen physical and emotional pain and suffering the victim may endure. This type of conversation is meant to help cover the victim's:
Physical pain and suffering losses
Emotional and psychological trauma
Loss of quality of life damages
Loss of consortium or companionship with a spouse or family
There is no set amount of compensation available to negligent security victims in Sacramento. There are various factors that will be examined and could play a role in the total amount of compensation, including the severity of any injuries sustained, the documentable level of pain and suffering, whether or not there was any shared fault for the incident, the level of property damage involved, and other factors.
Our team will work with trusted economic, financial, and medical experts to help properly calculate total expected losses so you can recover the compensation you need.
How Long Do I Have to File a Claim?
Negligent security claims must be filed within a certain amount of time in Sacramento. In California, the personal injury statute of limitations will apply here, and the law states that personal injury claims must be filed within two years from the day the injury occurs. If a premises liability victim fails to file a lawsuit within this time frame, it is likely that the case will be dismissed before a person has a chance to recover any compensation at all.
There are often times when insurance carriers are involved in negligent security claims. These insurance carriers will likely have their own reporting deadlines that could affect a negligent security victim's ability to recover compensation. We encourage any person who has been harmed due to the negligent security of the property owner to speak to an attorney who can file their claim as quickly as possible.
How Much Does an Attorney Charge?
If you or somebody you care about has been injured due to the negligent actions of a property owner in the Sacramento area, you need to turn to an attorney as soon as possible. We understand that it can be scary when thinking about how you'll be able to afford legal assistance, but our team can help. At Rosenthal Law, we handle Sacramento negligent security claims on a contingency fee basis. This means that you do not have to worry about paying any of the upfront costs related to your case.
Additionally, you will not pay any legal fees until after we successfully recover the compensation you are entitled to.
If we win your case, you will pay an agreed-upon percentage out of the final settlement or jury verdict, but if we do not win, you will not pay any legal fees at all. We think that this type of fee arrangement helps negligent security victims in Sacramento stand up to at-fault property owners and recover the dignity and respect they are entitled to.
Where do Negligent Security Claims Arise?
Negligent security claims can arise on just about any type of property in Sacramento. This can include both residential and commercial property, and this can be either publicly or privately owned. Some of the most common areas where negligent security claims arise include the following:
Parking garages or parking lots
Bars or nightclubs
Restaurants
Gas stations
Factories or other industrial settings
Schools and colleges
Workplace environments
Hospitals or doctor's offices
Playgrounds and parks
Hotels and motels
Banks
Apartment complexes
Shopping centers
This is certainly not a complete list of the types of places where a negligent security claim could arise. Anytime a property owner fails to provide adequate security and a person sustains injuries as a result of the negligence, this could give rise to a premises liability claim against the property owner. The level of duty of care owed by a property owner to those who have a right to be on the property will vary depending on the situation at hand. It is imperative to have a claim examined by a trusted premises liability lawyer in Sacramento who can help you determine the best steps moving forward.
Types of Negligent Security Cases
As we mentioned above, negligent security claims can arise in many different types of areas throughout Sacramento. Even though individuals are responsible for being aware of their own surroundings, business owners and operators also have responsibilities to those they invite onto their premises. There are various types of negligent security claims that we help clients with. This includes, but is not limited to, the following:
ATM or Bank Robbery Incidents
When individuals use bank services, they should expect safety. Unfortunately, there are people who will attempt to rob individuals at a bank or ATM through the use of force or fear.
Parking Lot Assaults
Parking lots can be dangerous places, particularly when individuals want to steal recently purchased merchandise. Parking lots should be monitored inappropriately and within reason based on crime rates within a certain area.
Hotel or Motel Room Assaults
Hotels and motels should have procedures in place to prevent non-guests from entering the premises and causing harm to guests. Nobody should have to worry about their safety at a place where they are told they can relax.
Apartment or Condo Complex Assaults
Individuals who live in or visit apartments and condo complexes should not have to worry about assaults from other residents or non-residents. Apartment managers should have adequate safety procedures in place to prevent intruders.
Gas Station Pump or Store Robberies
Gas stations and convenience stores are one of the most commonly robbed areas, and operators of these properties should take the necessary precautions based on area crime rates to protect their employees and patrons.
College or University Campus Sexual Assaults
Nobody should ever have to fear for their safety on a college or university campus. If colleges or universities fail to hire an adequate number of security guards or police officers, students could be placed in jeopardy.
Foreseeability of an Attack
An attack is foreseeable if an ordinarily cautious person expected it to occur or exist under the circumstances. If a court decides an attack is foreseeable, then a business owner had a duty to use reasonable measures to protect patrons from attacks.
Reasonable security measures may include:
Hiring a security service
Installing a security system
Monitoring security cameras for threats
Using a buzzer and intercom system
Installing panic buttons at ATMs
The court also uses a balancing test in determining what security measures a business owner needs to take to protect their patrons. The balancing test weighs the likelihood of an attack and the potential for harm against the burden imposed on the business owner to prevent the attack. If the burden on the business owner is low, the court will find the business owner needed to employ a security measure to protect their patrons.
Business Owner Defenses to Negligent Security Claims
There are some defenses available to business owners facing negligent security claims. Some of the more common defenses are the following:
The business owner owed no duty to the injured person
The business owner provided adequate security regardless of the attack
The patron was partially or wholly responsible for the attack
There were no security measures available to prevent the particular type of attack
At Rosenthal Law, we are happy to explain the intricacies that surround negligent security law. Contact us to schedule your free case review and find out if you have a valid claim. There are time limits to file a negligent security claim, so call today.
Causes of Negligent Security
There may be various causes of negligent security, but this often comes down to money. Security, in whatever form a property owner chooses to use, is going to cost money. The cost of hiring physical security guards can be extensive, as can the cost of installing new surveillance equipment and maintaining that equipment. All too often, property owners think they are saving money on the front end by not providing the correct security, only for this to lead to other people sustaining injuries, property damage, or theft.
Some other common causes of negligent security include individuals simply not understanding the needs of their property and the surroundings. Perhaps an individual property owner did not know about a rise in crime in a certain area and failed to install adequate security to address these needs.
Ready to Help with Any Negligent Security Claim
Property owners are quick to blame visitors for their own negligence in order to avoid responsibility for claims involving issues such as robberies, sexual assaults, and the failure to properly secure a restricted part of the property. Our knowledge of the law and of property owners' obligations allows us to present a compelling case that it was the property owner's lack of security that led to your injuries.
Our Sacramento premises liability attorneys are prepared to represent you in negligent security claims involving any type of property, including:
Shopping malls
Office buildings
Apartment buildings
Dormitories
Hotels
Sports arenas
Amusement parks
Public pools
Contact a Sacramento Negligent Security Attorney Today
Do not wait to contact a lawyer if you have been injured due to negligent security. Our attorneys offer a free initial consultation in every case where you can get your questions answered without obligation. You can reach us by phone at (916) 774-7200 or submit an online request for an appointment.