Sacramento Boat Accident Lawyer
Californians enjoy the outdoors, especially fun on the water, but with the rise in popularity of Jet Skis and other personal watercraft in recent years, boating accidents are becoming more common. Whether a personal injury involved sailing, water skiing, snorkeling, scuba diving, Jet Skiing, fishing, wakeboarding or simply driving a motorboat, it is important for local victims to consider seeking compensation from a Sacramento boat accident lawyer after an avoidable collision.
From yachts to rowboats to personal watercraft, the legal team at Rosenthal Law know that Californians love being on the water. With more and more people enjoying them, our waterways, lakes, rivers and other recreation destinations have become crowded and more dangerous to navigate. We help victims of boating accidents seek damages from those who are responsible. Our firm has been serving residents of Northern California for more than two decades.
Call Rosenthal Law at (916) 774-7200 to schedule a free consultation. Our boat accident attorneys in Sacramento will discuss your case thoroughly at our office, inform you of your options, and answer any questions you may have.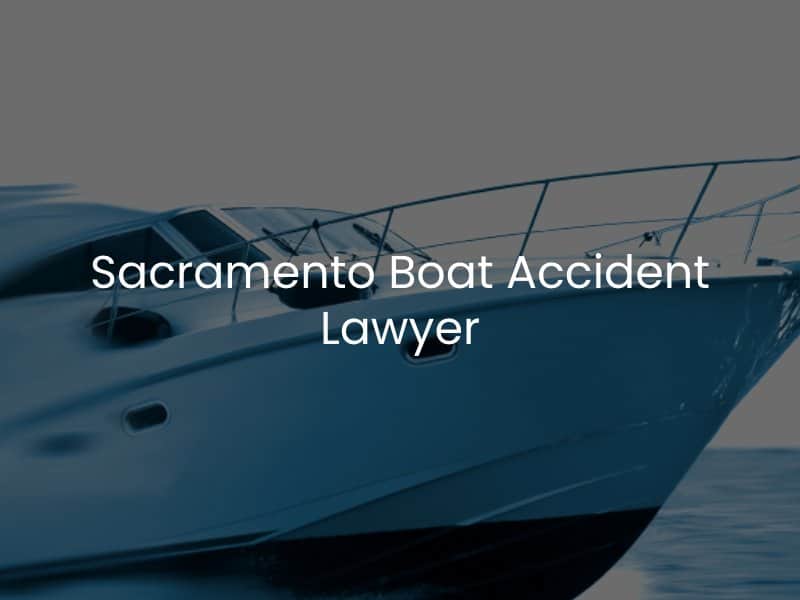 Waterway Rules and Regulations in California
Just like driving has special rules of the road, waterways have their own rules and regulations that must be followed. Our firm has handled many of these accident cases, and our Sacramento personal injury attorneys know how to establish fault by proving negligence or carelessness. Our lawyers have successfully represented clients after various boating incidents:
Collisions
Disappearances
Drownings
Severe injuries
Sinkings
Boat accidents occur for many reasons, from boating while intoxicated to the illegal or unsupervised operation of a watercraft by a minor. Our Sacramento boat accident attorneys will be sure to investigate the boating-related accident thoroughly so the proper parties are held accountable. For example, as in other vehicle accidents, it is possible for a boating accident to be caused by a manufacturer's defect or improper repair.
A skilled Sacramento boat accident lawyer at Rosenthal Law will explore every possible scenario, so clients can be confident that if there are issues with liability or insurance coverage, our firm finds the answer. In some boat accident cases, there may be multiple avenues for compensation, and our boat injury attorneys will pursue them all to ensure that our clients have a comprehensive claim.
Recoverable Damages After a Boat Accident
There may be various types of compensation available to Sacramento boat accident victims. At Rosenthal Law, our boat accident attorneys are regularly able to help clients recover the following:
Full compensation for medical bills related to the boat crash 

Lost wages if a victim cannot work while they recover 

General household out-of-pocket expenses 

Pain and suffering damages 

Loss of enjoyment of life damages 

Possible punitive damages against a grossly negligent boat operator
The total amount of compensation awarded in these cases is going to vary depending on the specific factors related to each particular situation.
Causes of Boating Accidents in Sacramento
There are common themes that arise when examining boat accidents that happen in and around the Sacramento area. Often, the Sacramento boat accident lawyers at Rosenthal Law discover that these incidents occur due to preventable causes. Some of the most common causes of boat accidents include:
Untrained or improperly trained boat operators 

Operating a boat under the influence of alcohol or drugs 

Boating recklessly or speeding 

Exceeding passenger limits for the vessel 

Operating the vessel in inclement weather 

Defective boat parts 

Improperly maintained boats 
Common Boat Accident Injuries
Due to the nature of boating, injuries that occur due to a boat accident are often severe. This is because most boaters are not restrained at the time an accident occurs, and there is a high probability a boater will impact the hard surfaces of a boat or even fall overboard into the water. Some of the most common injuries that occur in a boat accident include the following:
Broken and dislocated bones 

Internal organ damage or internal bleeding 

Severe lacerations or puncture wounds

Near-drowning causing brain trauma
Additionally, boat accident injury victims may also experience mental or emotional trauma, including symptoms of post-traumatic stress disorder (PTSD). If the physical injuries a person sustained in a boat crash significantly alter that person's lifestyle, then a victim's mental health could be impacted significantly. 
Who Caused Your Boat Crash?
One of the most important aspects of a successful boat accident case is determining who caused the crash in the first place. A skilled Sacramento boat accident lawyer from Rosenthal Law will have the resources and experience necessary to investigate whether the owner of the boat caused your injuries. 
Part of this will be determining whether the owner of a boat regularly inspected and maintained the vessel according to California law. An attorney can also examine the maintenance records of the boat that caused the injury to determine whether there was something wrong with the vessel, such as a defective part or maintenance issue. It could very well be the case that another entity, including a retailer or parts manufacturer, is responsible for the accident. 
As mentioned above, some of the causes of boat accidents revolve around the actions of a boat operator at the time of the crash. While this may be clear to those who were present when the incident happened, proving the negligence of a boat operator in court is often complicated. This will also involve extensive investigation on the part of your attorney.
Hire a Sacramento Boat Accident Attorney Today
If you have been seriously injured while enjoying a water sport, talk to the Sacramento boating accident lawyers at Rosenthal Law. Your first consultation is free. If you become our client, you do not owe our law firm anything unless we win compensation for you. Complete our online form or call us at (916) 774-7200 to schedule your free appointment at our law office today. We proudly serve the Sacramento area.