Sacramento Product Liability Lawyer
If you or a loved one were seriously injured or killed by a dangerous product, the Sacramento product liability attorneys at Rosenthal Law can offer you helpful legal advice regarding any recovery you are entitled to receive. Often dangerous products pose a serious hazard to thousands of consumers at a time, and you or your loved one was not the only injured party.
At Rosenthal Law, our product liability attorneys are:
Determined to hold big companies responsible for defective products they put on the market
Educated and experienced in product liability law
Hard-working litigators who fight hard to make sure you receive proper compensation for any injuries you suffer
Speak with our law firm for free to discuss your legal rights and terms of representation. If you are in the hospital, we can send a Sacramento product liability lawyer to meet with you. At Rosenthal Law, our personal injury lawyers in Sacramento believe in representation with integrity and compassion. We will fight to recover damages so you can rebuild your life.
Content
What Can a Sacramento Product Liability Attorney Do for Me?
Product liability cases are complex and challenging to prove. They involve large companies with teams of aggressive insurance adjusters protecting their bottom lines. Therefore you must have an experienced product liability attorney on your side.
The product liability attorneys at Rosenthal Law will:
Obtain statements any witnesses to your injury
Collect any physical evidence related to your injury
Analyze your medical records to determine the full extent and costs of your injury
Document and calculate your other losses, including property damage, loss of wages, and pain and suffering
Help you with needed medical, counseling, and other referrals
Compile evidence from recall notices as well as existing independent studies about the defective product and any previous injuries linked to it
File product liability lawsuits to demand compensation from every liable party
Negotiate a full and fair settlement or take your personal injury case to trial
We will update you as your case progresses and maintain the highest level of representation possible in your case from start to finish. We want to remove as much of the legal burden from you as possible, allowing you to focus on your physical recovery.
If you lost a loved one due to a defective product, speak with a wrongful death lawyer during a free consult. Call Rosenthal Law today and schedule your no-obligation case review with a product liability lawyer in Sacramento.
What is Product Liability?
A product liability lawsuit results when a consumer product injures someone using it for its intended purpose. Misuse of a product that leads to an injury is not grounds for a product liability lawsuit.
When large numbers of consumers suffer serious injuries due to a product, manufacturers sometimes need to recall a product. To benefit from a product liability claim, the following needs to apply:
A product is used for its intended purpose
This use caused an injury
The injury resulted in significant harm
The product is unaltered between the time of purchase and use
What Damages Can Be Recovered in a Product Liability Case?
A defective or dangerous consumer product can have a disastrous effect on a person's life. If you or a family member have suffered from any of the injuries mentioned above, a product liability lawsuit may be the best way to obtain financial compensation for your financial losses. Our Sacramento product liability attorneys understand that financial compensation will not completely replace your losses, but it could provide stability for you and your family. We regularly help clients recover the following types of compensation in these cases:
Coverage of all medical bills

Lost income if a victim cannot work

Loss of future earnings if a victim is disabled

Coverage for past and future physical pain and suffering

Emotional suffering

Loss of quality of life damages

Property damage repairs

Possible punitive damages against a grossly negligent liable party
The total amount of compensation awarded in these cases will vary depending on the specific factors related to each particular case. There is no set amount of compensation awarded to product liability victim, as each case various. An attorney will work with trusted economic and financial experts to analyze your damages and help calculate the proper amount of money to pursue from insurance carriers or through a personal injury lawsuit against the liable parties. 
When Should I Hire a Product Liability Attorney?
You should think about hiring a product liability lawyer as soon as you realize that you or somebody you care about has been injured due to a defective product. You need to understand that everything that you do after sustaining an injury in these cases will be closely scrutinized by insurance carriers and legal teams for any alleged liable party. All of these parties will be looking for a reason to limit the amount of money they pay you or deny your claim altogether. 
If you secure a Sacramento product liability lawyer soon after you sustain an injury caused by a defective product, you are gaining an advocate to help you through the entire legal process. An attorney will be able to advise you on every step you need to take and will handle all communications with other parties to ensure that you do not say or do anything to jeopardize your claim. 
Even if you are not sure whether or not your injuries were caused by a product defect, you should still speak to an attorney about your case. An attorney will be able to examine the facts of the situation. Remember, a Sacramento defective product attorney has experience handling these matters, and they are in a better situation to determine whether or not you have a claim. 
If you are thinking about handling a product liability case without the assistance of an attorney, please understand that this is a risky proposition. Major companies and manufacturers have tremendous resources at their disposal, and they will use those resources against you. There is essentially nothing that these companies will stop at to avoid suffering a damaged reputation. This often means trying to ruin your reputation in the process of winning the case. When you have an attorney by your side, you will be gaining the resources and the legal expertise necessary to take on these well-funded adversaries.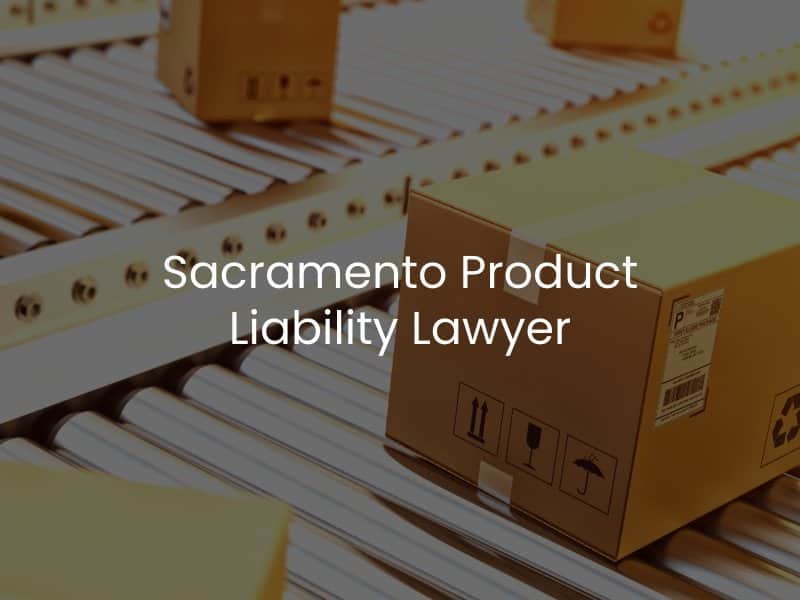 Common Product Liability Lawsuits
Many consumer products are already on safety recall lists or are involved in defective product lawsuits.
Common product liability lawsuits include:
Automotive acceleration systems, airbags, brakes, fuel tanks, ignition systems, seat belts, and steering devices
Children's beds, car seats, crayons, cribs, nursery products, pajamas, strollers, toys, and toy chests
Construction ladders, scaffolding, power tools, asbestos-containing materials, stucco siding, stairways, and decks
Household stoves, ranges, ovens, furniture, carpet, lamps, fire alarms, carbon monoxide detectors, lawnmowers, ladders, power tools, grills, and space heaters
Artificial hips, knee implants, surgical or transvaginal mesh
Defective medical devices such as shoulder pain pumps
Pharmaceutical drugs
Birth control devices
Sports and recreation products
Types of Product Liability
There are three different types of product liability. These are a failure to warn, a product defect, and a manufacturing defect. It is possible to fall under more than one category.
A failure to warn occurs when a manufacturer does not provide instructions for the safe use of their product
A product defect means a product's design is flawed or inherently dangerous
A manufacturing defect happens when a product's design is safe, but the product is built with defects
Who Can Be Held Liable for a Defective Product?
There may be various parties that can be held liable in the event you or a loved one are injured due to a defective product. It is important to understand that proving liability is incredibly difficult in these cases, particularly because determining the point of origin of the defect may be complicated. Consumers who have been seriously injured by a defective product may be able to seek compensation from the following:
The company that designed the product
The company that manufactured the product
Any distributor of the product
Any retailer of the product
When working to determine which parties to hold liable for a product liability claim, it will be crucial to conduct a complete investigation into the incident to determine how the defect occurred. In some cases, a defect is part of a design flaw from the very beginning of its inception. However, products may not become defective until they are manufactured, in transit to a retailer, or at the retailer's location.
In some cases, it may be necessary to seek compensation from multiple parties in the event you or a loved one are injured due to a defective product. It is not uncommon to discover that more than one party knew about a product defect but continued to allow consumers to purchase it.
California's Product Liability Laws
The main laws that you need to be aware of regarding claims based on defective products revolve around the statute of limitations to bring these claims in civil court. These will be discussed in depth below. 
However, defective product injury victims also need to be aware that California operates under a pure comparative negligence rule. Under the pure comparative negligence system, a person can still recover compensation even if they are partially at fault for causing their injuries or property damage. However, the total amount of compensation they receive will be reduced based on their percentage of fault. 
Many states place a cap on the total amount of non-economic damages a person can receive in a personal injury claim. However, California does not place any such limitations on product liability claims. The only caps that California places on injury claims are those revolving around medical malpractice lawsuits. 
Statute of Limitations for a Product Liability Claim in California
If you or somebody you love has been injured due to a defective product, you need to be aware that there are time limits in place to file these claims. The California personal injury statute of limitations is two years from the date an injury occurs. This means that an injury victim has a two-year window with which to file a lawsuit against any alleged negligent party in a product liability case. 
If the defective product caused property damage (i.e. your house caught on fire, your car was it an accident, or other property damage), you must bring a property damage claim against the liable party within three years of discovering the damage. 
It is crucial that you get your Sacramento product liability claim filed within these statutory time limits. Any person who fails to file their product liability claim within the two-year timeframe (three years for property damage) will not be able to recover any compensation at all. There is a reason that companies and manufacturers try to delay these claims as long as possible. They are trying to get the incident pushed past the statute of limitations so that you lose all leverage for your claim. 
Common Injuries from Defective Products
Because defective products occur in every major industry, the types of injuries and illnesses that can occur vary widely. It is not uncommon for our Sacramento product liability attorneys to help clients who have sustained the following injuries:
Broken and dislocated bones
Burn injuries
Open head wounds
Facial injuries
Accidental poisoning
Choking injuries
Electrocution injuries
Eye injuries
Lacerations or puncture wounds
Amputation injuries
Strangulation
Suffocation
Unintentional drowning or near-drowning
Internal illnesses
Internal bleeding
In addition to these traumatic injuries and illnesses, we also help clients who have sustained significant emotional and psychological trauma as a result of a defective product. The initial incidents and subsequent injuries can lead to tremendous emotional and psychological pain and suffering, including feelings of fear, anxiety, depression, and post-traumatic stress disorder (PTSD).
Unfortunately, there are also times when defective products lead to the death of the injury victim. In these cases, family members must be able to recover compensation from any liable party.
Contact a Sacramento Product Liability Lawyer Today
If you believe you qualify for a product liability claim, contact Rosenthal Law today. There is a time limit to file a lawsuit in Sacramento county. One of the main reasons that people avoid seeking assistance from an attorney is that they think they cannot afford one. What many people do not realize is that most Sacramento product liability lawyers take these cases on a contingency fee basis. This means that an injury victim will not be responsible for paying any upfront or out-of-pocket costs related to their case. They will only pay legal fees after their attorney secures the compensation they are entitled to. If the attorney does not win their case, then they will owe no legal fees at all.
Speak with our product liability attorneys to learn more about your injury claim and possible financial compensation in California during a free consultation. Our law firm in northern California can help with your defective product claim.