Sacramento Texting and Driving Accident Attorney
If a texting driver injures you or a loved one, call the Sacramento texting and driving accident attorneys at Rosenthal Law. We will help protect your rights and put a legal plan in place. Car accidents are traumatizing and complicated, and there is no reason to handle the legal processes on your own.
The cellphone and texting accident attorneys at Rosenthal Law are:
Knowledgeable in cellphone accident law
Experienced in representing clients in personal injury lawsuits
Aggressive litigators of cellphone and texting accident claims
Our goal is to help you get the compensation you deserve for your cellphone and texting accident claim. Call Rosenthal Law today and get started. We do not charge any fees unless we win your case.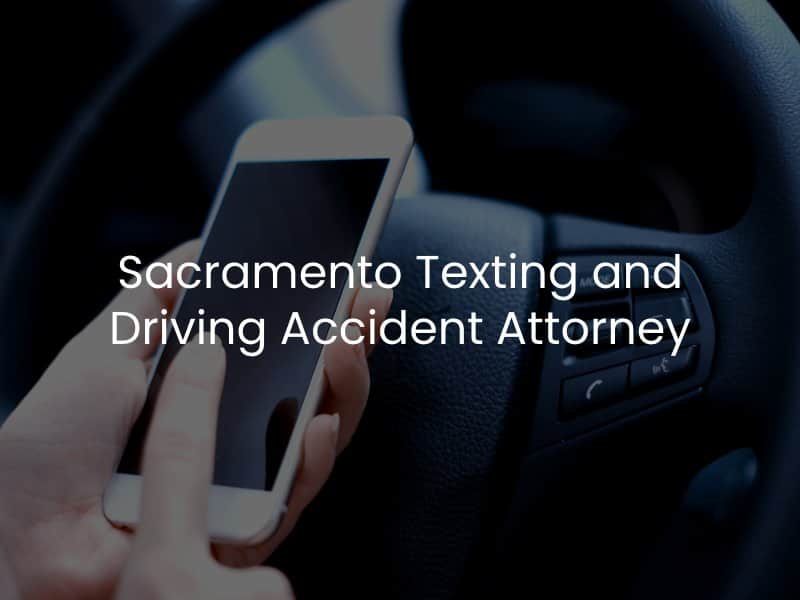 Content
How a Texting and Driving Accident Attorney Can Help
If you are overwhelmed and struggling to recover from serious injuries caused by a cellphone and texting accident, the attorneys at Rosenthal Law are strong advocates to see you through the legal process of pursuing financial recovery.
At Rosenthal Law, our Sacramento car accident attorneys may do the following:
Conduct an independent investigation to determine whether texting while driving was a contributing factor to your accident
Take any necessary steps to preserve relevant text messages or emails
Identify all potentially liable parties
Negotiate with the insurance company(s) on your behalf for a fair settlement
If necessary, file a civil lawsuit to hold a distracted driver financially accountable for your injuries
The attorneys at Rosenthal Law pride themselves on serving clients with compassion and respect. We have a successful track record in all areas of settlement and litigation. Call Rosenthal Law today and schedule your free consultation with a managing attorney.
California Texting and Driving Laws
Many states, including California, ban the use of cellphones while driving. In California, no drivers can use handheld wireless phones or cellphones. Drivers under the age of 18 cannot use handheld wireless phones, cellphones, and hands-free devices.
Drivers over 18 years of age are allowed to use hands-free phones and Bluetooth devices while driving as long as they do not cover both ears. Drivers over 18 years of age are also allowed to use the speakerphone function of a cellphone.
Exceptions to the Law
Exceptions apply to the total cellphone ban for users making the following calls:
To a law enforcement agency, medical provider, fire department, or other emergency service agency
In the operation of authorized emergency vehicles
In the operation of vehicles on private property
California carries increasing fines for each violation of the cellphone use law. A police officer can stop and ticket a driver for a cellphone violation alone.
There are exceptions to the texting while driving law as well, including:
Emergency services professionals while operating an authorized emergency vehicle
Turning a mounted GPS on or off with a "one swipe" option
Using a manufacturer-installed system within the vehicle
There are increasing fines for each violation of the texting law.
Compensation After a Texting and Driving Accident
Cellphone use is one of the most dangerous driver behaviors. It takes a driver's eyes, mind, and hands off the road. According to estimates, cellphone use increases the risk of a motor vehicle accident by nearly three times. Cellphone and texting accidents are preventable, making the resulting injuries even more devastating.
Compensation for cellphone and texting accidents depends on the seriousness of any injuries and extent of losses sustained by the victim. Generally, there is compensation for both economic and non-economic damages.
Economic damages have fixed dollar amounts and often include:
Current and future medical expenses
Property damage
Lost wages
Loss of future income
Non-economic damages are harder to quantify and may consist of:
Pain and suffering
Mental and emotional trauma
Loss of enjoyment of life
Evidence in a Texting and Driving Case
Investigating an accident involving texting and driving can be complicated. This is particularly true if the case delves into a "he said, she said" type of situation. There are various parties involved that will conduct investigations, including law enforcement, insurance carriers, and attorneys. If you want to ensure that you have somebody on your side looking at all the evidence involved, you need to work with a Sacramento personal injury attorney who has your best interests on their mind.
Some of the evidence used in a texting and driving case will be similar to the evidence used in every type of vehicle accident investigated. This includes:
Photographs taken at the scene of the crash
The accident report
Eyewitness statements
However, an attorney working on your case can help uncover additional evidence that may prove that the other driver was texting at the time the incident occurred. This can include video surveillance from nearby homes or businesses that may have captured texting and driving as it happened. This could also include mobile device data from the phone company that may have tracked what the driver was doing on their phone at the time the crash occurred.
Finally, there have been significant technological advances over the last few years. Some vehicles now have the ability to track a driver's eyes and record whether or not they were watching the roadway when a crash occurs. This type of data is stored in the vehicle's "black box." While this may not be available for every accident, it is something that needs to be looked into.
Types of Texting and Driving Accident Injuries
According to data available from the California Office of Traffic Safety, there were more than 168,000 total texting and driving convictions across the state during the latest reporting year. Unfortunately, texting and driving crashes still occur on a regular basis, despite significant enforcement of these laws. Texting and driving crashes can lead to significant injuries, including the following:
Broken and dislocated bones
Severe lacerations or puncture wounds
Spinal cord injuries with paralysis
Whiplash
Other severe back or neck injury
Open head wounds
Concussions
Internal organ damage
Internal bleeding
Amputations or crush injuries
Additionally, texting and driving accident victims may incur significant emotional and psychological trauma as a result of the crash and their subsequent physical injuries.
What to do After an Accident Caused by a Texting Driver
The number one thing that you need to do after any crash is seek medical care as soon as possible. This may include taking an ambulance to the hospital or having someone take you to the emergency room or emergency clinic. There are also some steps you can take at the scene of the crash if you do not have to go to the doctor at that moment. This can include:
Calling 911. You need to make sure that the police get to the scene so they can fill out a preliminary accident report.
Using a phone to take photographs. This includes photos of any damage, traffic conditions, weather conditions, injuries, debris, and more.
Getting the names and contact information of eyewitnesses. This includes any person who may have seen the other driver texting while operating their vehicle.
Get the other driver's information. You need to get the driver's license number, name, and insurance information of any other driver involved in the crash.
Contact an attorney. If you suspect that the crash was caused by the other driver texting while they were operating their vehicle, you need to speak to an attorney who has experience handling these crashes.
Whether you were directly involved in a cellphone and texting accident or you are the family member of a victim, these accidents may cause lifelong struggles. At Rosenthal Law, we are ready to use our experience and knowledge to help you through the aftermath. Never settle for less you deserve; call Rosenthal Law today.