Roseville Car Accident Attorney
At Rosenthal Law, our Roseville car accident lawyers treat each client like our only client. We custom-tailor our legal strategies to help clients obtain the most money possible for their accidents and personal injuries. If you or a loved one has injuries from a recent car accident, contact car accident attorneys for a free consultation. We may be able to help you recover the compensation you need to move forward.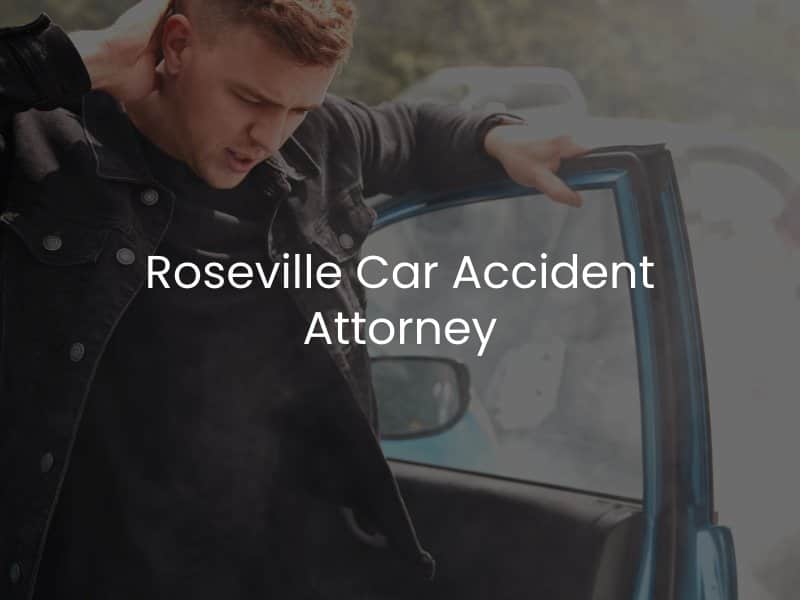 Content
Why Hire Our Roseville Car Accident Lawyers?
Car accidents are some of the most common causes of serious injuries and deaths in California. That does not make your auto accident any less important or unique, however.
We have a reputation in Roseville as compassionate attorneys who put their clients first.

We have more than 25 years of experience representing clients as Roseville personal injury lawyers.

We use proven legal strategies to secure

top results

for each and every client.

We can take car accident cases in Roseville to trial if necessary for maximum compensation.

We accept all Roseville, CA car accident cases on a contingency fee basis.
Do I Need a Car Accident Lawyer?
It can be dangerous to take on a serious car accident case alone as an injured victim. The insurance system does not work in your favor. Insurance companies typically try their best to save money by minimizing client payouts. The best way to combat these tactics and maximize your recovery is by hiring a Roseville car accident lawyer. A lawyer will prevent the at-fault party's insurance company from taking advantage of you. As your legal advocate, your lawyer will not allow you to settle for a lowball amount that does not accurately represent your past and future losses. With a car accident attorney representing your best interests, you can rest assured you receive the best possible car accident case results.
What Damages Can I Recover After an Accident?
As your car accident attorneys in Roseville, our number one goal will be to secure the best results possible for your injury claim. We know how important it can be to recover fair compensation for your damages. A successful case could allow your family to move on with financial stability and peace of mind. Our Roseville car collision lawyers will explore all your options for recovery. We will work hard to demand compensation for all your past and future crash-related losses. 
Medical expenses

Vehicle repairs

Property damage

Lost past and future wages

Disability costs

Pain and suffering

Emotional injuries

Lost quality of life

Legal fees

Travel costs

Punitive damages
The value of your Roseville car accident case will depend on the circumstances of the accident. We can work closely with you to create a full list of your economic and noneconomic damages. We can help you estimate the value of your personal injury case. Then, we can fight for maximum financial recovery from the negligent driver or another party on your behalf. Discuss the value of your claim with our lawyers today.
Can I Recover Compensation if I Was Partly At Fault for My Car Accident?
Yes, it may certainly be possible to recover compensation even if you are found to be partially at fault for the incident. This state uses a pure comparative negligence system, which means individuals can recover compensation even if they're up to 99% at fault for the incident. This differs from how other states handle comparative thought, where individuals typically cannot recover compensation if they are 50% or 51% or more responsible for the incident.
The catch to partial fault is that individuals will receive a reduced compensation amount depending on their percentage of overall fault for the incident. For example, using simple numbers, if you sustain $10,000 worth of medical expenses but are found to be 30% responsible for the incident for some reason, you would receive $7,000 instead of the full $10,000.
How Much Does a Car Accident Attorney Charge?
A car accident lawyer is here to help you, not to add to your stress. As part of this mission, Rosenthal Law is committed to keeping our legal fees reasonable and affordable in Northern California. We accept all car accident clients on a contingency fee basis. This means you will pay us $0 upfront to accept your case and start the legal process. Our law firm will front 100% of the costs of your case, including filing fees, while you focus on healing. 
You will only pay us attorney's fees if we win your case for you – and only after we win. Our Roseville accident lawyers accept payment as a portion of the settlement or verdict we achieve on your behalf. That way, you never have to afford your Roseville car accident lawyer out of pocket. If we do not succeed in achieving financial recovery for you, you will owe us nothing for the work we already performed on your case. 
Common Types of Car Accidents in Roseville, CA
Car accidents happen every day in California. In 2018 alone, 3,563 victims lost their lives in traffic accidents in California, according to the Office of Traffic Safety. Auto accidents can take many forms and happen for many reasons. It is our mission as car accident attorneys to help survivors and loved ones with all types of motor vehicle accident cases.
Truck accidents

Bus accidents

Motorcycle accidents

Pedestrian and bicycle accidents

Rideshare accidents

Autonomous vehicle accidents

Distracted driving

Drunk driving

Hit-and-run

Uninsured motorist

Drowsy driving

Auto part liability accidents

Catastrophic accidents

Fatal accidents
There are various types of vehicle collisions that occur on Roseville roadways. This includes, but is not limited to, the following:
Rear-end collisions. These are typically caused by other drivers following vehicles too closely.
Parking lot or parked car damaged. When a car is parked anywhere, it can sustain damage as a result of other negligent drivers.
T-bone collisions. These types of incidents are common occurrences when other drivers fail to stop at stop signs or stop lights or if they fail to yield the right of way.
Head-on collisions. These collisions often occur when one vehicle is traveling down the wrong side of the roadway or fails to yield the right of way properly at an intersection.
Sideswipe collisions. These incidents are likely to occur if a person fails to check their blind spots before changing lanes or fails to yield the right of way to a vehicle already on the roadway.
Rollover accidents. These collisions often result in catastrophic injuries, and they can occur as a result of a collision with another vehicle or single vehicle incidents.
At Rosenthal Law, our car accident attorneys can accept clients with all types of injuries after auto accidents in Roseville. We have experience negotiating and winning cases involving spinal cord injuries, brain injuries, internal injuries, permanent disabilities, wrongful death and more. Contact us for a free consultation about how we may be able to help with your personal injury claim or wrongful death case.
Types of Injuries in a Car Accident
Roseville car accident victims can sustain a wide variety of injuries as a result of an accident. The reality is that even a relatively "minor" vehicle accident can lead to injuries that cause a person to incur medical expenses and lead to them missing work. No accident is too small when it comes to injuries. The mechanics of heavy vehicles often means that injuries occur even if the property damage does not look bad.
At Rosenthal Injury Law, our team works diligently to help clients who have sustained the following types of injuries as a result of the negligent actions of other drivers:
Bone fractures
Bone dislocations
Severe puncture wounds or lacerations
Road rash
Traumatic brain injuries
Concussions
Whiplash
Spinal cord trauma
Significant bruising
Internal bleeding
When examining car accident injuries, we have to look beyond the physical traumatic injuries that individuals typically know about right away. These types of injuries are usually treated quickly at an emergency room and require individuals to undergo follow-up care with the doctor. However, often overlooked are the emotional and psychological tolls taken on Roseville car accident victims.
It's not uncommon for crash victims to incur various types of emotional and psychological trauma, including feelings of stress, sleeplessness, anxiety, and fear. In fact, a significant portion of all car accident victims sustain post-traumatic stress disorder, something that most people associate with military trauma. These emotional and psychological injuries can significantly affect a person's day-to-day life, including their ability to interact with friends and family and their ability to work.

What is California's Fault Law?
The state you live in will use a fault law, no-fault law or a hybrid of the two. California is a fault state. After a car crash, California places liability with the at-fault party. As an injured victim, you will seek compensation from the person or party that caused your car accident. This could be any party who owed you a duty of care, breached this duty and caused the crash. Many car accident cases in Roseville name drivers as defendants for various acts of negligence.
Speeding

Driving under the influence

Texting and driving

Reckless driving

Tailgating

Road rage

Failing to yield the right-of-way

Red-light running

Unsafe lane changes
Other liable parties besides the driver could include the driver's employer, a defective vehicle part manufacturer, the owner of the road where the accident happened or the City of Roseville. Our Roseville car collision attorneys at Rosenthal Law can investigate your auto accident for signs of fault and causation. From there, we can help you bring a claim against the at-fault party in pursuit of maximum financial compensation.
What to do After a Car Accident
If you or somebody you love has been injured in a car accident caused by the negligence of another driver in Roseville, then you need to take certain steps to ensure that you recover compensation for all of your losses. These steps may not necessarily happen in this exact order, but we strongly encourage you to check off every box on this list:
Contact the Police
The police need to get involved in just about every type of collision that occurs, particularly because insurance carriers want the police report in their hands before they process a claim.
Go to a Doctor
Regardless of the severity of the incident, you need to go to the doctor for an evaluation after an accident occurs. Even if the incident does not seem very severe, there may be hidden injuries that do not show signs and symptoms for hours or days after the collision. When you go to the doctor, this establishes a strong link between your crash and the injuries.
Gather Evidence
If the scene of the accident is relatively safe, you can gather various types of evidence. The best way to do this is to use your cell phone to take pictures of everything that you see, including injuries, vehicle damage, debris, license plates, traffic and weather conditions, and more. Additionally, if you see any eyewitnesses around the scene, get their names and contact information written down so they can be located later on to give testimony.
Contact an Attorney
You should reach out to a skilled Roseville car accident attorney soon after the incident occurs, preferably on the same day or the day after. When your attorney gets involved early, they can investigate the incident before any evidence disappears or is destroyed. Your lawyer will handle all aspects of the case on your behalf.
Contact Your Insurer
You need to let your insurance carrier know that the incident occurred within a day or two afterward. Even if the other driver was at fault for the incident, you need to let your insurance carrier know about the incident and that you are receiving medical care.
Continue Medical Treatment
It is crucial to continue going to the doctor and all follow-up visits until after you have fully recovered. If you discontinue care, this could be taken as a sign by the insurance carriers that your injuries are not as severe as you stated. Additionally, if you discontinue care and accept a settlement, there will be no way to go back and recover more compensation if your injury is more severe than you thought.
Contact Our Roseville Car Accident Attorneys Today
If you or a loved one was injured in a car accident in Roseville, California or the surrounding area, discuss your legal rights and options with the Roseville auto accident attorneys at Rosenthal Law. We care about our clients, their experiences and their futures. We may be able to help you move forward with the financial compensation you deserve from a negligent party. Discuss your car accident case in detail with a Roseville car accident lawyer today. Call (916) 774-7200 or contact us online to schedule a free consultation at our Sacramento law office.