Sacramento Drunk Driving Accident Attorney
If you were hurt or lost a loved one in a drunk driving accident, schedule a free consultation with Rosenthal Law today. One of our drunk driving attorneys in Sacramento will review your case and discuss your options for pursuing fair and just compensation for your injuries.
At Rosenthal Law, our dedicated drunk driving accident attorneys are:
Experienced in drunk driving accident claims
Successful in handling drunk driving accident claims
Committed to victims and families who are coping with the aftermath of drunk driving accidents.
We do not charge upfront fees to get started on your claim. At Rosenthal Law, we only collect legal fees if and when we secure payment for you. Contact us today to schedule a free consultation.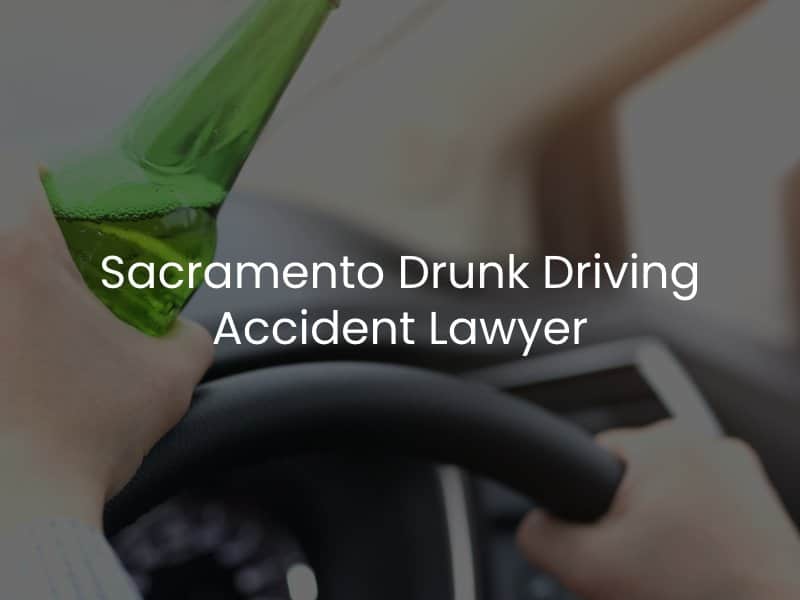 How a Sacramento Drunk Driving Accident Attorney Can Help
Drunk driving accidents can result in severe and debilitating injuries that leave you temporarily unable to work or with permanent disabilities that impact the rest of your life. At Rosenthal Law, our drunk driving attorneys act as your legal advocate by protecting your rights and making sure you get the maximum amount of compensation due by law.
The car accident lawyers at Rosenthal Law help you by:
Negotiating with the insurance company
Investigating the scene of your accident
Obtaining police reports and witness statements
Getting medical records and statements from your medical providers
Organizing medical bills and receipts to show the expenses already paid and to estimate future medical costs
Filing a personal injury lawsuit against the drunk driver, in the event, an insurance settlement is denied
At Rosenthal Law, our injury attorneys in Sacramento aggressively pursue drunk drivers to hold them accountable for their actions. There are time limits to file a drunk driving claim in California, so do not hesitate to call Rosenthal Law.
Drunk Driving Laws in California
In California, drunk driving laws focus on impairment by alcohol and drugs. It does not matter if the drugs are legal or illegal. Common examples of drugs that may impair a driver include:
Decongestants
Diet pills
Energy drinks
Cannabis
California prohibits the use of alcohol or cannabis while driving or riding in a vehicle.  Any alcohol or cannabis in a vehicle must remain in a sealed and unopened container. Any open containers are required to stay in the car's trunk during transport.
Drunk Driving Accident Compensation
Drunk driving accidents in California allow victims to recover compensatory damages. Compensatory damages are an award of money meant to repay an injured victim for any accident-related financial and personal losses.
Compensatory damages may include the following:
Costs for past and future medical treatment
Loss of income
Lost wages
Pain and suffering
Emotional distress
Loss of consortium
Loss of enjoyment of life
Punitive damages are also available in California when a drunk driver's behavior caused the accident, and the act of drunk driving was an aggravating circumstance in the accident. A drunk driver's insurance company is not responsible for paying any punitive damages. The drunk driver must pay the punitive damages out of his or her pocket.
What Factors Can Affect Compensation for a Sacramento Drunk Driving Claim?
There is no set amount of money available to drunk driving crash victims in California. The total amount of compensation will vary depending on various facts and circumstances surrounding each particular situation. An attorney will need to evaluate the claim before they can begin to send demands to the impaired driver's insurance carrier for compensation. Some of the main factors that affect compensation amounts in these cases include the following:
The severity of the injuries
Whether or not a victim can work while they recover
The level of disability sustained by the victim
The amount of household out-of-pocket expenses incurred
The total level of pain and suffering sustained by the victim
Total property damage expenses
An attorney will work with trusted medical and economic experts who can conduct a complete evaluation of the claim and help properly calculate total expected losses. An attorney will vigorously negotiate with aggressive insurance carriers in order to recover full compensation. However, they will also prepare the case for trial if necessary to ensure their client is treated fairly every step of the way.
Drunk Driving Statistics
Data available from the California Office of Traffic Safety (OTS) shows that approximately 1,114 individuals lose their lives each year as a result of alcohol-impaired driving in this state. This may be a shocking statistic for some people, particularly when they look at these stats and see that California has more fatalities related to alcohol-impaired driving than other states have in overall traffic fatalities, regardless of impairment.
In this state, 26% of all traffic fatalities were related to alcohol-impaired driving during the latest year of data we have on file. The only thing more deadly than alcohol-impaired driving was speed-related incidents. However, we have to look beyond fatalities when it comes to assessing the full devastation of alcohol-impaired driving in California. During the same reporting year mentioned above, there were 27,236 total injuries as a result of impaired driving in this state.
Injuries in Drunk Driving Collisions
Due to the very nature of impaired driving, those involved in these incidents can sustain severe injuries. Alcohol-impaired drivers often operate well above the speed limit, and they regularly fail to apply the brakes in time to avoid a severe collision. This can be devastating for any person involved in these collisions, including the impaired driver and their passengers, as well as those in other vehicles affected by the collision.
Some of the most common injuries resulting from drunk driving collisions in California include the following:
Broken and dislocated bones
Spinal cord injuries with paralysis
Whiplash injuries
Other severe back or neck injury
Concussions
Open head wounds or facial fractures
Severe lacerations or puncture wounds
Crush injuries
Amputations
Internal organ damage
In addition to these visible traumatic injuries, we would be remiss if we did not discuss the significant emotional and psychological trauma experienced by so many people victimized by alcohol-impaired drivers. It is not uncommon for those involved in these collisions to suffer from anxiety, depression, fear, and symptoms of post-traumatic stress disorder (PTSD). Even though these emotional and psychological injuries may not be as visible as the traumatic injuries listed above, they are certainly real for those suffering. It is crucial to work with a Sacramento drunk driving accident attorney who will take all drunk driving accident injuries seriously and work diligently to recover compensation on behalf of their clients.
Who Can Be Held Liable in Drunk Driving Accidents?
There may be various parties who can be held liable for drunk driving accidents. In general, we will find that the impaired driver will hold liability for these incidents. However, under California's dram shop and social host laws, it may be possible to hold other parties liable in certain situations.
In some states, the law makes it possible for individuals harmed by drunk driving incidents to go after those who sold alcohol to the impaired individual. This can include bartenders, restaurant servers, store clerks, party hosts, etc. However, California law typically bars these individuals from being held responsible for serving alcohol to a person who goes on to cause harm to others.
There is an exception to this. These alcohol servers or social hosts can be held responsible if they knowingly provide alcohol to an intoxicated individual under the age of 21. If you or somebody you care about has been harmed in an impaired driving incident and the driver was under the age of 21, you may be able to file a lawsuit against other individuals to recover compensation.
What About Partial Liability?
It could certainly be the case that there is shared liability for these incidents. It is not uncommon for a vehicle accident to be the fault of two or more drivers involved in the incident. For example, if an impaired driver slams into the back of another vehicle at a red light, we would typically find that the intoxicated driver is at fault. However, what if the driver who was struck had malfunctioning brake lights? In this particular scenario, the driver who was struck could be partially liable because of a vehicle defect.
California operates under a "pure comparative negligence" system. This means that individuals can still recover compensation even if they are up to 99% at fault for an incident. In most other states, individuals cannot recover compensation if they are 50% or more responsible for a crash. Even though California is generally lenient when it comes to partial liability, individuals will still receive reduced compensation to account for their percentage of fault.
For example, in keeping with the scenario just mentioned above, the driver who was rear-ended may be able to recover compensation from the drunk driver. However, it is entirely possible that the injured driver could be found to be 40% at fault for the crash because of the equipment malfunction. Suppose the injured driver sustained $100,000 worth of medical bills and property damage expenses. In this scenario, they would receive $60,000 in total compensation instead of the full $100,000.
How Do Drunk Driving Accidents Differ from Standard Car Accidents?
When a drunk driving accident occurs, we have to consider the criminal nature of impaired driving incidents. When a vehicle accident occurs, those involved typically do not have to worry about the police making an arrest unless a serious traffic violation has occurred. However, when a drunk driving incident occurs, it is very likely that law enforcement officials will arrest the impaired driver.
The intoxicated driver will have to deal with a few things simultaneously. First, they have to worry about getting out of jail and handling the legal ramifications of a DUI arrest. However, they also have to handle the insurance claim or personal injury lawsuit they will face from other drivers and passengers involved in the incident.
If you are on the other side of this claim, i.e., the injured party, you will certainly have to acknowledge the criminal process. Even though you will go about filing personal injury against the at-fault driver's insurance carrier, this will not be a straightforward claim. You will need to obtain evidence from law enforcement officials in order to determine liability for the incident. However, it is not always easy to obtain information from law enforcement officials when they are prosecuting a crime.
We recommend working with a skilled Sacramento drunk driving accident attorney who has extensive experience handling these cases. An attorney will understand exactly what to do to obtain the evidence needed to prove liability. They will liaise directly with law enforcement officials to gather various types of evidence, including field sobriety test results, blood alcohol test results, video footage from the scene of the incident, and more.
As the injured party in these cases, your priority must revolve around proving liability of the intoxicated party so you can obtain compensation for your medical bills, property damage expenses, lost income, pain and suffering damages, and more.
Please note that you may end up being involved in the criminal case as well. Even though this should not affect your injury claim, you may be called to testify if the DUI case goes to trial during the criminal court process.
Contact a Sacramento Drunk Driving Accident Attorney Today
If you are in a collision with a drunk driver, proceed as you would after any car accident. Then call the Sacramento drunk driving accident attorneys at Rosenthal Law. We will help you map out a plan for personal and financial recovery so you can move forward with your life as quickly as possible. Contact us today.