Sacramento Bicycle Accident Lawyer
Bicycle collisions can be devastating due to the significant lack of protection in comparison to other vehicles. Serious injuries are common and often result in the need for expensive medical treatments, physical therapy sessions, and surgeries. Whether or not a collision results in injuries, including road rash, spinal cord or traumatic brain injuries, every case that is brought to our office is important to the Sacramento bicycle accident lawyers at Rosenthal Law.
Our attorneys have been handling serious personal injury cases, including bicycle collisions, for over two decades. Over the years, our Sacramento personal injury lawyers have built up a reputation in the industry for strong client advocacy and a willingness to take every case through negotiation and trial if necessary. If you were hurt or lost a loved one in a bicycle accident, do not hesitate to get the help you need.
At Rosenthal Law, our bicycle accident attorneys understand that:
Every accident victim deserves appropriate compensation
Physical injuries cause more than financial loss
All people are entitled to respect for their physical well-being and quality of life
Bicycle riders are more likely to suffer catastrophic injuries than victims of other accidents. These injuries may result in lifelong pain and suffering and potentially bankrupting medical bills.  Accident victims may also lose income from work and incur property damage.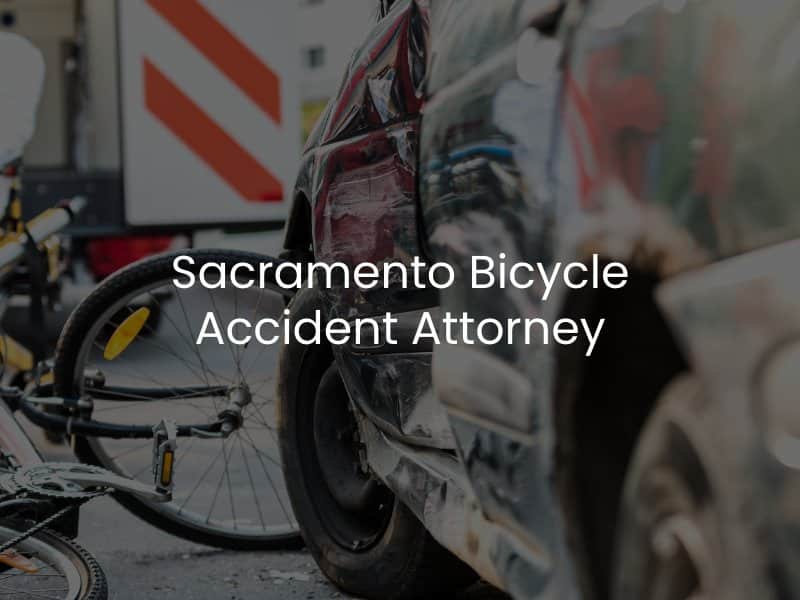 Content
Why Rosenthal Law for Your Bike Accident Case?
When preparing to file a claim for your Sacramento bicycle accident, you need skilled legal representation for the best possible outcome for your case. The Sacramento bicycle accident attorneys at Rosenthal Law are here to ensure the process is fair and you receive the compensation you deserve. We will help you understand your rights and your best course of legal action after a bike accident. At our law office, you can expect:
A free initial consultation for your case with a lawyer
The highest level of attention throughout the entire case, from investigation to the resolution of your trial
Lawyers that are regular folks like you but have exceptional skill and knowledge of personal injury law
With over two decades of experience in handling bicycle accidents and other serious personal injury cases, we know what it takes to have a successful claim – and we want to use that experience to help you. Contact us today to schedule a consultation with our Sacramento bicycle accident lawyers and start the path to your rightful compensation.
Compensation for Bicycle Accidents in Sacramento, CA
Due to the severe nature of many bicycle accidents, it is not uncommon to see many clients with broken bones, traumatic brain injuries — or even fatal wounds. In these situations, it is imperative to find a bike accident lawyer who can achieve results that cover your costs and provide a stable footing for the future.
Bicyclist victims are entitled to compensation for not only their existing medical expenses, but also for lost income, pain and suffering, and even future wage loss. Our goal as Sacramento bicycle accident lawyers is to achieve an outcome that allows our clients and their families to move forward with confidence.
How an Attorney Can Help After a Bicycle Accident
California allows citizens to represent their own legal matters, including bicycle accident cases. However, even a seemingly straightforward claim can become a complicated legal matter. Numerous laws impact determining liability and receiving compensation. A qualified Sacramento bicycle accident lawyer can help you understand your rights.
A bicycle accident attorney will also have the resources available to thoroughly investigate your accident and gather evidence for your case. This assistance can be especially helpful if your injuries prevent you from collecting evidence at the scene of your accident.
Working with a lawyer is also your best option for receiving the full extent of your rightful compensation. Because a bicycle doesn't have the same level of protection as a car, cyclists often suffer severe and potentially debilitating injuries, even in low-speed collisions. You have a right to any future damages associated with long-term injuries, but it can be hard to calculate the appropriate amount without experienced legal assistance.
Never sign any statement or accept any payment from an insurance company until you have the offer reviewed by an experienced bicycle accident attorney.  By taking a settlement offer, you could sign away your right to much more compensation. When you contact the Rosenthal Law, our skilled Sacramento bicycle accident attorneys will:
Pursue your claim on a contingency-fee-basis
Handle all the costs of investigating your case and filing a claim without any charge to you unless and until we recover payment for you
Take care of all correspondence and paperwork necessary to obtain evidence to build the case including police reports, medical records, receipts, and more
File insurance claims and respond to insurers' requirements
File a bicycle accident lawsuit if a suitable settlement is not reached
There are many challenges after a bicycle accident.  Rosenthal Law can help with these, including questions from insurers, creditors, and others about your accident and injuries. If you already have a settlement offer, we can discuss your best options for moving forward.
Not knowing what a fair amount for compensation for your injuries can cost you. Insurance companies often contact bicycle accident victims shortly after the crash. They hope to get an admittance of fault or to offer a settlement amount that isn't worth the full expense of your damages. To avoid a lowball settlement and to stand on even ground against an insurance company if your case heads to court, you need the help of an attorney. If you lost a loved one in a bike crash, a wrongful death lawyer can help you explore your options for compensation.
What to Do After a Bike Accident
If you're the one riding a bike in an accident, it can be difficult to keep calm. Even so, it's important to try to act rationally following an incident. Your actions can impact the success rate of your personal injury claim. If possible, try to follow these tips:
Contact the police and wait for them to arrive on the scene. After assessing everyone's safety, contact the police. Once the police arrive, give a clear statement of the events. The officer may focus on talking with the motorist, so you'll want to do everything you can to get your account of the events into the official police report.
Get the driver's contact and insurance information. While waiting, you can exchange information with the driver. Gather the other party's name, contact information, license number and insurance details. Don't discuss fault for the accident.
Seek medical attention. Some injuries after a bicycle accident clearly need treatment, while others are less obvious. Visiting a doctor can prevent later problems and give you a record of your injuries.
Preserve evidence. Don't do anything to repair your bike or other damaged property. Only share these items with your Sacramento bike accident attorney. If you can, take photos or video of the scene of the accident. Write down your memories of the accident as soon as possible.
By taking the proper precautions, you put yourself in a better position to have a successful claim. However, if your injuries prevent you from talking to witnesses and gathering information on the scene, the police, police report and attorney investigations can still support your claim.
What are the Common Causes of Bicycle Accidents?
Cyclists have the same legal right to use public roads as motor vehicles.  However, motorists often are unaware or do not follow the rules of the road.  The result is often deadly.
Motor vehicle collisions account for 90% of bike accident fatalities, with most fatalities occurring in urban areas during evening rush hour.  Frequent causes of motor vehicle collisions with bicycles are the following:
A motorist cuts off a bicycle when entering the roadway
A motorist makes a right turn in front of a cyclist going straight in the bicycle lane
A motorist hits a cyclist who is maneuvering around a parked car in the bicycle lane
A motorist  runs a stoplight or stop sign
A motorist fails to see the cyclist
While motor vehicle accidents are responsible for nearly all bike accident fatalities, the majority of bicycle accidents do not involve motor vehicles. There are more common sources of danger for cyclists, such as:
Poorly maintained roadways
Defective, damaged, or poorly repaired bicycles
Animal attacks
Pedestrian or cyclist collisions
Loss of balance
Collision with an inanimate object or debris
Who is at Fault in a Bicycle Accident?
Both motorists and cyclists have an obligation to follow the rules of the road. Both parties also have to exert reasonable caution for others using the road. When either party fails to abide by these laws, they are acting negligently and may be liable for the accident.
Liability for a bicycle accident depends on who or what caused the accident, where the accident occurred, and who was at fault.
If a motorist caused the bicycle accident, a cyclist might file a claim against the driver or the driver's auto insurance company. In accidents where a vehicle makes a right turn, causing a collision with a cyclist, the driver may be at fault for not checking if their path before making a right turn, especially at crosswalks and intersections. Sometimes a vehicle making a right turn may cross in front of a cyclist using a bike line or side of the road, giving the cyclist no way to avoid the collision.
If the condition of a road caused the bicycle accident, a cyclist might file a claim against the government agencies responsible for road maintenance.
If a poorly designed or negligently repaired bicycle caused the bicycle accident, a cyclist might file a claim against the bicycle's manufacturer or the repair shop for any accidents that occur due to their negligence.
If a dog jumped at a cyclist and caused the bicycle accident, a cyclist may file a claim against the dog's owner.
If a pedestrian or another cyclist caused the bicycle accident through some negligent or unlawful act, a cyclist might file a claim against the pedestrian or cyclist.
While many bicycle accidents are at the fault of negligent motorists, cyclists can also contribute to their collisions and injuries. If this happens, California's contributory negligence laws will come into effect, reducing the amount of compensation the cyclist can recover. If the court finds the cyclist at complete fault for the accident, then he or she will not have a successful claim.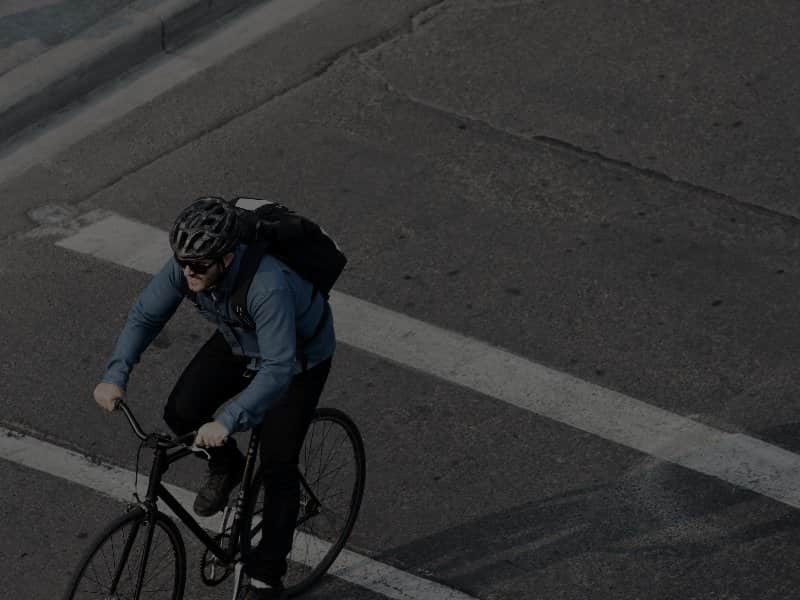 Bicycle Crash Statistics
According to the National Highway Traffic Safety Administration (NHTSA), bicyclists accounted for 2.2 percent of all traffic-related fatalities in 2016. Most of these accidents occurred in urban areas. 20% of all deaths happening between 6 PM and 9 PM, are likely in part due to low roadway visibility in the evening hours. Cyclist deaths then hit a ten year high of 871 in 2018 and now estimates show 846 deaths for 2019. From 2016 to 2018, traffic accidents killed 455 cyclists in California alone.
Sacramento itself has a high number of people who use bicycles for their commutes and while running errands. Over the past 15 years, over 3,200 bicyclists have suffered injuries from accidents involving motor vehicles, and there were 38 fatalities from those collisions. Morning and evening rush hours are especially dangerous times for cyclists, due to the high concentration of vehicles on the road.
Free Consultation with a Bike Accident Attorney in Sacramento
Bike accidents can quickly escalate into complex cases involving multiple people and parties. These legal situations are rarely straightforward. Insurance companies often try to blame cyclists for collisions in which the driver was at fault.
To learn more about bicycle accident compensation and liability, call Rosenthal Law today.  We believe in representation with compassion and integrity and carry this belief through your case from start to finish. Schedule a consultation with one of our bicycle accident attorneys by contacting us.