Roseville Truck Accident Lawyer
At Rosenthal Law, we stand up for the rights of injured truck accident victims. We represent clients with serious injuries due to negligent parties. If you or a loved one has injuries from a Roseville truck accident, contact our Roseville truck accident lawyers at (916) 774-7200 for a free initial consultation.
Truck accidents are serious disasters that regularly take lives. In 2018 alone, 4,862 fatal accidents in the US involved large trucks. Commercial trucks are dangerous vehicles that can become deadly when their operators are negligent.
Content
Why Choose Our Roseville Truck Accident Lawyers?
Rosenthal Law is a full-service personal injury law firm that can take care of every stage of your truck accident case, from settlement negotiations to an injury trial.

We have a 98% case success rate due to our commitment to client recovery. Our Roseville trucking accident attorneys have recovered

millions of dollars

in past cases.

We are dedicated to client satisfaction. We provide individualized attention, personal care and honest communication to all of our clients in California. 

We take all Roseville truck accident cases on a contingency fee basis. You will not pay our truck accident attorneys unless we succeed in winning your case.
What Damages Can I Recover After a Roseville Truck Accident?
Individuals who sustain injuries after a truck accident may be able to recover various types of compensation for their losses. At Rosenthal Law, our attorneys work diligently to recover both "special" and "general" damages on behalf of our clients.
Special Damages
Special damages, also referred to as economic damages, may be available after a truck accident occurs in Roseville. These types of losses are calculable, meaning we can gather up bills and receipts that give us a solid total for the following types of expenses:
Emergency medical expenses
All follow up medical care
Prescription medications
Medical devices
Physical therapy and rehabilitation
Lost income if a person cannot work
Lost earning capacity in cases of a disability
Property damage expenses
General Damages
General damages are also referred to as non-economic damages, and these types of losses are less concrete than the special damages mentioned above. General damages are more immeasurable because there may not necessarily be bills or receipts that can add up a truck crash victim's:
Emotional and psychological distress
Physical pain and suffering
Loss of quality of life
Punitive Damages
In rare circumstances, punitive damages may be available to truck crash victims. Also called exemplary damages, these are reserved specifically for situations where the actions of the trucking company or truck driver are found to be grossly negligent or intentional. Punitive damages are meant to punish the defendant and act as a deterrent to others so that they do not display the same type of behavior in the future.
The total amount of compensation available for a Roseville truck crash victim will vary depending on several factors related to their claim. Some of the main influences on total personal injury settlement amounts include the severity of the injuries, the level of property damage, documentable pain and suffering, insurance limitations of the at-fault party, and whether or not there was any shared fault for the incident.
How Long Do I Have to File a Truck Accident Claim?
Do not delay in seeking legal advice after a truck accident. In California, you have no more than two years from the date of your collision to file a personal injury claim. If you wait longer than two years, the courts may refuse to hear your case. Your deadline could be longer or shorter, however, depending on the case. Speak with an injury attorney in Roseville as soon as possible. 
Who Can Be Held Liable for My Truck Accident?
There may be various parties that can be held liable in the aftermath of a truck accident in Roseville. There are some circumstances where individual vehicle drivers may hold liability for these incidents. However, it is not uncommon for an investigation to uncover evidence that shows a truck driver or trucking company is liable for a crash.
Truck drivers have tremendous responsibilities on the roadways in and around Roseville. Anytime a truck driver fails to uphold their basic duty of care, this can lead to severe accidents and injuries. Some of the most common causes of truck accidents are related to a driver:
Operating a vehicle while impaired by alcohol or drugs
Operating a truck too fast for conditions
Failing to yield the right of way to others on the roadway
Operating while distracted behind the wheel
Disregarding hours of service requirements and operating while fatigued
Failing to inspect the truck before making a delivery
Allowing cargo to be improperly loaded or overloaded
If a truck driver is operating within the scope of their duties and is employed by a trucking company, then the truck company will ultimately hold responsibility for any mistakes made by the driver that lead to an accident. Additionally, trucking companies may hold direct liability for a truck accident in a variety of circumstances.
Truck Company Responsibilities
Truck companies also have significant responsibilities when it comes to maintaining roadway safety. Some of the most common truck company-related causes of accidents include the following:
Failing to conduct background checks on new drivers
Failing to examine the qualifications of new drivers
Not properly training drivers to operate the vehicles
Failing to regularly inspect and maintain each truck
Encouraging drivers to disregard hours of service by pushing unreasonable deadlines
There may be some other parties who could hold liability after a truck crash occurs in Roseville. For example, maintenance companies could be held liable if they fail to properly maintain a truck when it is brought in for routine repairs or emergency work. The manufacturers of a truck or individual truck parts could be responsible if vehicle failure leads to a severe accident on the roadway.
Additionally, it is not uncommon for third-party cargo loaders to be involved in the overall supply chain of these vehicles. These loaders are often responsible for loading and unloading cargo. If these individuals make a mistake such as failing to strap down cargo or loading the cargo in a way that throws the center of balance off of the vehicle, this could lead to a severe accident. It may be possible to hold these third-party cargo loaders responsible for a truck crash.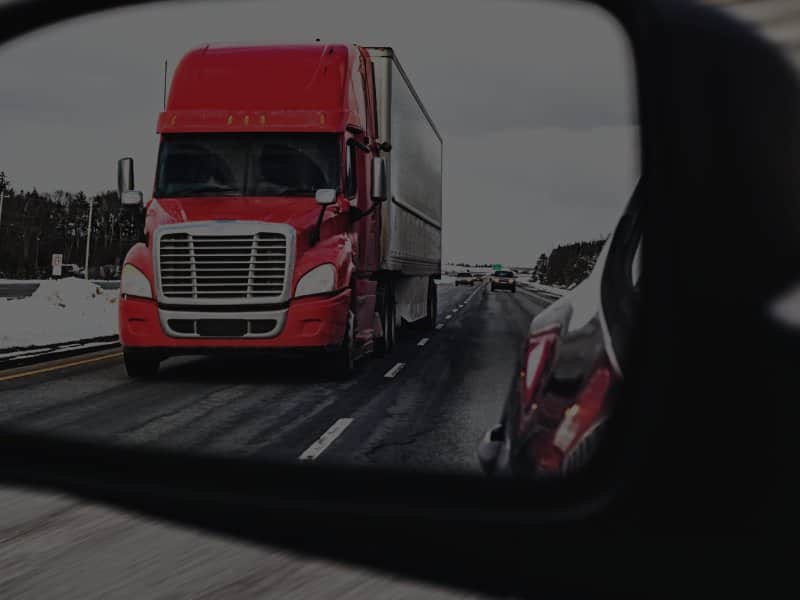 What If I Was Partly at Fault for a Truck Accident?
It is not uncommon for there to be shared fault in a vehicle accident in Roseville. This includes truck accidents. While a truck driver or trucking company may very well be responsible for an incident, one common tactic is for the other parties to try and shift some or all of the blame for the incident onto the injury victim.
California operates under a "pure comparative negligence" theory. This means that individuals can recover compensation even if they are up to 99% responsible for causing their own injuries. However, the total amount of compensation a truck crash victim receives will be reduced based on their percentage of fault. For example, let us suppose a truck crash victim sustains $100,000 worth of medical bills and lost wages in a crash caused by a truck driver who failed to use their turn signal. However, what happens if the other driver was distracted by their phone when the incident occurred?
In this scenario, partial liability may be assigned to the injury victim. Let us suppose that a jury finds that the distracted driver was 20% responsible for the incident because they may have been able to avoid the crash if they had not been distracted by their phone. In this case, the injury victim would receive $80,000 instead of the full $100,000 to account for their percentage of fault.
Filing a Claim Against the Trucking Company
In most situations, a trucking company will be liable if the crash was caused by the actions of the truck driver. Additionally, the truck company could hold direct liability if their own actions lead to the actual accident.
In the vast majority of truck accident claims in Roseville, this situation will be resolved through a settlement with insurance carriers. This will involve filing a claim against the trucking company's insurance carrier first. However, it is not uncommon for insurance carriers to push back vigorously from having to payout fair compensation. It is critical for you to work with a skilled truck accident lawyer in Roseville who can handle every aspect of the claim on your behalf. This will include conducting a complete investigation, gathering all evidence needed to prove liability, and handling all negotiations with the insurance carriers involved.
In the event the insurance carrier refuses to offer a fair settlement, it may be necessary to file a personal injury lawsuit in civil court directly against the truck driver, truck company, and their insurance carrier. A civil personal injury lawsuit is different from a claim against the insurance carrier. Once a case enters the civil court system, an entirely different process begins. This will include the discovery phase of the lawsuit, possible depositions, continued negotiations, and an eventual trial if the other parties refuse a fair settlement along the way.
The truck accident lawsuit process is immensely complex, but a skilled attorney will have the resources necessary to take your case through to a jury trial if necessary.
Common Causes of Truck Accidents in Roseville
At Rosenthal Law, we start most truck accident cases by identifying the at-fault party. California is a fault-based insurance state, meaning the party that caused the truck accident will be liable for damages. We will investigate the facts of your case to determine its cause. 
Driver error

Speeding

Dangerous/reckless driving

Driving under the influence

Drowsy driving

Distracted driving

Improper braking techniques

Broken federal safety laws

Poor driver training

Unsafe trucks

Dangerous road defects
Once we understand what caused your collision, we will bring a claim against the at-fault party or parties on your behalf. Negligent truck drivers, the trucking company, and the insurance company are often defendants in trucking accident cases. We will use proven legal tactics to achieve maximum results.
Common Injuries From a Truck Accident
Truck accidents are notoriously catastrophic for victims – namely, to those in the smaller passenger vehicles. An 80,000-pound or heavier truck colliding with a passenger car can result in catastrophic, life-threatening personal injuries for those inside the latter.
Bone fractures

Crush injuries

Skull fractures

Back and neck injuries

Internal injuries

Lacerations

Losses of limb

Permanent disabilities

Scarring and disfigurement

Fatal injuries
Aside from significant physical injuries, a traumatic truck accident could also cause psychological and emotional injuries. At Rosenthal Law, our Roseville trucking accident attorneys fight to achieve compensation for a client's full damages – physical, emotional and financial. We will take into account how the accident affected you personally when calculating the value of your injury claim. We will hold negligent truck drivers and insurance companies accountable. 
Truck Accident Statistics
The state of California does not directly publish statistics regarding commercial truck accidents that occur within its boundaries. However, when we examine data available from the National Safety Council (NSC), we could see that there were around 118,000 large commercial trucks involved in accidents resulting in an injury across the country during the latest reporting year. This represented a 5% increase from the previous year. Additionally, the data also shows that there were 5,005 total large commercial trucks involved in fatal crashes during that same reporting year, which represented a 2% increase from the prior year.
Overall, large commercial truck accident injuries and fatalities are increasing. This likely has to do with our societal reliance on goods delivered to stores and our homes. As online shopping has increased, so has the need for more commercial truck activity.
Contact a Roseville Truck Accident Lawyer Today
If you are curious about the value of your truck accident case, request a free consultation with the Roseville accident attorneys at Rosenthal Law. We will ask questions about your truck accident, learn about your injuries and losses, and provide our best advice as to what to do next. If we accept you as a client, we can immediately go to work on filing your truck accident claim. Learn more today. Call (916) 774-7200 or send us a message online and our personal injury law firm will get back to you right away.