Sacramento Hit and Run Accident Attorney
In California, a driver who leaves the scene of a car accident is liable for civil and criminal penalties. The victim of a hit and run accident is often left wondering who will pay for their medical care and property damages. If you or a loved one suffered injuries due to a hit and run driver, do not despair. Contact a Sacramento hit and run accident lawyer at Rosenthal Law. At Rosenthal Law, we will review your case for free, explain your legal options for recovery, and pursue the compensation you deserve.
At Rosenthal Law, we practice law with excellence, compassion, and integrity. Come and see what sets us apart from other law firms.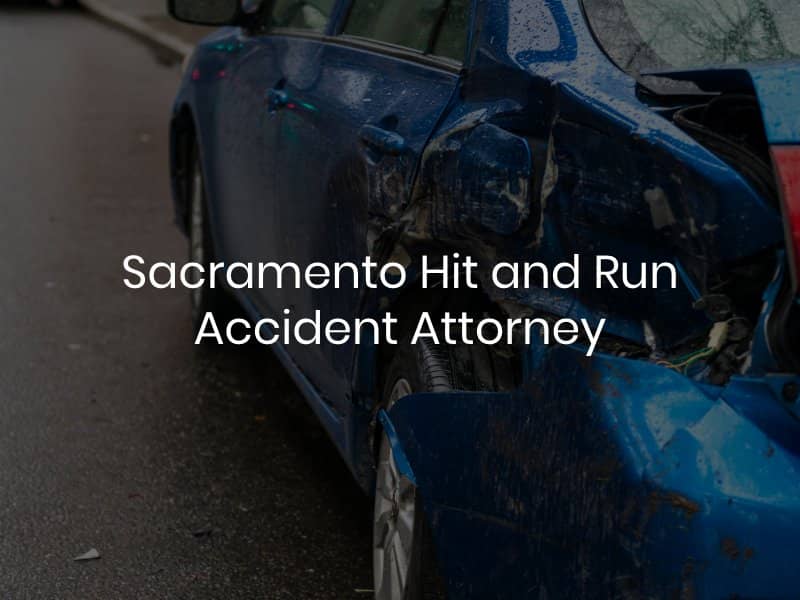 Content
How a Sacramento Hit and Run Accident Attorney Can Help You
A hit and run accident is stressful for its victims and their families. There is no reason to fight a legal battle while recovering from an accident. At Rosenthal Law, our goal is to alleviate some of your burdens and allow you to heal physically.
Our hit and run accident attorneys will:
Search for the at-fault driver by working with eyewitnesses and law enforcement
Locate the at-fault driver and take legal action to recover compensation
File a claim with your insurance company for your medical bills, repair or replacement of property, and other expenses.
There are legal time limits to file a hit and run claim. The sooner you contact Rosenthal Law, the faster we will set to work protecting your legal rights and taking all necessary steps to pursue just and fair compensation for you. We can meet with you at our office or your hospital room
Can You Recover Compensation After Being a Hit-and-Run Victim?
Many hit-and-run accident survivors in California can successfully obtain compensation for their injuries and property damages. An insurance claim or personal injury lawsuit could be an outlet for financial recovery for you as a hit-and-run victim. A hit-and-run claim against the at-fault driver or another party could result in payment for many different damages.
Medical Bills
Medical expenses necessary to treat serious or catastrophic injuries could run you thousands of dollars in debt. An insurance claim or lawsuit with the help of an injury lawyer could reimburse you and your family for all related health care costs.
Pain and Suffering
California courtrooms allow you to seek reimbursement for general damages such as pain and suffering. California does not cap these noneconomic damages except in medical malpractice cases.
Lost Income
If an accident forced you to take time away from work without pay, you can list the total amount of your lost wages on your insurance claim. You could also seek payment for lost future earnings if you suffered a disabling injury.
Property Damages
List the full amount of what it will cost to repair the damage to your vehicle from the hit-and-run. If the crash totaled your car, list the estimated value of your vehicle before the collision.
Punitive Damages
A judge in California could award you punitive damages to punish the defendant for committing the crime of a hit-and-run. This type of award would be in addition to compensatory damages.
These are the general compensation categories for a personal injury claim in California. You could be eligible to receive award amounts under some or all of these categories depending on the circumstances of your case. If you are curious about the potential value of your hit-and-run accident claim, schedule a free case review with one of our hit and run collision attorneys.
Reasons For a Hit and Run Accident
There are reasons a driver may choose to flee the scene of an accident. They vary according to an individual's circumstances, but commonly include:
Not having a valid license
Not having valid insurance
Being under the influence of alcohol or drugs
Not being a legal citizen of the United States
Having a warrant for his or her arrest
Not wanting to accept responsibility for the collision
Even if the driver is innocent of criminal charges, they may be held civilly liable for a hit-and-run accident.
Who Pays in a Hit-and-Run Accident?
The question of whether you can obtain compensation for a hit-and-run accident will depend on the parties available to take the blame. First, look for the person who caused your accident. Under California's tort insurance laws, this is the party that should legally be responsible for your damages. If the police catch the person that hit you and fled, he or she may have to pay for your losses. You will then file a claim with the hit-and-run driver's insurance company for the full amount of your damages.
If the police cannot find who struck you or your vehicle, you might be eligible to recover through your own uninsured/underinsured (UM/UIM) motorist insurance instead. This type of insurance should pay for your damages after a hit-and-run as if the driver had remained at the scene but simply did not carry insurance. A phone call to your insurance company will let you know if you purchased this insurance.
A third party could also be liable for your hit-and-run accident. A third party is someone not directly involved in your crash, such as the City of Sacramento, an auto part manufacturer or a property owner. The third party may share fault for your collision if it should have done something to prevent it, such as repair a roadway defect or issue a recall on a dangerous car part. An investigation of your hit-and-run accident with help from our Sacramento hit and run accident lawyers can help you identify the appropriate outlet for recovery in your case.
Does Your Policy Contain UM Coverage?
Your own insurance policy likely contains a paragraph describing UM coverage. UM stands for uninsured motorist, and hit-and-run compensation is just like compensation for people hurt by uninsured or underinsured motorists.
UM coverage is part of most people's auto insurance policies. Instead of going to the other driver's insurance company for compensation, you go to your own insurance company. It is inexpensive to carry this coverage, and you will be glad you have it if you are injured this way.
While UM is an excellent way to protect your interests in the event of injury, there is one catch. Your own insurance company may not be interested in paying your motor vehicle accident claim. Insurance companies don't like to pay out, not even to their own policyholders. Even in hit-and-run cases, which are entirely the fault of the other driver, you insurance company may seek to delay, diminish or deny your claim entirely.
Do You Have To Pay the Deductible on a Hit-and-Run?
A deductible is a pre-specified amount you will have to pay an insurance company before it will reimburse you for your accident-related damages. The amount of your deductible typically depends on the value of the claim and the amount you pay monthly. The lower your monthly payments, the higher your deductible may be. If you use your own insurance to cover damages after a hit-and-run, you may owe a deductible. Whether you will have to pay the deductible depends on the type of coverage you use.
If you make a claim on your UM insurance, you typically will not have a deductible. This insurance covers you as if the at-fault driver had remained at the scene and paid for your damages. Since you would not have paid anything in that scenario, your insurance company will not make you pay a deductible when you use your UM or UIM insurance. Your insurance company will reimburse you up to your policy's limit without making you pay anything first.
If, however, you seek damage reimbursement under your collision coverage, you will owe a deductible. This insurance will cover damages to your vehicle in a hit-and-run accident, but you will have to pay out of pocket for any deductible connected to your collision coverage. The same is true if you file a claim through your personal injury protection insurance. Filing a claim for both types of coverage would result in paying two deductibles.
How Long Do You Have to Report a Hit-and-Run Accident?
You should always report a hit-and-run accident as soon as possible in Sacramento. The police will need to visit the scene of the accident and search for evidence while the crash is still fresh. Otherwise, vital evidence may disappear. Pieces of the hit-and-run driver's vehicle, for example, may be in the road for investigators to collect and analyze for only a few hours. Waiting too long could eliminate any available evidence – which is already scarce in most hit-and-run cases.
Reporting an Accident to the Police or California Highway Patrol
Legally, you have 24 hours to report a car accident to the local police or the California Highway Patrol if it causes injuries, deaths or more than $1,000 in property damage. California Vehicle Code 20008 enforces this 24-hour rule. If you miss the 24-hour mark, it may hurt your chances of catching the person who caused your accident. It could also lead to legal trouble if someone had an injury and you failed to report the crash right away.
Reporting an Accident to the Department of Motor Vehicles
If your accident fulfills the requirements of reporting it to the authorities, you must also file a report with the Department of Motor Vehicles (DMV). You typically have 10 days from the date of your hit-and-run to notify the DMV with the details of your wreck. The DMV will ask for information such as your name, your insurance company's name, a description of your vehicle and the names of any injured parties.
When it comes to reporting a hit-and-run accident to your insurance company, the general rule is to do so right away. Some companies enforce actual deadlines, such as 24 hours after the accident. Others simply ask that you make the call as soon as you can. If you wait too long, it could be grounds for your insurance company to deny your claim. Gather information about your hit-and-run accident before calling an insurance provider.
Hit-and-Run Statistics
You are not alone as the survivor of a hit-and-run accident in California. Unfortunately, these accidents happen often. Too many drivers recklessly or negligently cause accidents and flee the scene to avoid repercussions. Hit-and-run drivers might not have insurance, might be driving on suspended licenses or might be under the influence. Whatever the case, the driver commits the crime of hit-and-run rather than staying to face the consequences. Hit-and-run accident statistics can shed light on the scope of this problem in America.
Every minute, at least one hit-and-run accident occurs in the U.S., according to the AAA Foundation for Traffic Safety.
In 2016, hit-and-run accidents cost about 2,050 lives in America. This was the highest hit-and-run death toll on record.
Each year, an average of 682,000 hit-and-runs happen on U.S. roads. The states with the highest number of hit-and-runs in 2016 were New Mexico, Louisiana and Florida.
The people most at risk of suffering fatal injuries in hit-and-run accidents are bicyclists and pedestrians. In 10 years, hit-and-runs caused almost 20% of all pedestrian deaths.
California had a record number of hit-and-run accidents in 2016: 337. Per capita, California was number seven in the country for hit-and-run fatalities. The only other states with more than 100 hit-and-run deaths were Texas and Florida.
Every roadway user should do his or her part to reduce the number of hit-and-run accidents. Drivers can put down their phones and pay more attention to the road. When passing a vulnerable road user, a driver should always keep a safe and reasonable distance. Bicyclists and pedestrians can make themselves more visible. If a driver causes a crash, he or she should always remain at the scene, check for injuries and report the accident.
What to Do After a Hit and Run Accident
There are steps the victim of a hit and run accident can take to protect their legal rights.  These are as follows:
Call the police
Call for emergency medical help
Interview any witnesses to the accident
Write down the full names, addresses, and phone numbers of witnesses for later interviews
Take photographs of the accident scene
Write down details about the car that caused the accident such as its color, make, model, or any distinguishing damages
Write down the direction in which the driver fled the scene of the accident
Write down the time and location of the accident
Contact your own insurance company
Contact an experienced hit and run accident attorney
Call Our Hit and Run Accident Attorneys Today
You need an experienced Sacramento car accident attorney in your corner. Insurance companies think nothing of bullying you, but they think long and hard before they take on a seasoned hit-and-run injury lawyer like those at Rosenthal Law.
We're sorry you were injured, and we wish you a full recovery. In the meantime, we suggest that you give us a call at (916) 774-7200. You will have a clearer idea of your chances after you discuss your claim. Our consultation is free, with no obligation to go forward with us. If you do decide to go forward, know that we charge you nothing until we produce a favorable outcome for you!
Questions? Contact us using this form.