Roseville Bicycle Accident Attorney
At Rosenthal Law, we are ready to help if you need a Roseville bicycle accident attorney by your side. We have no problem standing up to aggressive insurance carriers and at-fault parties to help injured bicyclists recover maximum compensation for their losses.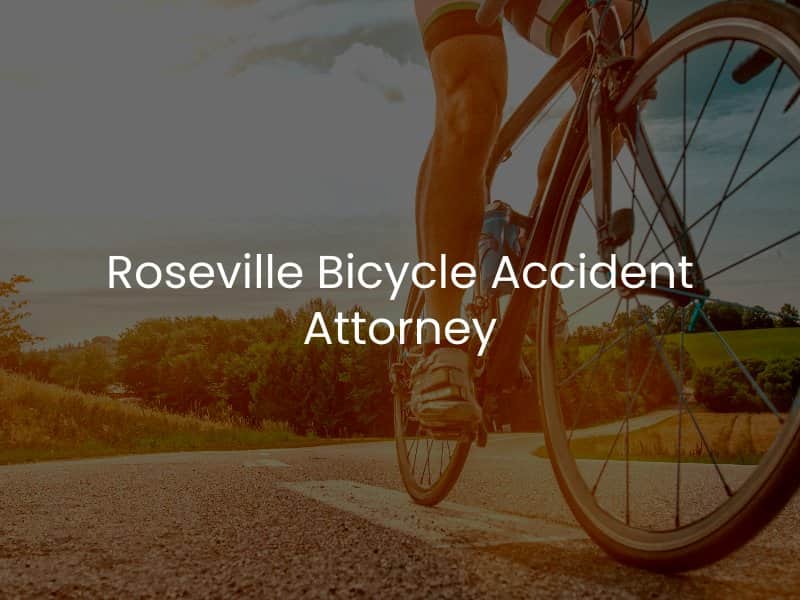 Should I Hire a Lawyer for my Bicycle Accident Case?
At Rosenthal Law, our team has spent 25 years helping injury victims recover compensation after all the collisions. We have a track record of success helping individuals who have sustained significant injuries or property damage. We understand how difficult it can be for injured bicyclists to recover compensation, and we advocate vigorously on their behalf.
A Roseville bicycle accident attorney can handle every aspect of these challenging claims, beginning with an investigation into the incident. While an investigation is ongoing, an attorney will ensure their client is evaluated by trusted medical and economic experts. Your Roseville bicycle accident lawyer will negotiate with aggressive insurance carriers and also fully prepare the case for trial if necessary.
What Damages Can I Recover for a Bike Accident?
Individuals who sustain injuries in a bicycle accident caused by the negligent actions of another party should be able to recover various types of compensation for their losses. At Rosenthal Law, we work diligently to recover economic and non-economic damages on behalf of every client we help.
Economic damages after a bicycle accident revolve around expenses that we can calculate relatively easily by using receipts and bills. These include medical expenses, property damage losses, physical therapy or rehabilitation, medical devices and medications, lost wages, etc.
Non-economic damages after a bicycle accident include more immeasurable expenses an individual is likely to endure. We may not have receipts or bills to necessarily add up these expenses, but there are ways to calculate a bicycle accident victim's physical pain and suffering, emotional and psychological distress, and loss of quality of life.
There is no set amount of compensation paid to Roseville bicycle accident victims. We encourage you to speak to a Roseville personal injury attorney about the various factors that can affect total compensation amounts.
How Long Do I Have to File a Bicycle Accident Claim?
Bicycle accident victims have a limited amount of time to file a claim in court. The California personal injury statute of limitations says that injury claims must be filed within two years from the day the injury occurs or the injury victim becomes unable to recover compensation for their losses.
However, it is important to remember that most bicycle accident claims are resolved through settlements with insurance carriers. These insurance carriers have fairly strict reporting deadlines, so we encourage you to speak to an attorney to file your claim as soon as possible.
Speak with a Roseville Bike Accident Lawyer Today
If you or somebody you care about has sustained a bicycle accident injury caused by the negligent actions of another party in the Roseville area, the team at Rosenthal Law is ready to step in and help you recover compensation today. We have extensive resources at our disposal and a solid track record of success in recovering compensation on behalf of clients. When you need a Roseville bicycle accident attorney, you can contact us for a free consultation by clicking here or calling us at (916) 774-7200.