Citrus Heights Bicycle Accident Lawyer
Getting into a bicycle accident in Citrus Heights can be one of the most traumatic experiences of your life. Amid serious personal injuries and expensive medical bills, you may also have to contend with an angry driver who disputes liability or an insurance company that denies your claim. The Citrus Heights bike accident lawyers at Rosenthal Law can help you work through the difficult aspects of your injury claim while protecting your rights as a crash victim. If you or a loved one has serious injuries from a recent bicycle accident, please contact us for a free legal consultation.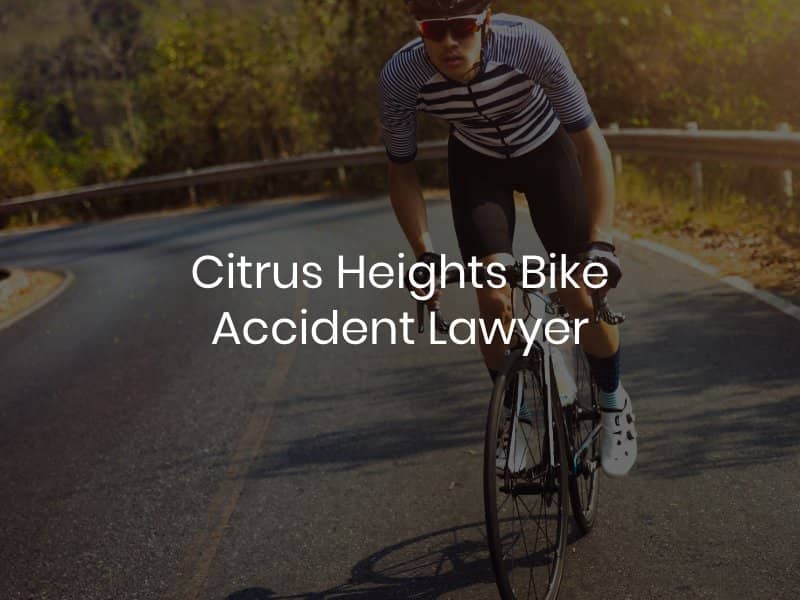 Why Bicyclists in Citrus Heights Choose Us
We pride ourselves on building claim strategies based on each client's goals. An attorney from Rosenthal Law will take the time to get to know you, hear your story and understand your personal loss.
We will put lawyers to work on your case who have over 25 years of experience representing clients in all types of personal injury cases.
Our firm knows exactly how to navigate California's traffic accident laws to each client's greatest advantage, including comparative fault laws.
We have years of excellent case results that prove our ability to obtain high outcomes for injured clients.
Bicycle Accidents On the Rise in Citrus Heights
Despite growing awareness of the risks of bicycle and pedestrian accidents, the rate of these crashes in Citrus Heights continues to increase. In 2016, the City of Citrus Heights recorded 31 bicyclists injured and killed in traffic accidents. This was a significant increase from 19 injured and killed bicyclists in 2015. If you frequently ride a bike in Citrus Heights, stay alert for potential causes of traffic accidents. You may be able to avoid a serious collision.
Distracted drivers
Negligent drivers
Drivers failing to yield the right-of-way
Drunk drivers
Drowsy drivers
Unsafe streets
Poor intersection designs
Defective roadways
Defective bicycles
Human error causes most serious and fatal bicycle accidents in California. Drivers have a responsibility to pay attention for bicycle riders and pedestrians, as well as to obey all roadway rules. This includes speed limits, traffic signs and rights-of-way. When a driver breaches these duties of care, accidents happen. If you believe a driver is responsible for causing your recent bike crash in Citrus Heights, use our services to build a case against him or her.
What to Do After a Bike Accident in Citrus Heights
Help prevent a bicycle accident by riding safely within the confines of the law. Obeying traffic laws can make your actions predictable to surrounding drivers, reducing the risk of collisions. Unfortunately, dangerous drivers can put you at risk no matter how prudent you are as a cyclist in Citrus Heights. If you do get into a bicycle accident, take certain steps to get your injury claim off to a strong start.
Get the driver's name and insurance information.
Call 911 if you have any injuries.
Request a paramedic from the scene of the accident.
Take photographs of your bicycle and the other vehicle.
Talk to eyewitnesses.
Go to the hospital for a physician's diagnosis.
Call the driver's insurance company to file a claim.
Do not admit fault for the bicycle accident.
Contact a Citrus Heights bicycle accident attorney from Rosenthal Law.
Your first priority should be your physical health; some injuries, like a traumatic brain injury, are not readily apparent. Your second priority should be holding the at-fault driver responsible. At Rosenthal Law, a bike accident lawyer in Citrus Heights can help you with each step of the claims process. You can focus on getting well and returning to work while we process paperwork, build your case against the defendant and argue for fair compensation on your behalf.
Start Your Bicycle Accident Claim in Citrus Heights Today
You can breathe easier the moment you contact a Citrus Heights bicycle accident attorney from our law firm. We will answer your questions, provide tailored legal counsel and take over difficult processes such as communicating with insurance claims adjusters on your behalf. We will use our years of experience in bicycle accident law to benefit you and your family. Call today for a consultation in the Sacramento area, or request a callback online. Initial meetings with an accident lawyer are free and confidential.