Roseville Motorcycle Accident Lawyer
Motorcyclists should never have to worry about whether they will recover compensation if another driver causes them harm. Unfortunately, insurance carriers are notoriously difficult to deal with after a collision, but Rosenthal Law is here to help. Our Roseville motorcycle accident lawyers have the resources to handle every aspect of your claim, and we will take your case to trial if necessary to ensure you are treated fairly.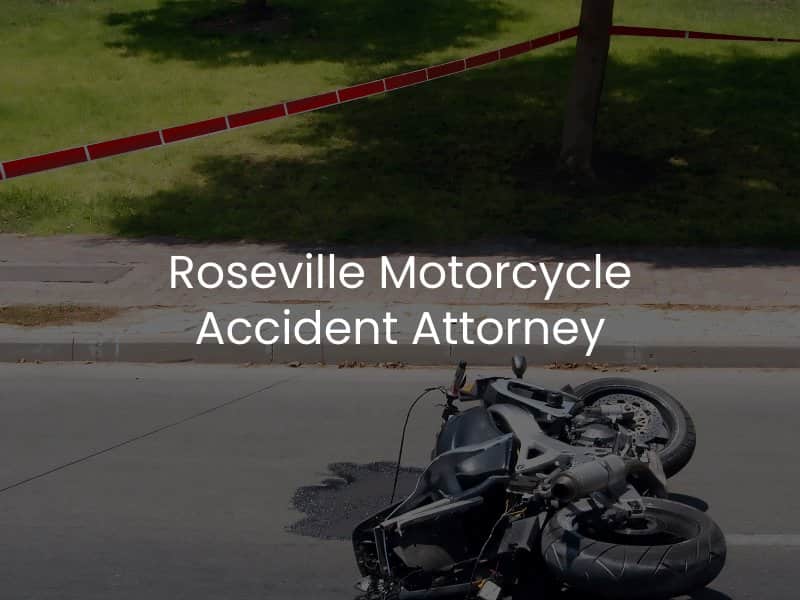 Why Choose Rosenthal Law for Your Motorcycle Accident Claim?
At Rosenthal Law, our Roseville personal injury lawyers have been fighting to help clients recover compensation for more than 25 years, and we know what it takes to stand up to at-fault parties and their legal teams.
Our clients never pay a legal fee until after we successfully recover compensation on their behalf. No upfront costs and no payment if we do not win the case.
We keep an open line of communication with every client that we help. This means that you will have the ability to ask us any questions about your case at any time.
How a Roseville Motorcycle Accident Lawyer Will Help Secure Compensation
Motorcycle accidents can be challenging, particularly if the other party tries to place some or all of the blame on the victim of the incident. After sustaining a motorcycle accident injury caused by the negligence of another driver, your lawyer will first step in and ensure that you are evaluated by trusted medical experts who can treat your injuries and help properly calculate total expected costs.
Your Roseville motorcycle accident lawyer will simultaneously conduct a complete investigation into the incident; an investigation much more in-depth than what law enforcement officials will do. This will include obtaining all evidence needed to prove the negligence of the other driver involved.
Finally, a lawyer will handle all communication and negotiation with the insurance carriers, and they will also fully prepare your claim for trial if necessary to help you recover full compensation.
How Much Compensation is Available for a Motorcycle Accident Claim?
There is no set amount of compensation paid out to motorcycle crash victims, as there are several factors that go into adequately calculating the proper amount.
Motorcycle crash victims in Roseville should be able to recover a wide variety of types of compensation for their losses. On the economic end of the spectrum, this includes complete coverage of all emergency and follow-up medical expenses, including prescription medications, emergency room visits, medical devices, physical therapy and rehabilitation, and more.
Additionally, if you cannot work as a result of the incident, you should be able to recover complete compensation for your lost wages. Your lawyer will fight to ensure that you receive complete coverage of all property damage expenses that you incur as well.
On the non-economic end of the spectrum, you should also receive compensation for any physical and emotional pain and suffering you endure as a result of the motorcycle crash. This includes compensation for feelings of stress, anxiety, and even PTSD.
Call a Roseville Motorcycle Accident Lawyer Today
If you or somebody you care about has been injured or sustained property damage in a motorcycle accident caused by the negligence of another driver in Roseville, reach out to Rosenthal Law immediately. We will not waste any time investigating your claim, and our goal is to make sure that you receive the necessary care to make you whole. When you need a Roseville motorcycle accident lawyer, you can contact us for a free consultation by connecting with us online or calling us at (916) 774-7200.