Sacramento Uninsured Motorist Accident Attorney
A car accident is a stressful situation. However, dealing with a car accident caused by an uninsured or underinsured motorist is overwhelming. At Rosenthal Law, our uninsured motorist accident attorneys in Sacramento help victims recover compensation from their insurers and those of liable parties.
The attorneys at Rosenthal Law are:
Dedicated to protecting the rights of victims
Highly-qualified personal injury attorneys
Compassionate and client-focused
We offer a free case review and consultation. If you are too injured to visit us, we will come to your hospital room. Call Rosenthal Law today and learn more about our standard of excellence in representation.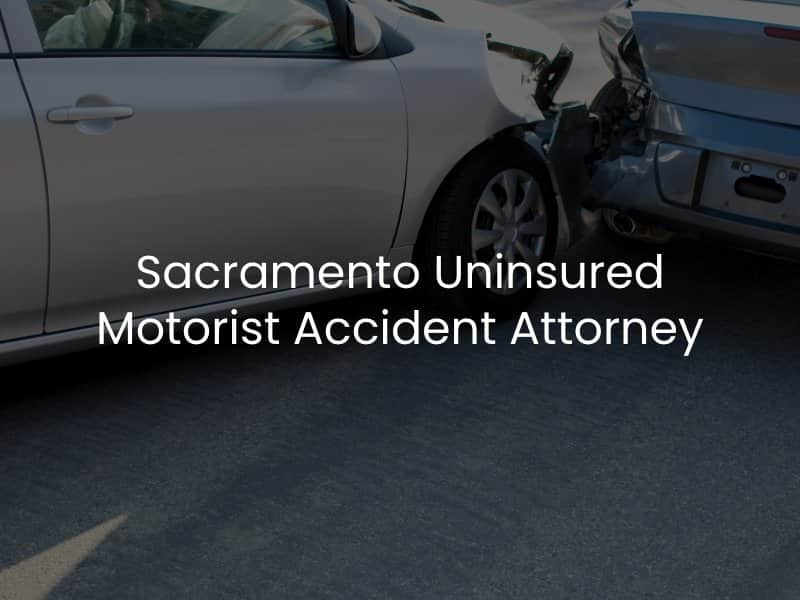 Content
What a Sacramento Uninsured Motorist Accident Attorney Can Do for You
Insurance companies focus on their bottom line by minimizing the payments they make on claims. At Rosenthal Law, we understand this pattern and prepare each case as if it were going to trial. Our Sacramento uninsured motorist accident attorneys are aggressive in their dealings with insurance companies.
Call Rosenthal Law and allow our attorneys to:
Review your insurance policy and confirm whether you have the appropriate coverage for a claim
If necessary, file a lawsuit against your insurance company
Fight to protect your right to fair and just compensation for your injuries and losses
Help protect you from bad faith actions by insurance adjusters like long delays, policy cancellation, or increased premiums
We have achieved successful outcomes in over 98% of our cases. Call today and let a Sacramento auto accident lawyer from Rosenthal Law begin working for you.
California Minimum Liability Insurance
An uninsured motorist is anyone who operates a motor vehicle without the minimum liability insurance required by law. California requires all drivers to carry liability insurance covering minimum amounts for property and medical expenses. However, not all drivers follow this law, and victims are left paying for their medical costs and property damages.
California's minimum liability limits are 15/30/5. This means that an insurance policy must cover $15,000 for injuries to a single person, $30,000 for injuries to all individuals, and $5,000 for property damage in a single accident.
With such low minimum liability limits, California also has an issue with underinsured drivers. The minimum coverage for property damage is $5,000; however, that is rarely enough to cover significant property damage.
Who Is Covered by the Uninsured Motorist Coverage?
It is crucial to point out that uninsured motorist coverage is not required in the state of California. However, we strongly recommend that all drivers consider purchasing this coverage so that they are protected in the event an accident occurs with an uninsured driver.
If you are struck by an uninsured driver, and if you have uninsured motorist coverage, you will typically be able to receive compensation for your medical bills and property damage expenses. Additionally, if you had any passengers in your vehicle at the time the accident occurred, your uninsured motorist coverage should also pay for their medical expenses.
The total amount of compensation paid by uninsured motorist coverage will depend on the level of coverage that you have purchased from your insurance carrier. For example, it is not uncommon for uninsured motorist coverage to mimic the minimum amount of insurance typically required in the state of California.
What Damages Can I Recover After a Collision with an Uninsured Motorist?
If you do carry uninsured motorist coverage, you will likely be able to recover various types of compensation after a vehicle accident with an uninsured driver. Uninsured motorist bodily injury coverage. With this type of coverage, you will be able to receive compensation for any injuries caused by a driver without insurance. This can include coverage of:
Ambulance transportation
Emergency room bills
Doctor's visit bills
Medical devices
Prescription medications
Physical therapy or rehabilitation
Uninsured motorist property damage coverage.
With this type of coverage, you will be able to receive compensation for damages to your vehicle caused by a driver without insurance.
When determining how much compensation you receive, this will revolve around how much your injury expenses and property damage expenses are as well as the limitations of your specific policy. For example, if you carry both $25,000 injury and property damage policies, you will be limited to that much compensation for your losses. If your damages rise above your insurance policy limits, the only way for you to recover additional compensation will be to file a personal injury lawsuit directly against the at-fault driver.
Investigation into the Car Accident Claim
Regardless of whether or not you are struck by a driver with insurance or without insurance, there will likely need to be an extensive investigation into the incident. This investigation will be twofold, particularly if you have uninsured motorist coverage.
First, nearly every vehicle accident that occurs in California is investigated by law enforcement officials. The police are typically required to come to the scene of a vehicle accident:
If anyone was injured in any way
If anyone lost their life
If the crash resulted in property damage of more than $1,000
The police will conduct a preliminary investigation into the incident in order to fill out their accident report. For severe accidents, law enforcement officials will likely conduct a more extensive investigation, particularly if there were severe injuries that could result in the loss of life or if somebody was deceased at the scene.
The investigation into a vehicle accident will continue with the insurance carriers and any legal teams involved. Insurance carriers are going to want to conduct an investigation to ensure that they only pay out compensation if they have to. Further investigations into a crash will include:
Examining photo or video surveillance gathered from the incident
Speaking to eyewitnesses
Obtaining vehicle "black box" data
Obtaining mobile device records
Looking into the driving histories of the drivers involved
In some cases, particularly when liability is not completely clear, it may be necessary to work with accident reconstruction experts who can use the evidence already gathered along with advanced science and computer renderings to determine what happened.
What to do After an Uninsured or Underinsured Motorist Accident
There are steps to take after an uninsured or uninsured motorist accident to protect one's legal rights. These steps are as follows:
Call 911. Somebody at the scene of the accident needs to call 911, and you should never assume that other individuals are doing so. If you are able, pick up your phone and call the police. Let the dispatcher know where the accident occurred and whether or not you suspect there are any injuries. The police need to come to the scene so they can conduct a preliminary investigation and fill out an accident report.
Seek medical care. You need to seek medical care as soon as possible after a vehicle accident occurs. Regardless of whether or not you think you were injured, it is crucial to establish a solid link between the crash and your injuries. Some injuries may not have signs or symptoms until hours or even days after the crash occurs.
Gather evidence. If you are able to safely do so at the scene of a crash, you should do everything you can to gather evidence. This can include using a cell phone to take photographs of debris, injuries, skid marks, vehicle damage, and more. You should get the names and contact information of any eyewitnesses so they can be contacted at a later date.
Notify your own insurance company. Failure to provide notice right away could waive your rights to recovery. Most insurance carriers have very strict reporting deadlines, often within a day or two after the incident occurs.
Do not make a statement or give a recorded statement. Any statements you make to an insurance carrier or any other party involved could be used against you, even if you do not think you said anything wrong. Something as simple as saying that you just left the grocery store the day after a vehicle accident could be misinterpreted and used by insurance carriers to say that "you are not really injured if you can go shopping."
Contact an experienced uninsured motorist accident lawyer in Sacramento. An attorney can thoroughly examine every aspect of the situation and handle all communication and negotiations with other parties involved. This includes the at-fault driver as well as your own insurance carrier if necessary.
Continue medical treatment. You need to continue all medical treatment required by your doctor until you have reached maximum medical improvement (MMI). If you choose to discontinue treatment before your doctor says you should, the insurance carriers involved could use this as a sign that you were not really as injured as you said, and this could jeopardize your settlement.
An uninsured motorist claim usually goes to arbitration when there is no settlement with the insurance company. Arbitration is a hearing conducted by a panel of paid legal professionals to hear the evidence and make a judgment. When an underinsured motorist is involved, a negotiation process will begin with their insurance adjuster in an attempt at settlement.
Penalties for Driving Without Car Insurance
There are various penalties associated with driving without insurance in California. Any person cited by a police officer for not having insurance will be fined anywhere from between $100 and $200 for a first conviction. Additionally, the court could decide to impound your vehicle.
If a person is caught driving without insurance in California for a second time, the fine can range from $200 to $500. Again, a vehicle could be impounded in these situations.In addition to these fines, there are also additional penalty assessments associated with driving without insurance in this state. These penalty assessments depend on the locality where the offense occurs.
In addition to the statutory penalties associated with driving uninsured, individuals could also find themselves financially responsible for the injuries or property damage sustained by others involved in an accident. If you cause an accident and you do not have insurance, those harmed by your actions could file a personal injury lawsuit against you.
Contact an Uninsured Motorist Attorney in Sacramento Today
If you or somebody you care about has been injured or sustained property damage as a result of an uninsured driver in Sacramento, reach out to an attorney as soon as possible. A skilled personal injury lawyer will be able to conduct an investigation into the incident and help you uncover all routes towards securing compensation for your losses. This will include dealing with your own personal insurance carrier if you have uninsured motorist coverage as well as possibly pursuing a personal injury lawsuit against the at-fault driver.
At Rosenthal Law, our uninsured motorist accident attorneys will explain the settlement and arbitration processes to you as well as each step of your claim as it progresses. Our lawyers will demand the full coverage that you are entitled to and pay for every month. Contact us in Sacramento today.