Folsom Bicycle Accident Lawyer
The bicyclist will always lose in a collision between a bike and a motor vehicle. Injuries bicyclists suffer in these accidents can range from brain damage to spinal cord injuries. At Rosenthal Law, we know how to represent victims with serious injuries to optimize their odds of securing financial compensation.
If a driver or another party is at fault for your accident, our Folsom bicycle accident lawyers can help you hold that person responsible. Call our firm today to see if you have grounds for a personal injury claim in Folsom, California.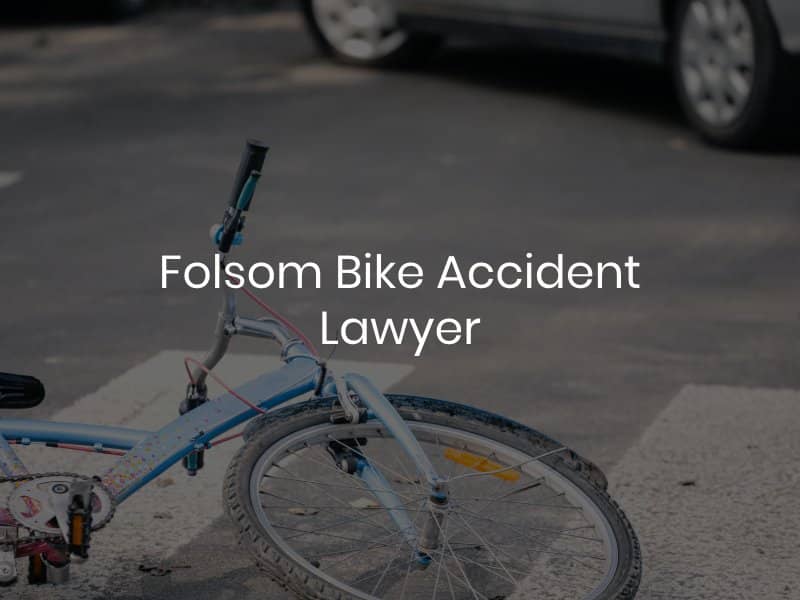 What Makes Us Unique?
We have superior results. Our Folsom bike accident attorneys work hard to achieve successful outcomes. We have won over 99% of our past cases.
We can go to court. Our litigators have the power to secure compensation for injured bicyclists through settlements, mediations, arbitrations or trials.
We have experience. Our bicycle accident lawyers in Folsom have more than 25 years of experience representing badly injured clients.
We want you to succeed. Our attorneys are here for you. We offer free initial consultations plus a free Uber ride to your meeting if you cannot afford to travel.
Causes of Bicycle Accidents
Even if you think you know who or what caused your accident, speak with an attorney from our firm. It might surprise you to find another party also bears some responsibility, such as the manufacturer of your bicycle or helmet. An exhaustive investigation from Rosenthal Law could help you determine the identities of all responsible parties.
Driver error. Running red lights, rolling through stop signs, ignoring rights-of-way, following too closely, opening doors into oncoming cyclists and turning left into bicyclists are just some of the ways negligent drivers can cause bike accidents.
Roadway defect. Bikers in Folsom are more at risk of injuries from roadway defects than motor vehicle drivers. Defects car tires can roll over, such as potholes, could prove disastrous for cyclists. The City of Folsom could be liable for road defect accidents.
Vehicle defect. If the motor vehicle or bicycle contained a manufacturing, design or marketing defect that contributed to your injuries, you may have a claim against the vehicle's manufacturer.
Holding multiple parties accountable for your bicycle accident and serious injuries improves your chances of obtaining fair and full compensation. If the negligent driver does not have adequate insurance, one of the other at-fault parties might be able to offer greater financial recovery.
Common Injuries We Represent
Our bicycle accident lawyers exclusively accept personal injury cases throughout California. We have extensive experience and knowledge of all types of personal injuries, including severe injuries from bike accidents. Our law office can help you or a loved one after you suffered multiple bone fractures, a traumatic brain injury, spine injury, internal organ damage, road rash, contusions, muscle sprains and strains, or other injuries. We can help you gather evidence of your injuries, combat comparative negligence defenses and fight for a compensatory award that makes sense based on your losses.
Do Not Miss Your Deadline to File
In California, a law called a statute of limitations gives you just two years from the date your bicycle accident occurred to file a personal injury lawsuit in the Folsom courts. Do not miss this deadline, as that could eliminate any right you might have had to compensation. Note that you must initiate an insurance claim much sooner – typically within 72 hours of the accident. If you want to bring a defendant to court, however, you have two years.
Contact Our Folsom Bike Accident Lawyers Today
If you have serious injuries or someone you love passed away in a recent bicycle accident in Folsom, California, please contact the attorneys at Rosenthal Law to request a free case review. Our lawyers may be able to help you secure a compensatory award that enables you to pay for your past and future medical bills, lost wages, therapies and bicycle repairs/replacement. Discuss the possible value of your case for free today.