Sacramento Swimming Pool Accident Lawyer
If you or a loved one is suffering from injuries sustained in or around a pool, be sure that you have an experienced Sacramento swimming pool accident attorney with the ability to secure full and fair compensation on your behalf. At Rosenthal Law, our lawyers have decades of experience representing adults, children, and families in a broad range of pool accident claims, including wrongful death by drowning.
Whether you are at a public pool, a water park, a hotel, or a friend's house, all property owners carry the responsibility to ensure the safety of visitors who use their pools. They also carry the responsibility of properly securing the area when the pool is unattended. When these responsibilities go unfulfilled and visitors suffer serious injuries, property owners can be held liable for any injuries that occur as a result.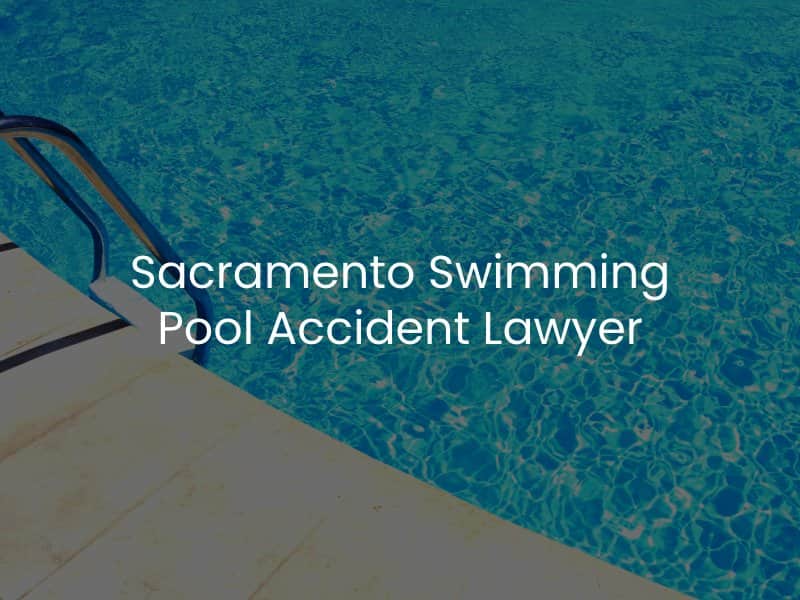 How an Attorney Can Help a Swimming Pool Case
Perhaps the single most important thing you can do after you or a loved one sustains an injury in a swimming pool is to contact an experienced attorney as soon as possible. A Sacramento swimming pool accident lawyer has the resources and legal experience necessary to help with every aspect of your case and ensure you receive maximum compensation. An attorney can:
Obtain any evidence necessary to prove liability. This can include any unobtained video or photo surveillance of the pool, safety records related to pool maintenance, training records of pool staff, statements from eyewitnesses, police/accident reports, and more. 

Work with a trusted medical professional who will fully assess their client's injuries and help properly calculate the total expected expenses. 

Open and maintain negotiations with all parties involved in order to reach a fair settlement on behalf of their client. 

Prepare the case for trial by jury if necessary to secure the compensation the client needs to make a full recovery. 
Types of Swimming Pool Accidents
Our Sacramento premises liability attorneys work tirelessly to secure the maximum level of compensation for your injuries. We have experience handling cases involving property owners, including municipal, public, and private pools. We understand the unique processes involved in pursuing personal injury cases against each of these parties. While we always attempt to negotiate a fair settlement in every case, we will not hesitate to take your case to court in order to obtain the best possible outcome.
We are prepared to represent you in any type of pool accident injury claim.
Common Swimming Pool Injuries
Swimming pool accidents can lead to severe injuries for victims. It is not uncommon for the Sacramento swimming pool accident attorneys at Rosenthal Law to help clients who have sustained the following injuries:
Broken or dislocated bones 

Severe lacerations or puncture wounds 

Open head wounds 

Other severe neck or back injuries 

Internal illnesses 

Near-drowning leading to brain damage 
The most tragic swimming pool injuries are those that lead to the wrongful death of a victim. In swimming pools, deaths are most commonly caused by drowning, but many of the injuries listed above can also lead to the untimely death of a victim. 
Causes of Swimming Pool Accidents
When we look at some of the most common causes of swimming pool injuries in Sacramento, we can see that many of them are preventable. At Rosenthal Law, our attorneys regularly determine that the following causes lead to swimming pool injuries:
Diving board accidents 

Diving from the side of the pool into the water 

Misuse of pool chemicals 

Puddles that cause slip and fall accidents 

Inattentive lifeguards or pool staff 

No lifeguards or pool staff present 

Malfunctioning drain equipment 

Overcrowded pools 

Broken or missing pool gates 

Broken pool lights 
Who Can Be Held Liable for a Swimming Pool Accident?
There are various parties that could be held liable in the event a swimming pool accident causes injuries to another person. Determining liability is often difficult, and in some cases, there may be more than one liable party. Swimming pool accidents are a common form of premises liability cases that arise in California, which means that property owners are often held accountable for swimming pool injuries. 
Property owners have a duty to ensure that any pool or hot tub is safe for guests. This includes performing regular inspection and maintenance of the pool and the water quality as well as ensuring that there is enough staff to properly supervise pool activities (when required). 
Private pool owners can also be held accountable for injuries that occur on their premises. Importantly, pool owners need to have fences and working gates around the pools to ensure that no individuals, particularly children, can gain unauthorized access to the area. In California, pool owners could be held accountable for injuries that occur to children if they fail to properly secure the pool area, even if the child was trespassing at the time they were injured. 
Discuss Your Case with a Sacramento Swimming Pool Accident Lawyer
We encourage you to contact us to discuss your injury claim with one of our personal injury lawyers in Sacramento. You can reach us by phone at (916) 774-7200 or contact us online to schedule a free consultation at our office.