Roseville Rideshare Accident Lawyer
We are here to help when you need an experienced Roseville rideshare accident attorney. We have a team of dedicated attorneys committed to advocating for the rights of those who have been injured in rideshare accidents, so let us get to work on your claim immediately.
Rideshare services like Uber and Lyft have made transportation more accessible and convenient than ever before. However, accidents involving rideshare vehicles can also occur, leaving victims with physical injuries, emotional trauma, and financial hardships.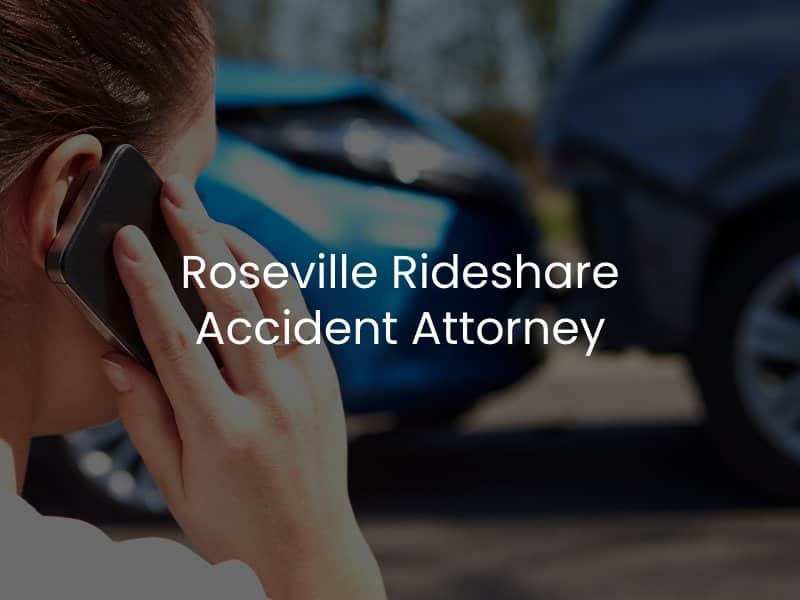 Why Should I Hire a Roseville Rideshare Accident Lawyer?
Recovering compensation after an Uber or Lyft accident in Roseville is challenging. The reality is that most people, including other attorneys, do not have a thorough understanding of how rideshare accident insurance works. At Rosenthal Law, our Roseville accident lawyers have a thorough understanding of how to handle Uber and Lyft accident claims because we have done it before.
We know to fully investigate every aspect of the claim, just like any other vehicle accident. However, we also understand how Uber and Lyft insurance works, particularly if the claims become more complex because of shared liability with other parties. We fully investigate these claims, handle all communication with other parties, and prepare the case for trial if needed.
Am I Entitled to Compensation After an Uber or Lyft Accident?
Depending on the facts surrounding the case, you may be able to recover various types of compensation after an Uber or Lyft accident. If you were a passenger inside the rideshare vehicle or another party harmed due to the negligence of a rideshare driver, you will likely be able to recover both economic and non-economic damages. This includes, but is not limited to, coverage of the following:
Emergency medical bills
Ongoing hospital or doctor visits
Rehabilitation or physical therapy
Medical devices or prescription medication
Lost wages if you cannot work
Property damage expenses
Physical and psychological pain and suffering damages
Loss of enjoyment of life damages
There is no set amount of compensation paid to rideshare accident victims in Roseville. Rather, the total compensation paid will depend on several factors, including injury severity, whether or not there was any shared fault, the level of property damage that occurred, and more.
How Long Do I Have to File a Claim?
These claims must be filed as soon as possible. First, insurance carrier deadlines are usually fairly quickly after the incident occurs, often within a day or two. Failing to report the incident to an insurance carrier promptly could lead to claim delays or even a denial.
If you are filing a civil personal injury lawsuit against another party after an Uber or Lyft accident, you must file the lawsuit within two years from the date the injury occurs. Failing to do so will likely mean the claim gets dismissed.
Contact Our Roseville Rideshare Accident Attorneys Today
If you or somebody you care about has sustained a rideshare accident injury caused by the negligent accidents of another party, reach out to the team at Rosenthal Law for help today. We will conduct a complete investigation into your incident, ensure you are evaluated by trusted medical professionals, and vigorously negotiate to recover the compensation you need. Let our Roseville rideshare accident lawyer get to work on your behalf today. You can contact us for a free consultation by clicking here or calling us at (916) 774-7200.