Sacramento Distracted Driving Accident Attorney
Have you been significantly affected by a distracted driving accident in Sacramento? Are you trying to seek the right Sacramento distracted driving accident lawyer for this type of case? If you have been seriously injured in a vehicular accident caused by a distracted driver, it is important that the distracted driving accident attorney you select has experience handling these issues. For more than 25 years, the legal team at Rosenthal Law have helped Sacramento clients like you achieve the best outcome for their distracted driver accident case.
Drivers can be tempted by all manner of distraction while on the road. The chief culprit for many drivers is the cellphone, which allows for a handheld distraction of the highest order. Videos, texting, even talking on the phone can impair driving ability to the same level as too many drinks. In California, it is illegal to operate a cell phone while driving unless using a hands-free device such as a Bluetooth earpiece or an in-car calling system, but that does not mean that all drivers abide by this law.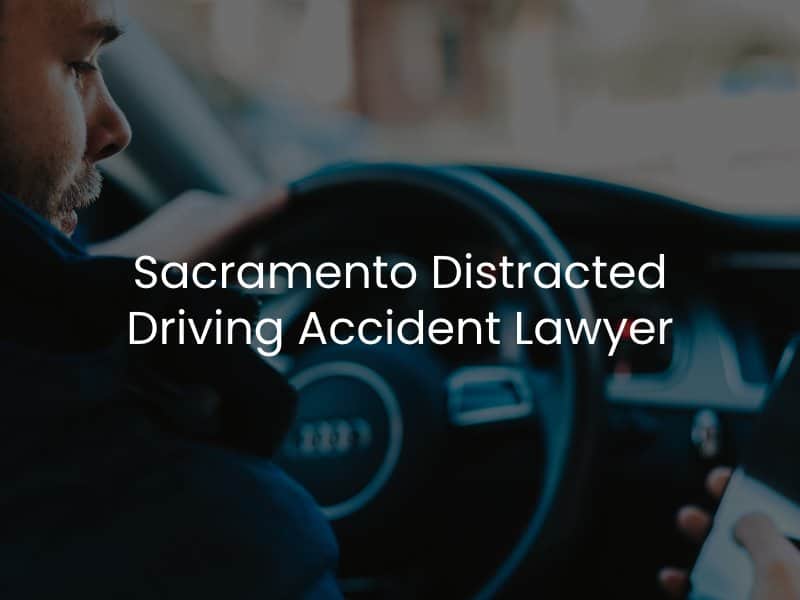 Content
What Is Distracted Driving?
Distracted driving is technically any activity that takes the driver's attention away from focusing on the road and operating the vehicle. The most common causes of distracted driving our Sacramento car accident attorneys see are using a cell phone for talking or texting, but other forms can include:
Talking to passengers in the car
Adjusting the radio, music player, or DVD system
Reaching for something in the car
Reading maps, books, or other items
Putting on makeup
Attending to children
Programming a GPS or SatNav
Eating, drinking, or smoking
Teens are especially prone to distracted driving because of their inexperience behind the wheel, which is why so many campaigns have been waged to get drivers, especially teens, to recognize the dangers of distracted driving.
What to Do After a Distracted Driving Accident
Part of exhibiting the negligence of the other driver in your case is taking into account actions related to distracted car accidents. Our firm is committed to doing a thorough investigation to ensure that you receive the optimal compensation for your case. This means that it is often crucial to get in touch with a Sacramento personal injury lawyer as soon as possible after your collision so that no important details are missed.
How Can a Distracted Driving Accident Lawyer Help?
A skilled distracted driving accident lawyer is essential for accident claims. If you or somebody you care about has been injured or sustained property damage as a result of a distracted driver in California, proving liability can be exceedingly challenging. This is particularly true when going up against aggressive insurance carriers and at-fault parties. In some cases, these other parties may push back and try to place blame for the incident on you.
When you have a distracted driving accident lawyer by your side, you will have an advocate who can use their resources to fully investigate every aspect of the client. This will include gathering all evidence needed to prove liability, ensuring you are evaluated by a trusted medical professional, and handling all negotiations with other parties involved. If necessary, a vehicle accident lawyer will prepare your case for trial to ensure that you are properly cared for every step of the way.
Common Injuries Sustained in a Distracted Driving Accident
There are various types of injuries that regularly occur as a result of distracted driving accidents. Just like any other type of vehicle accident, distracted driving crashes can lead to anything from relatively minor injuries to incredibly severe injuries. Some of the most common injuries that we help clients with in these situations include the following:
Broken or dislocated bones
Concussions
Open head wounds
Whiplash
Other severe back or neck injury
Lacerations or puncture wounds
Amputation injuries
Crush injuries
Internal organ damage or internal bleeding
Significant scarring or disfigurement
Our team also strives to help clients who have sustained emotional and psychological trauma as a result of a distracted driving crash. Depending on the severity of the incident, victims may suffer from a range of symptoms, including anxiety, fear, depression, and even post-traumatic stress disorder (PTSD).
When you work with a trusted distracted driving accident lawyer in Sacramento, you will have an advocate by your side, fighting to secure compensation for every injury you sustained. This includes your visible injuries as well as these unseen emotional and psychological injuries. You must be made whole after these incidents occur.
Proving Liability in a Distracted Driving Accident
Proving liability in the aftermath of a distracted driving accident can be challenging. There are a variety of types of evidence that can help establish whether or not an at-fault driver was distracted at the time an accident occurred. This includes:
Video surveillance from nearby cameras or dash cams
Statements from eyewitnesses
Statements from other drivers and passengers
Mobile device data records
In many cases, accusations of distracted driving become "He said, she said" situations. Any person injured as a result of a distracted driver should work with a skilled attorney who can help establish liability.
Partial Liability for a Distracted Driving Accident
One of the most common defenses used by at-fault parties and their insurance carriers in these situations is to try and place some or all of the blame for the incident on the other parties involved. However, California operates under a "pure comparative negligence" system. This means that individuals are able to recover compensation even if they are partially or mostly responsible for the incident (even if they are up to 99% at fault).
In situations where there is shared fault, individual victims will receive reduced compensation based on their percentage of fault. For an example of how this may work in a distracted driving accident case, suppose that Driver A is rear-ended by Driver B and incurs $100,000 worth of medical bills and property damage expenses. If it is discovered that Driver B was staring at their cell phone and typing a text message at the time the accident occurred, then we could assume that Driver B and their insurance carrier will be responsible for covering Driver A's expenses. However, what if it is determined that Driver A's taillights were not working at the time the crash occurred?
In this particular situation, it may be possible for a jury to find Driver A partially responsible for the incident because of the faulty equipment. If the jury assigns 30% of the blame to Driver A, then they would receive $70,000 instead of a full $100,000 to account for their percentage of fault.
When Should I File a Claim for a Distracted Driving Accident?
It is crucial for individuals injured as a result of a distracted driver to file their claims as soon as possible. First, you must understand that insurance carriers have very strict reporting deadlines associated with these claims. In general, insurance carriers require that vehicle accidents be reported within a day or two after the incident occurs. Failing to promptly report a vehicle accident could result in a claim delay or denial.
Additionally, the personal injury statute of limitations in California is two years from the date an injury occurs. Failing to file a lawsuit against the alleged negligent distracted driver within this two-year timeframe will likely result in the crash victim becoming unable to recover compensation for their losses.
When you turn to a skilled Sacramento distracted driving accident lawyer to help with your claim, they will ensure that your case is filed on time and appropriately.
California Laws Governing Distracted Driving
California has extensive laws regarding distracted driving. The most recent distracted driving laws were passed in 2016 and 2021 and are designed to curb the growing number of distracted driving accidents that occur across the state each year. Specifically, these laws focus on cell phones. When the 2016 distracted driving law was passed, Assemblyman Bill Quirk said that the bill addresses "the deadliest cause of distracted driving related crashes: the use of an electronic device while driving."
In California, it is illegal to hold a cell phone in your hand when you are operating a motor vehicle. Individuals are allowed to use their devices hands-free, but they must be mounted in a specific way. Mobile devices can be:
Mounted on the dashboard
Mounted on the lower right side of the windshield in a 7-inch square area
Mounted on the lower left corner of the windshield in a 5-inch square area
Mounted in the center console of the vehicle
If a phone is mounted, individual drivers are allowed to tap or swipe the screen to activate or deactivate features. Individuals are not allowed to swipe several times or input information like words for text messages or emails.
The distracted driving law applies to individuals stopped at stop signs and stoplights. If an individual wishes to use their phone, they have to pull over to a safe place. Individuals under the age of 18 are prohibited from using a phone in their car, even following these hands-free rules.
If an individual is pulled over and issued a citation for distracted driving, the first offense is $20. For subsequent offenses, there is a $50 fee in place. However, there are various other state fees and assessments involved in these cases after a person receives a ticket. The state gives every county the right to oppose additional fees for distracted driving violations. Additionally, beginning on July 1, 2021, the DMV will assess points on a person's driving records if they received a citation in the past 36 months. This could result in an increase in a person's insurance rates.
Distracted Driving Statistics
When we examine data available from the California Office of Traffic Safety, we can see that drivers in California cited distracted driving caused by texting and talking as well as distractions inside of the vehicle as some of the biggest safety concerns on state roadways.
Statistics available from the National Highway Traffic Safety Administration (NHTSA) show that there were more than 3,100 lives lost as a result of distracted driving accidents across the country during the latest reporting year. When we dig further into this data, we can see that the Centers for Disease Control and Prevention (CDC) states that around one out of every five individuals who died in crashes involving a distracted driver were not in vehicles at all. This includes individuals walking near the roadway, riding their bikes, or otherwise outside of their vehicle.
The CDC goes on to say that 25% of distracted drivers involving fatal incidents were young adults aged 20 to 29 (information from a recent reporting year). Additionally, drivers aged 15 to 19 were more likely to be distracted than drivers aged 20 and older in vehicle accidents where individuals died.
Call a Sacramento Distracted Driving Accident Lawyer Today
If you are a Sacramento resident with questions or concerns about distracted driving after your accident, call our firm at (916) 774-7200 and speak with a Sacramento distracted driving accident attorney about your case. You may also contact us online. We offer compassionate, effective representation to all clients throughout Northern California.