Sacramento Premises Liability Attorney
If you or a family member incurred injuries on the property of another, it is in your best interest to consult with an experienced premises liability attorney in Sacramento.
A premises liability claim seeks compensation from an insurance company, so you do not have to feel guilty about "suing your friend" if you were injured on his or her property. Get in touch with a skilled Sacramento premises liability attorney at Rosenthal Law to discuss this part of the process in more detail, and we can help put you at ease when friends or family are involved.
The accomplished attorneys at Rosenthal Law have over 25 years of legal experience and success in personal injury cases. Our law office offers free consultations to help you understand your legal rights and options, and we do not get paid unless we win your case. Call our Sacramento premises liability lawyers today at (916) 774-7200 to discuss if a legal claim is right for you.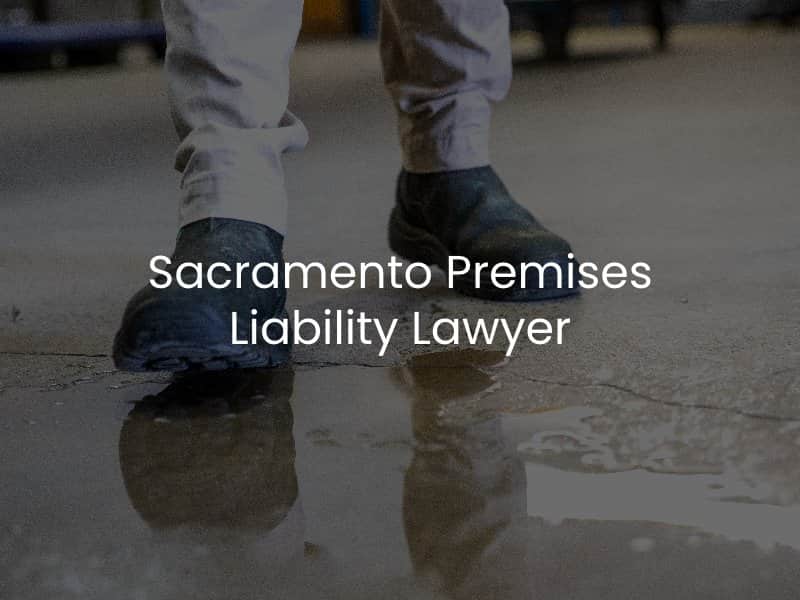 Content
What Can a Premises Liability Attorney Do For Me?
If Rosenthal Law pursues your premises liability claim, our attorneys do all the legwork allowing you to focus on recovery. When we take your case, our team will:
Start an investigation to determine liability for your accident and all available insurance policies and other sources of compensation
Collect evidence related to your accident such as photos, accident reports, witness interviews, and traffic or surveillance camera footage
Analyze your medical records
Consult with independent medical professionals, life-care planners, and other specialists
Keep aggressive insurance companies and bill collectors away from you
Aggressively advocate on your behalf during insurance settlement negotiations
If settlement fails, file a lawsuit and ask the court to order the payment you deserve
At Rosenthal Law, our Sacramento premises liability lawyers keep you informed every step of the way and make decisions with you about how to proceed. Contact our personal injury attorneys to schedule your free consultation today. There are strict time limits to recover in a premises liability case.
What Damages Can I Recover in a Premises Liability Claim?
Individuals may be able to recover a range of types of compensation as a result of their successful premises liability claim in Sacramento. Our attorneys worked diligently to uncover the evidence needed to help clients obtain economic and non-economic damages for their losses.
Economic Damages
Economic damages are the types of losses individuals are able to calculate as a result of gathering bills and receipts that come in after the injury and throughout the recovery process. Some of the most common types of economic damages recoverable for a premises liability claim include compensation for medical bills, lost wages, property damage expenses, various out-of-pocket expenses, and more.
Non-Economic Damages
Non-economic damages are more immeasurable losses than individuals sustain as a result of their injuries and the recovery process. There are various methods of calculating non-economic damages, which are necessary because there may not be bills or receipts that can be used to gather these losses. Non-economic damages are meant to help recover compensation for a victim's physical and emotional pain and suffering damages as well as their loss of quality of life damages.
Punitive Damages
In rare instances, punitive damages may also be available. These types of damages are designed specifically to act as a punishment to a defendant whose actions were found to be particularly egregious or intentional. Along with acting as a punishment, punitive damages are meant to be a deterrent to any other individual or entity from acting in the same way in the future.
There is no set amount of compensation paid to premises liability victims in Sacramento. Various factors, including injury severity, the length of recovery time, whether or not an individual can work, and instances of shared fault can all affect total compensation amounts. Each case is unique, and we encourage you to speak to your premises liability attorney about the expected value of your claim.
How Long Do I Have to File a Claim?
Individuals who sustain injuries caused by the negligent actions of a property owner must file their claims as soon as possible. First, please understand that insurance carriers have strict reporting deadlines, often within a few days or weeks from when the incident occurs. We encourage you to file any claim with the property owner's insurance carrier quickly.
The time frame for a personal injury lawsuit against the at-fault party is longer. The statute of limitations for these claims is two years from the date an injury occurs. If individuals file a lawsuit against the alleged negligent property owner beyond this two-year time frame, they will not be able to recover compensation for their losses.
How Much Does a Premises Liability Lawyer Charge?
At Rosenthal Injury Law, our team handles premises liability claims in Sacramento on a contingency fee basis. This means that clients will not have to worry about paying any legal fees until after our team successfully recovers compensation for their losses. In the event we are unable to win the claim, clients will not have to pay any legal fees. In addition to not having to pay legal fees until compensation is recovered, our team handles all upfront and out-of-pocket costs while the claim is ongoing.
What is Premises Liability?
Premises liability is a type of personal injury claim where the victim's injury is the result of unsafe property conditions or defects. In a successful claim, the victim's attorney must establish that the property owner, or person responsible for the property, was negligent and did not maintain a reasonably safe environment.
Every claim is different, but hinges on the following:
The property owner, or person otherwise responsible for maintaining the property, where the injury occurred knew or should have reasonably known about the danger
That owner or accountable person was negligent in maintaining the premises or warning of the threat
The victim suffered an injury
The owner or responsible party's negligence directly contributed to the victim's injury
What are Common Causes of Premises Liability Injuries?
Premises liability cases are often misunderstood and many clients are surprised to learn just how many incidents a homeowner's insurance policy can be liable for. Most commonly, premises liability claims relate to a physical property, such as a business or residence, where someone was injured. Cases are frequently due to slip-and-fall accidents, but they can also stem from the following situations:
Inadequate lighting
Broken stairways
Loose or missing safety rails
Unsecured carpeting
Insufficient security
Unmarked obstacles or hazards
Owners and managers of property are obligated to maintain premises that are safe and free of obvious hazards. When owners or managers fail to maintain premises and it results in unsafe conditions that cause an accident, this is a valid claim.
Status of Property Entrants
A property owner's responsibility to those who enter their property varies based on the status of those who come upon it. There are three categories of property entrants. These are invitees, licensees, and trespassers.
An invitee is a person who enters a property for the financial benefit of the property owner or possessor, or a person who enters a property that is open to the public.  Invitees include business customers and rental property tenants. Invitees are owed a duty of reasonable care by a property owner in maintaining safe premises and warning of hazards
A licensee includes guests and social visitors. Property owners and possessors have a duty to warn licensees of potentially dangerous conditions on the property
A trespasser is a person who unlawfully enters a property or remains on a property after being asked to leave. Property owners and possessors do not typically owe a duty of reasonable care to trespassers.

Types of Premises Liability Claims
Although many premises liability claims cover slip and falls that occur on someone's property, there are a multitude of other accidents that can be covered such as:
Dog Bites and Animal Attacks
Individuals who are bitten by someone's dog, cat, or other pet are entitled to seek compensation through that person's homeowners insurance – even if the attack did not occur on that person's property.
Negligent Security
Visitors to a restaurant, bar, nightclub, gas station, mall, or other commercial property, should expect to be free from harm. Our Sacramento personal injury attorneys pursue premises liability claims for clients who were attacked at an apartment building, commercial property, or other areas that should have been secure.
Balcony, Deck, or Stairway Collapses
These cases can be caused by defective construction, poor maintenance, or other negligence. Our lawyers investigate the incident so our clients can be confident that the proper party is held accountable.
Negligent Supervision of Children
When a parent trusts his or her child to the care of a teacher, daycare, hospital, or even a foster home, there is a duty of care owed to him or her. If a child has been injured because of a lack of proper supervision, our team can investigate and pursue a claim.
Pool Accidents
Children are often the most vulnerable to swimming pool accidents and an incident can happen anywhere from someone's home to a public pool. Our Sacramento swimming pool accident lawyers know how to build a strong case to get our clients the damages they are owed.
Shooting Accidents
It is important to remember that in cases like these, a lawsuit is filed against the insurance company, not the friend or family member so that victims can get the compensation they need to move past the accident.
If you or a loved one was injured in any of the above scenarios, reach out to Rosenthal Law to discuss your available legal options.
Injuries Caused by Balcony, Stairway, and Deck Accidents
Property owners carry the responsibility of ensuring that the stairways, balconies, and decks at their homes or places of business are safe for use by visitors. Proper repairs and improvements must be made on an ongoing basis. When they fail to do so and people suffer serious injuries as a result, property owners can and should be held accountable for any losses their victims suffer.
There can be many different causes that could lead to a stairway, balcony, or deck accident. In some cases, faulty construction or materials can be to blame. In others, negligent maintenance by the property owner is the culprit.
Call a Sacramento Premises Liability Lawyer Today
Our Sacramento premises liability attorneys conduct thorough investigations to determine exactly how your accident occurred and who was responsible. The injuries that occur in these accidents can be life-changing for victims. Traumatic brain injuries and severe spinal cord injuries can leave them in a state that will require a lifetime of care. We work with medical experts, life-planning specialists and others to determine the type of care you will need throughout your life so that we can seek the right compensation for your short- and long-term needs.
If you or a loved one suffered injuries in California because of a property owner's negligence, the Sacramento premises liability attorneys at Rosenthal Law want to help you. We can determine your visitor status and learn the circumstances and conditions that led to your injury. If you have a claim and mounting medical bills, we will work quickly to build the most persuasive case possible and get you the compensation you deserve. Contact us today to schedule a free consultation.