Sacramento Construction Site Fall Attorney
According to the Occupational Safety and Health Administration (OSHA), falls are the most common type of construction site injury. About one in three deaths on a construction site are due to falls. Sadly, most of these accidents are preventable, especially when federal and state regulations are followed and the proper safety procedures are in place.
Most of the time after an accident at a construction site, workers' compensation is your only recourse, however, in cases like these, when negligence may be involved, you may be entitled to seek compensation through a third-party liability suit. Call a Rosenthal Law construction site fall injury lawyer at (916) 774-7200 to discuss your case. We will help ensure that your rights are protected.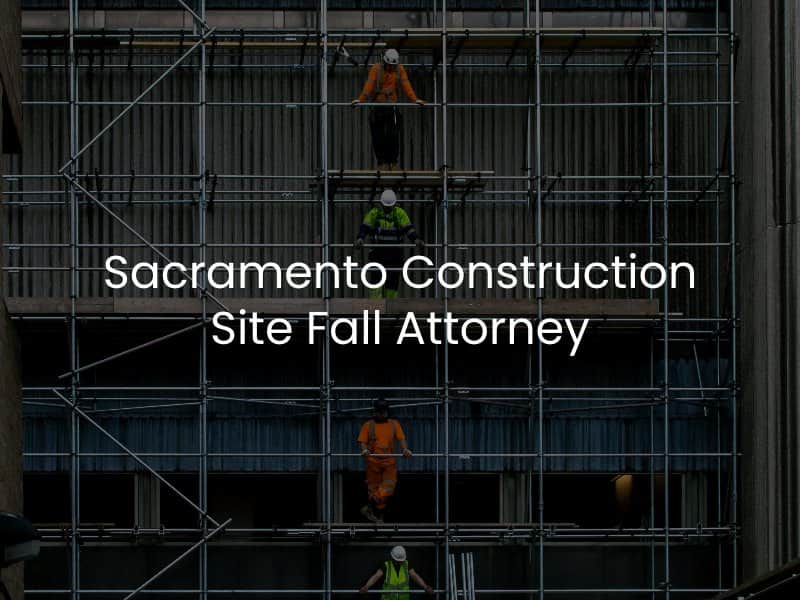 Common Causes Of Construction Site Falls
After over two decades of helping clients with their construction accident claims, our Sacramento construction accident lawyers have seen many successful recoveries. Helping injured people recover from falls and other serious accidents is important to us, which is why we are committed to building the strongest case possible in order to get you the most compensation we can.
Many construction site falls are preventable, and some common reasons for falls include:
Weak roofs or holes in roofs
Inadequately marked or covered holes
Debris-strewn floors
Scaffolding, ladders and other defective equipment
Exposed elevator shafts
State and federal regulations regarding safety equipment and procedures are designed to help minimize, if not eliminate, these types of accidents. When preparing our case, we consider every possible area of liability — including company policies and adherence to safety requirements. If there is a liability beyond workers' compensation, we will find it.
Construction Site Fall Injuries
Injuries caused by falls at construction sites can vary widely. In general, the severity of these incidents will depend on the height that the construction worker fell from. What we mean by this is the higher the fall, the more likely it is that a worker will sustain a catastrophic or life-threatening injury. That being said, even a fall from a lower height can result in devastating injuries.
At Rosenthal Law, it is not uncommon for our Sacramento personal injury attorneys to help clients who have sustained the following types of injuries:
Traumatic brain injuries
Concussions
Open head wounds
Spinal cord injuries
Other severe back or injuries
Broken or dislocated bones
Internal organ damage
Internal bleeding
Severe sprains or strains
In addition to these visibly traumatic injuries, we also know that construction site fall accident victims can suffer from significant emotional and psychological trauma as a result of the incident and their injuries. Our attorneys strive to recover compensation for all of our clients' injuries, including their traumatic injuries as well as their hidden emotional or psychological injuries.
What to do After a Construction Site Fall
The number one priority of any construction site fall accident victim must be to seek medical care as soon as possible. Even if a fall victim does not feel any pain after the incident, they need to be evaluated by a doctor as soon as possible. Often, fall injury signs and symptoms do not appear until hours or even days after the fall occurs.
In California, workplace injuries must be reported to a supervisor within 30 days of the incident occurring. However, we recommend reporting the incident as soon as possible so that there is no dispute over what caused a person's injuries. After a claim has been reported to an employer, the fall victim will still have a one-year time limit to file a workers' compensation claim to recover compensation for their fall injuries.
After a fall injury has been reported, it is crucial that victims follow their doctor's orders at every step along the way until they reach maximum medical improvement. If a construction site fall victim chooses to discontinue medical care before their doctor has said they have reached maximum medical improvement, this could result in the injury victim's workers' compensation claim being denied.
How an Attorney Can Help
If you or somebody you love has fallen while working at a construction site in Sacramento, you may need to work with a skilled attorney to help ensure you receive the compensation you deserve. It is not uncommon for employers or workers' competition insurance carriers to delay or even deny a claim unnecessarily. When you involve a construction site fall attorney, you will be getting help from someone who has the resources and experience necessary to take on these other parties to ensure you receive the compensation you need.
An attorney will be able to gather all the evidence needed to prove liability in these cases. They will also work with trusted medical and economic experts to fully evaluate their client and properly calculate total expected losses. A construction site fall accident attorney will be responsible for handling all negotiations with other parties involved to ensure their client receives full compensation for their losses.
Contact An Experienced Construction Site Fall Attorney Today
Our team has significant experience with third-party claims. We understand the complex ways that accidents happen and have the skills and resources to thoroughly investigate your construction accident and to effectively represent you in negotiations. If we are unable to settle your claim, we will take your case to trial.
Learn more about how we can help you during a free initial consultation. Call (916) 774-7200 or send us an email to get started. All personal injury claims are handled on a contingency basis, which means you pay no attorney fees unless you win.