Sacramento Intersection Accident Attorney
Intersections can be incredibly dangerous, particularly because these are areas where there are typically many vehicles gathered together trying to accomplish different things at the same time. Additionally, intersections are also areas where bicyclists and pedestrians gather at the same time as vehicles. All of this can create significant chaos and confusion, which can lead to severe accidents.
At Rosenthal Law, we are here to help if you need a Sacramento intersection accident attorney. Our team has the resources necessary to conduct a complete investigation into these incidents and help you secure full compensation for your losses.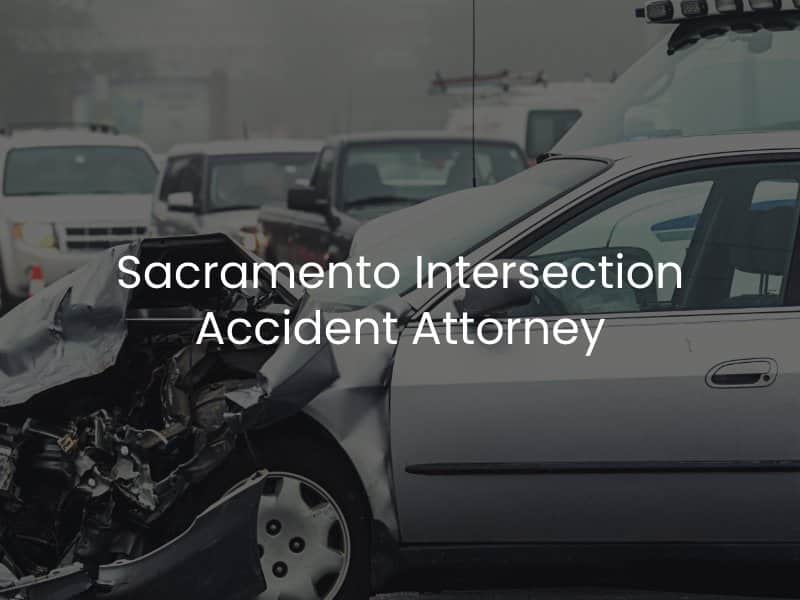 What is an Intersection Accident?
Intersection accidents happen in a wide variety of ways. Some of the most common causes of these crashes include drivers failing to yield the right of way when turning and drivers running red lights. It is not uncommon for side-impact collisions and head-on collisions to occur at intersections, both of which can lead to severe accidents.
When an intersection crash occurs, it is much more likely to involve more than two vehicles because of the close proximity of other vehicles in the area. Additionally, an intersection accident is also more likely to involve pedestrians and bicyclists, two groups that are much more vulnerable than others on the roadway.
How Can An Attorney Help?
A skilled Sacramento intersection accident lawyer is going to be needed to help determine liability and ensure that victims secure the compensation they need. An attorney can use their resources to conduct a complete investigation into these incidents, which and include gathering all of the evidence needed to prove liability.
However, the job of a Sacramento car accident attorney does not stop with evidence-gathering. A lawyer will also be responsible for ensuring that their client is evaluated by trusted medical and economic experts to ensure that they are cared for and to help calculate total expected expenses. An attorney will use all of the information they gather when negotiating with insurance carriers and at-fault parties in order to secure the compensation their client needs.
What to do After an Intersection Accident?
There are various steps that crash victims can take after an intersection accident in Sacramento. The most important aspect of these collisions is to secure immediate medical assistance for all parties involved. This ensures that the victims receive the care they need and also establishes a link between the crash and the injuries.
If it is safe to do so at the scene of the crash, those involved can use their phones or other devices to take pictures of everything at the scene, including vehicle damage, injuries, debris, traffic and weather conditions, and more. The names and contact information of any eyewitnesses should also be obtained, as well as the driver's license number, name, and insurance information of other drivers.
Who Can Be Held Liable for the Accident?
There may be various parties that can be held liable in the aftermath of an intersection accident in Sacramento. This can include any driver that shared responsibility for causing the crash as well as government agencies responsible for traffic signal maintenance and repair.
The purpose of investigating these incidents and gathering evidence is to properly assign liability to the parties involved so that injury and property damage victims can secure the compensation they need.
Red Light Cameras in Sacramento
The city of Sacramento does have a red light camera program managed by the Sacramento County Sheriff's Department. According to data available from the Department, more than 4,000 collisions occur on Sacramento street each year, and more than 50% of these occur at traffic signals. Red light cameras have become increasingly popular as ways to help enforce traffic laws by automatically taking photographs of vehicles whose drivers deliberately run red lights. The camera in these systems will be triggered anytime a vehicle passes over sensors after a signal has turned red. There are currently 11 intersections that have red light cameras in operation in Sacramento.
What Do We Know About Intersection Crashes?
Many intersection accidents involve more than two vehicles.
Injuries tend to be very serious.
Crash danger is worse in cities than outside cities.
Crash danger increases as the number of lanes increases.
Crash danger increases as traffic increases.
Alcohol often plays a role in the injury.
Injuries in intersection accidents range from minor to severe, and sometimes even fatal. Our goals as your Sacramento intersection accident lawyer are to show that another party was negligent and to show the true costs of your injuries, in medical bills, lost pay, and the pain and misery your injuries have caused you.
Call a Sacramento Intersection Accident Attorney Today
If you have been injured in an intersection crash, look to Rosenthal Law to help you obtain the compensation you have coming to you. Our Sacramento personal injury lawyers have the experience and the assertive temperament to put the money you need in your hands. Call our office at (916) 774-7200 for a free, no-obligation case evaluation. Or email us a description of your losses.