Rocklin Bicycle Accident Lawyer
If you or a family member were in a bicycle accident in Rocklin, the bicycle accident lawyers at Rosenthal Law can help. We have years of experience handling bike accident claims throughout California. We can aid you in finding a quality doctor, gathering case-related evidence, building a claim against the at-fault party and fighting for fair financial compensation.
Learn all the ways we can help you and your case specifically during a free consultation at our local law office.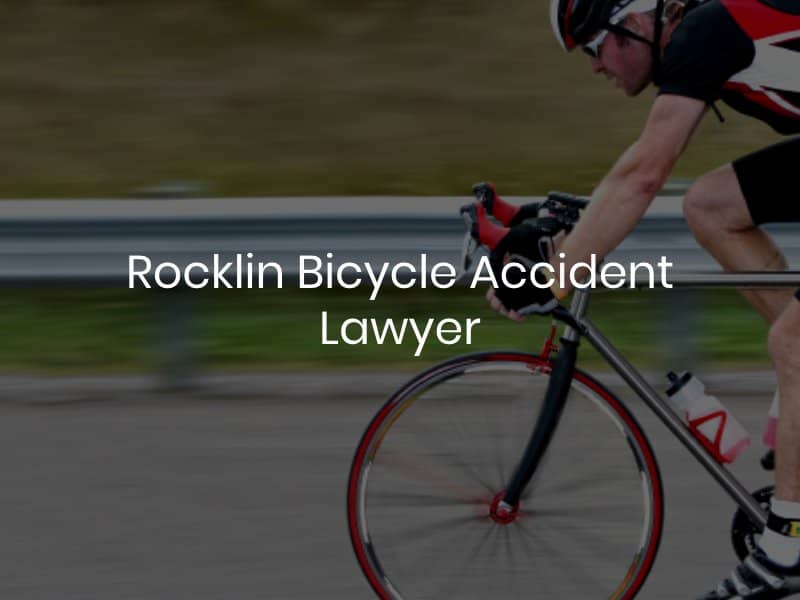 Why Choose Us?
We represent even the most seriously injured bicycle accident victims in Rocklin.
We have won several multimillion-dollar awards for past clients.
Our lawyers have over 25 years of personal injury law experience throughout California.
We use personalized litigation strategies to fight for the best possible case results.
We believe in excellence, compassion and integrity while representing clients.
Our Litigation Process for Bicycle Accident Victims
It is normal not to know what to expect as a first-time accident claimant in Rocklin. Our Rocklin bike accident attorneys are here to guide you through the process. If we accept your case, we will take care of everything while you focus on healing. Our full-service plaintiff's law firm can fill out complex paperwork, identify the correct defendant, bring a case against a driver in Rocklin and fight for fair compensation on your behalf. Regardless of the particular details of your case, our lawyers will know how to build a strong and convincing claim to damages. Let us help you hold one or more parties liable for your recent bicycle accident.
Who or What Caused Your Rocklin Bicycle Accident?
California is a fault-based insurance state. You or your lawyer must identify the at-fault party before you can bring a claim to damages. The person or entity most at fault for your Rocklin bicycle accident will be the same party that is responsible for paying for your losses. Liability may have a simple answer in some bike accident cases, while in others it can be difficult to assign fault.
A driver. Negligent and thoughtless drivers cause most bicycle accidents. In 2016, 10 people suffered injuries and died in bicycle accidents in Rocklin. In fact, California is a leading state in bicycle fatalities. Speeding, drunk, reckless, distracted, drowsy and otherwise negligent drivers cause most auto accidents in Rocklin each year.
A bicycle manufacturer. If your bicycle experienced an issue in transit that caused a crash, such as a tire blowout or brake failure, you may have a claim against the product manufacturer. Most product liability cases do not require you to prove the manufacturer's negligence to receive compensation.
The City of Rocklin. The government could be liable for your bicycle accident if it negligently failed to provide reasonable street maintenance. This could be the case if a pothole, uneven roadway, cracked road, unsafe construction site or another roadway defect caused your bike accident.
In many bicycle accident cases, the at-fault party's insurance company refutes liability or tries to deny valid claims. If this happened to you, do not hesitate to contact an attorney from Rosenthal Law for counsel. We can use our years of practice area experience and extensive legal resources to strengthen your claim and fight for fair results. Our bicycle accident lawyers in Rocklin do not back down from difficult cases.
Speak to a Rocklin Bicycle Accident Lawyer
At Rosenthal Law, we understand how overwhelming it can be as a bicycle accident victim. You may be dealing with serious injuries such as a head injury, concussion, road rash or broken bones, on top of lost wages and pain and suffering. Trying to navigate California's complex personal injury laws on top of this can push you to the limit.
Our bike accident lawyers in Rocklin are here to provide honest, reliable counsel and legal representation during each step of the claims process. We can take care of difficult legal tasks for you and your family while you look toward the future. Start your Rocklin bicycle accident claim today with a free consultation.