Roseville Personal Injury Attorney
If your accident took place in Roseville, California, contact the Roseville personal injury lawyers at Rosenthal Law for help. We offer 100% free initial consultations. Our attorneys can help you fight for justice.
At Rosenthal Law, we believe innocent victims should not have to pay for the negligence of others. If you or a loved one suffered serious personal injuries, expensive hospital bills, or significant stress and pain due to someone else's carelessness, use our assistance to fight for compensation. The at-fault party may owe you money for the past and future damages you accrued.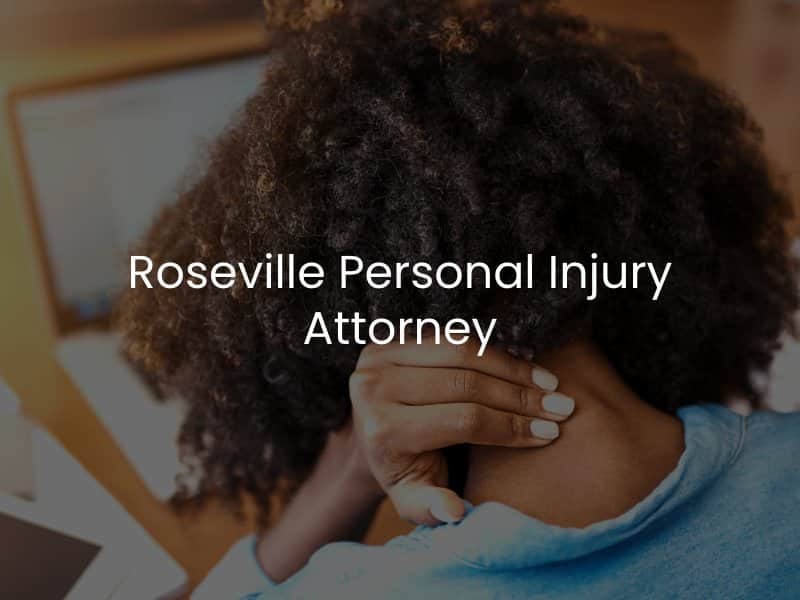 Content
Why Choose Our Roseville Personal Injury Attorneys?
We have more than 25 years of experience fighting for justice for our clients. Our trial attorneys have won

millions of dollars

on behalf of clients in that time.

We know when to take personal injury cases to court in California. Our law firm has a 98% success rate from doing what it takes to achieve positive results for our clients.

We provide unwavering support for our clients. We understand what those who have been wrongfully injured need from their Roseville injury attorneys and deliver it around the clock.

We do not charge for Roseville, CA personal injury claims unless we win. Our full-service law firm operates on a contingency fee basis.
What is Personal Injury?
Personal injury is an area of civil law that deals with bringing justice to those wrongfully injured by someone else's negligence, recklessness, carelessness or intent to harm. If another person had the power to prevent your accident and injury, yet negligently failed to do so, that person may owe you compensation. Filing a personal injury claim is your chance to secure financial compensation from the negligent party to make you whole again. If you win your case, the at-fault party's insurance provider will write you a check to cover your past and future medical expenses, legal fees, out-of-pocket costs, lost wages, property damages, pain and suffering, and other damages.
Do I Have a Personal Injury Case?
Before a defendant will pay for your damages, however, you or your personal injury attorney must prove that you have all the elements of a claim. With your Roseville injury lawyer's assistance, you must prove that the defendant was negligent and that this is why your accident and injury happened. You might have grounds to bring a personal injury case in Roseville if your lawyer can find enough evidence to prove four things more likely to be true than untrue. 
Duty of care. The defendant must have had a responsibility to you to exercise reasonable care, such as a driver's responsibility to drive safely and prudently.
Breach of duty. The defendant must be guilty of acting outside of his or her responsibility to you. Any action or omission that fell outside of the defendant's duty of care could qualify as negligence.
Causation. Your lawyer must be able to establish causation between the defendant's mistake or negligence and your accident.
Damages. You must have a list of compensable damages that arose because of the accident, such as medical expenses, lost wages and lost quality of life.
The best way to determine whether or not you have a personal injury case in Roseville is by contacting an injury attorney. A Roseville personal injury lawyer from Rosenthal Law can review the facts of your recent accident and let you know if he or she believes you have grounds for a claim. If so, we may offer to help you pursue maximum compensation.
How Much Does a Personal Injury Attorney Charge?
 We understand concerns from injured accident victims over the costs of hiring a personal injury attorney in Roseville. We know you have already spent enough on your accident in medical bills and property damage repairs. Our law firm aims to alleviate these concerns by using a contingency-fee based fee system. 
With this payment arrangement, you never have to pay out of pocket for your attorney, whether we win or lose your case. If we win, you will pay us through a percentage of your settlement or verdict in an amount we agree upon with you before signing a contract. If we lose, you won't pay us at all. We offer legal services at no costs upfront and with no hidden fees, guaranteed.
When Should You Call a Lawyer?
You do not have to deal with the complicated elements of a personal injury claim alone as the injured victim. You can have the peace of mind to focus on your physical and emotional healing rather than a legal battle when you hire a personal injury attorney in Roseville to take care of your case for you. Your lawyer will handle matters such as confusing paperwork, claims filing procedures and compensation negotiations on your behalf. 
It can be especially crucial to use an attorney if the accident gave you serious to catastrophic injuries. Injuries that will impact you or a loved one for the foreseeable future – or for life – deserve maximum compensation. Hiring a lawyer can ensure you do not accept a lowball, unfair settlement offer from the at-fault party's insurance provider. An insurance company will have to negotiate fairly with you once you hire an injury attorney.
Types of Compensation Available for a Roseville Personal Injury Claim
After sustaining an injury caused by the negligence of others, securing compensation is important. Our attorneys work diligently to recover various types of compensation on behalf of every personal injury client we help in Roseville, including both economic and non-economic damages.
Economic Damages
These are the types of losses that we can use bills, receipts, pay stubs, and other documentation to adequately calculate. Some of the most common economic damages Roseville personal injury victims can recover compensation for include:
Emergency medical bills
Physical therapy or rehabilitation
Surgical expenses
Medications and medical devices
Lost wages if they cannot work
Various out-of-pocket losses
Property damage expenses
Non-Economic Damages
These are the types of losses that will be more challenging to calculate, specifically because there are typically no bills or receipts that we can gather for these damages. The most common types of non-economic losses that Roseville personal injury victims experience include:
Physical pain and suffering
Emotional or psychological pain and suffering
Loss of quality of life
Scarring and disfigurement
How Much Compensation Will You Get for Your Claim?
Personal injury victims in Roseville do not receive a set amount of compensation if their insurance claim is successful or if the personal injury jury rules in their favor. Rather, there are a variety of factors that go into total compensation amounts. Your attorney will work with trusted medical and financial experts when calculating how much compensation you should receive for your losses. Some of the factors that could alter how much compensation you receive for your injury claim include:
The overall severity of the injuries
How long it takes for you to recover
Whether or not you miss work due to the injuries
Total extent of the property damage
Documentable levels of physical and emotional pain and suffering
Whether or not there was any shared fault
You can be sure that your Roseville personal injury lawyer will work diligently to recover maximum compensation on your behalf, even if that means taking your case all the way to a jury trial to ensure you are treated fairly.

Types of Personal Injury Cases We Handle
At Rosenthal Law, we pride ourselves on helping as many injured injury victims in California as possible. Our attorneys have years of experience in many areas of personal injury law. Our lawyers can help you with many types of cases. 
Boating accidents

Bicycle accidents

Medical malpractice

Construction accidents

Premises liability accidents

Dog bites
Motorcycle accidents

Slip and fall accidents

Negligent security

Truck accidents
Nursing home abuse

Fire loss and damage claims

Product liability

Pedestrian accidents

Catastrophic injury accidents
If you do not see your personal injury case type here, it does not necessarily mean we cannot take you on as a client. Call us to discuss your specific type of accident or claim in more detail.
Partial Fault for a Personal Injury Claim
One of the rather common tactics that insurance carriers will use to limit how much compensation you receive for your losses is to try and place some or even all of the blame for the incident on you. This can be scary, particularly if you know that you did not cause the incident. However, California operates under a "pure comparative negligence" system, which means that even a person partially at fault for their own injuries should still be able to recover compensation for their losses. In fact, in California, individuals can recover compensation even if they are up to 99% responsible for their own injuries.
However, there is a caveat to this. If a person is found to have caused their own injuries, they will ultimately receive a reduced compensation amount proportionate to their percentage of fault. For example, suppose you have an injury claim for $100,000 against another individual, but it is discovered that you were 20% responsible for the injury. In this particular example, you would receive $80,000 instead of the full $100,000.
Partial fault opens up a way for the at-fault party and the insurance carriers to limit how much money they pay out in a settlement. However, you need to have an injury attorney by your side who can push back against any allegation of fault. Without legal representation, it may be easier for the other well-funded parties to shift the liability towards you so they pay less in compensation. Your attorney will be your advocate and fight back.
Will Your Personal Injury Case Go to Court?
Individuals often wonder whether or not they will have to go to court after sustaining a personal injury in Roseville. Actually going to the courthouse is somewhat rare when it comes to personal injury claims. The vast majority of injury cases in California are resolved through settlements with the insurance carriers involved. However, if the insurance carriers deny the claim or refuse to pay a fair settlement, it may be necessary to file a civil personal injury lawsuit against the at-fault party.
When a lawsuit is filed, this shifts the case into the civil court system, and this is a different process. However, this does not necessarily mean that you will have to go to court for your case to be resolved. Often, during the discovery process where evidence is exchanged with all parties involved, settlements are still reached between both parties. Only if the other side refuses to offer a fair settlement will you have to go to court to have your case heard in front of a jury.
Do You Have to Keep Going to the Doctor?
One of the best pieces advice that you can take after sustaining an injury caused by another party is to continue all medical treatment until your doctor says that you have fully recovered, or at least recovered as much as possible. Individuals often want to discontinue their medical treatment when they start to feel better, but this is a bad idea when there is an ongoing personal injury claim.
Insurance carriers and the at-fault party's legal team will be watching you very closely while the case is ongoing. If you stop going to your follow-up medical visits, this will be taken as a sign that you are no longer injured, or even that you were not as injured as you claimed originally. Ultimately, the insurance carriers could use this as a way to reduce how much compensation they pay you.
You need to follow your doctor's orders in the days, weeks, and months that follow your injury incident. This includes using any prescribed medical devices, going to all follow-up visits, attending physical therapy or rehabilitation as requested, and more. Doing so will help you in the long run when it comes to recovering higher compensation amounts.
Contact a Roseville Personal Injury Attorney Today
If you believe another party's negligence is what caused you or a loved one's accident in Roseville, California, you may be eligible for financial compensation. Discuss your case in detail with a caring, compassionate and experienced personal injury attorney at our Roseville law office today.
Contact Rosenthal Law online or by calling (916) 774-7200 24/7. We will arrange a free consultation for you with one of our lead attorneys. You can receive honest answers to your questions and legal advice you can trust at no costs or obligation to hire us. Call today.