Sacramento Car Accident Lawyer
Was a family member seriously injured in an auto accident? Did you suffer injuries when another driver struck your car or caused you to get into an accident? It seems that car accidents happen all the time in California. Unfortunately, many of those accidents result in serious, even catastrophic injuries. Some lead to soaring medical expenses, missed work, complicated insurance issues and interference with normal life. If you were injured due to the fault of another, a qualified Sacramento car accident attorney at Rosenthal Law will do what is necessary to protect your rights to compensation.
For over 25 years, our team of injury lawyers in Sacramento has provided skilled legal representation to clients who were seriously injured in motor vehicle accidents in the state of California. We will help ease your burden and reduce your stress by handling the details of your personal injury claim so you can focus on what is important — recovering from your injuries and putting your life back together.
Our Sacramento accident attorneys understand the challenges and frustrations facing the victims of car accidents and take the time to answer these questions and quickly resolve our clients' most immediate concerns. Do not hesitate to call Rosenthal Law today and schedule your free consultation. We never charge any upfront legal fees and only get paid if and when we recover compensation for you.
Content
Why Hire Rosenthal Law for Your Car Accident Case?
A car accident can have a devastating impact on your life. You deserve compensation to help aid in the recovery process. At Rosenthal Law, our Sacramento auto accident attorneys have the skill and experience to help you at the negotiating table and in court. When you work with our law firm, you get the help of accident and injury lawyers who:
Are willing and able to take on big corporations and insurance companies to win tough cases for our injured clients.
Have a 99% success rate for our injury cases, whether it be through settlement, mediation, or trial.
Have focused on personal injury law for over two decades.
Get to know our injured clients on a personal level. We never lose sight that we're fighting for their rights and dignity.
Your personal injury claim doesn't deserve just any legal representation – it deserves the best. Trust the Sacramento car accident attorneys at Rosenthal Law to handle your claim so that you can focus on recovery.
How Much Is My Car Accident Injury Claim Worth?
Several factors are taken into account when determining car accident compensation.  These include items with fixed monetary costs, called economic damages. Things that cannot be valued are known as non-economic damages.
Economic damages are as follows:
Hospitalization
Past and future medical bills
Rehabilitation
Prescription drugs
Prosthetics
Surgery
Lost wages, both past and future
Loss of income
Disability
Non-economic damages can include:
Pain and suffering
Mental and emotional trauma
Loss of consortium
Loss of quality of life
Wrongful death expenses
In some cases, punitive damages are also available. Punitive damages are damages meant to punish bad behavior and discourage it from happening in the future. Punitive damages are rare; an experienced car accident attorney can further explain them.
Should I Get an Attorney After a Car Accident?
Anyone who is injured in a serious car crash should get immediate medical care. Then, they should consult an experienced car accident attorney in Sacramento for legal help. Car accidents cause physical and emotional pain as well as burden you with unexpected expenses. The Sacramento accident attorneys at Rosenthal Law demand compensation to make up for lost wages, pay for medical treatments, and any other unpaid bills.
At Rosenthal Law, we treat you as an individual. We listen to your needs and goals for recovery. Then, we strive to help you meet those needs in a way that feels the most satisfying to you.
The experienced car accident attorneys at Rosenthal Law also:
Investigate the facts of your accident case in detail to identify exactly what happened and who is to blame
Identify and pursue all of the liable parties
Seek the maximum compensation allowable under the law
Employ expert analysis or the services of accident reconstruction specialists to help guide our investigation
Work with experts to help us calculate the size of the financial impact of a car accident on your life
Seek the assistance of medical experts to estimate the future costs of care and therapy for permanent disabilities
Communicate with insurance companies on your behalf
Work with insurance adjusters to recover the full amount of compensation you deserve
If needed, take your accident claim to court and let a judge and jury decide
The period following a car accident is stressful. Contact Rosenthal Law and let our car accident lawyers in Sacramento help guide you through achieving physical and financial recovery. Schedule your free consultation today. We will come to your hospital room if you are unable to visit us.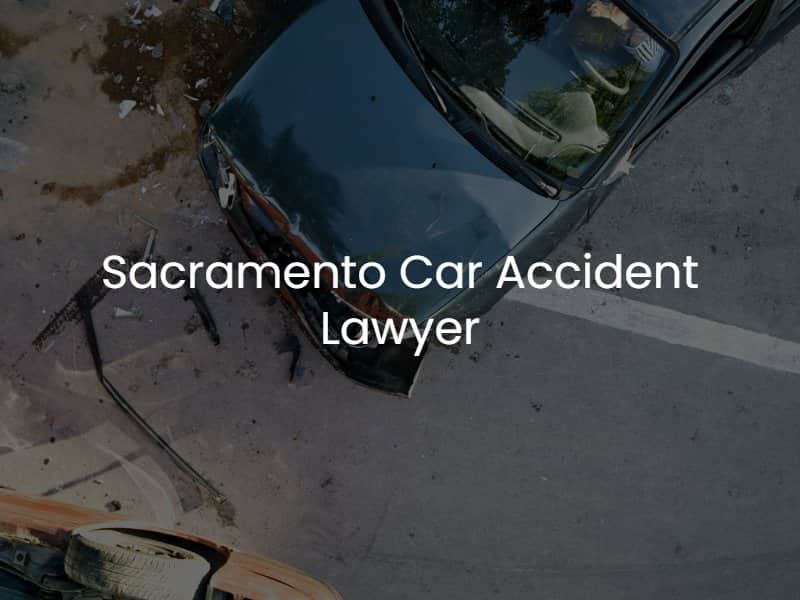 How Much Do Car Accident Lawyers Charge?
While hiring a lawyer is the best chance you have at recovering compensation, the potential cost may make people hesitate. After all, accident victims often have substantial medical bills to handle, and they don't want to add another financial concern to their lists.
At Rosenthal Law, we work on all our car accident cases on a contingency basis, meaning no upfront fees. You only pay us when we earn your injury case a successful outcome. Initial consultations are free and no-obligation, letting you learn your legal rights with financial peace of mind. And if you can't travel to our law office, we can arrange a ride to and from your consultation, also free of charge.
California Minimum Liability Car Insurance
Like other states, California has laws on the minimum amount of liability insurance that all drivers should have. All motorists must have liability coverage for at least:
$15,000 for injury or death to one person
$30,000 for injury or death to more than one person
$5,000 for property damage
Aside from following the law, having liability coverage is important in car accident claims. Without insurance, the at-fault driver may be personally responsible for paying any damages to the plaintiff. Because of the potentially lasting impact of car accident injuries, the final damage amount may be more than an uninsured motorist can handle.
However, even injured drivers need to hold liability insurance coverage. California law places a cap on the amount of non-economic damages (such as pain and suffering) that uninsured drivers can recover. Even when you aren't at fault for the accident, not holding the appropriate level of insurance can reduce your total compensation amount.
Common Injuries in Car Accidents
With vehicles weighing several hundred pounds and traveling at high speeds, automobile collisions can cause substantial and severe injury.  Many injuries in car wrecks are not readily apparent; therefore, it is imperative to receive a medical evaluation immediately following a car accident. Some of the more common car accident injuries include:
Head and back injuries such as spinal injuries, skull fractures, herniated disks, and paralysis
Traumatic brain injuries
Whiplash and neck injuries resulting from a sudden and violent jerk of the neck
Broken bones from the blunt force of a high-speed collision
Burn injuries from fire or contact with hot car parts
Disfiguring facial injuries and scars from impact with hard surfaces and broken glass
Wrongful death
In addition to physical injuries, victims of car accidents suffer from psychological injuries like flashbacks and post-traumatic stress disorder (PTSD). Therefore, it is imperative victims seek needed help mental as well as physical injuries.
Causes of Car Accidents
Fault for a car accident depends on its cause. Car accidents are often the result of dangerous roads, mechanical failure, or driver error. If dangerous roads are at fault, government entities are sometimes financially responsible. A parts manufacturer is potentially liable for an accident resulting from a defective vehicle part. However, the majority of accidents are due to driver negligence. Types of driver negligence that lead to car accidents:
Texting while driving
Drunk driving
Speeding
Unsafe lane change
Drowsy driving
Inclement weather
Reckless driving
Road rage
Types of Car Accidents
Car accidents vary. However, accidents most often seen include:
Rear-end accidents, one of the most common types of car accidents regularly leading to chronic injuries
Side-impact accidents, which occur when the side of a vehicle gets hit by another car, also known as a "t-bone" accident
Head-on collision accidents, frequently a fatal accident that occurs when the front-ends of two vehicles collide, often at high speeds
Multi-vehicle accidents, more common on busy roads, intersections, and interstates, these accidents involve three or more vehicles, also known as "pile-up" accidents
Although it is impossible to control other drivers, one can prevent some car accident injuries by taking simple precautions.
Always wear a seatbelt
Observe the speed limit
Maintain one's vehicle in good working order
Establishing Negligence in an Auto Accident
When someone is at fault for a car accident, they become the liable party. However, to have a successful claim, you'll need to establish negligence. This includes four major components:
The driver had a duty of reasonable care towards you. In car accidents, all motorists automatically assume a duty of care to follow the laws of the road for others' safety. This includes pedestrians, bicyclists, motorcyclists, and other motorists.
The driver breached this duty of care by acting negligently or recklessly. Any violations of traffic laws, traffic signs, improper vehicle maintenance, and distracted driving can all constitute negligence.
The negligence act caused your accident.
The accident led to your injuries. If you had suffered any injuries before the accident, you would not be able to recover compensation for those damages in your claim.
While establishing duty of care can be straightforward, proving the other critical components of fault can become a complex matter. At Rosenthal Law, our Sacramento car accident lawyers have the resources to investigate your accident for evidence to establish liability.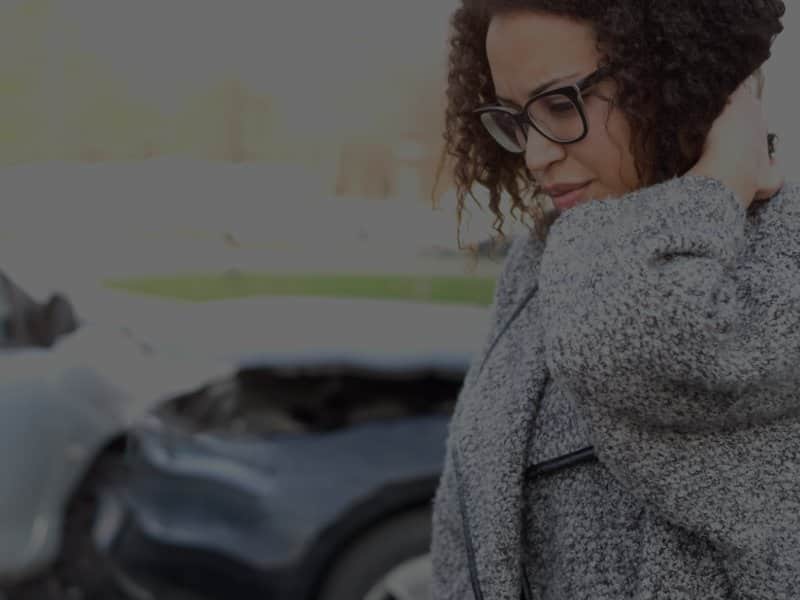 Roads at High Risk for Car Accidents in Sacramento
As a busy city, Sacramento has plenty of roadways for vehicles to travel on – and plenty of drivers on the roads with the potential risk of getting in an accident. The Sacramento roadways and intersections that have the highest car crash rates include:
Highway 99
I-5
Los Robles Boulevard at Marysville Boulevard
Fruitridge Road at 28th Street
Jessie Avenue at Norwood Avenue
Arena Boulevard at Truxel Road
These roads and intersections have accounted for numerous accidents and injuries over the past few years. Following safe practices while driving through these areas and staying alert for what other drivers are doing can help you reduce your chances of being in an accident.
Sacramento Car Accident Statistics
According to the Safe Transportation Research and Education Center at the University of California, Berkeley, there were a total of 59,048 vehicle collisions between 2010 and 2017.
These collisions have taken the lives of 1,058 people and injured 83,906 others.
Sacramento is considered one of the hotspots for fatal car crashes in the country, this is why the car collision attorneys at Rosenthal Law take this issue very seriously.
Top Five Car Collision Factors in Sacramento
To further understand the reasons behind the high number of traffic accidents, we started by looking at the collision factors responsible for the most crashes.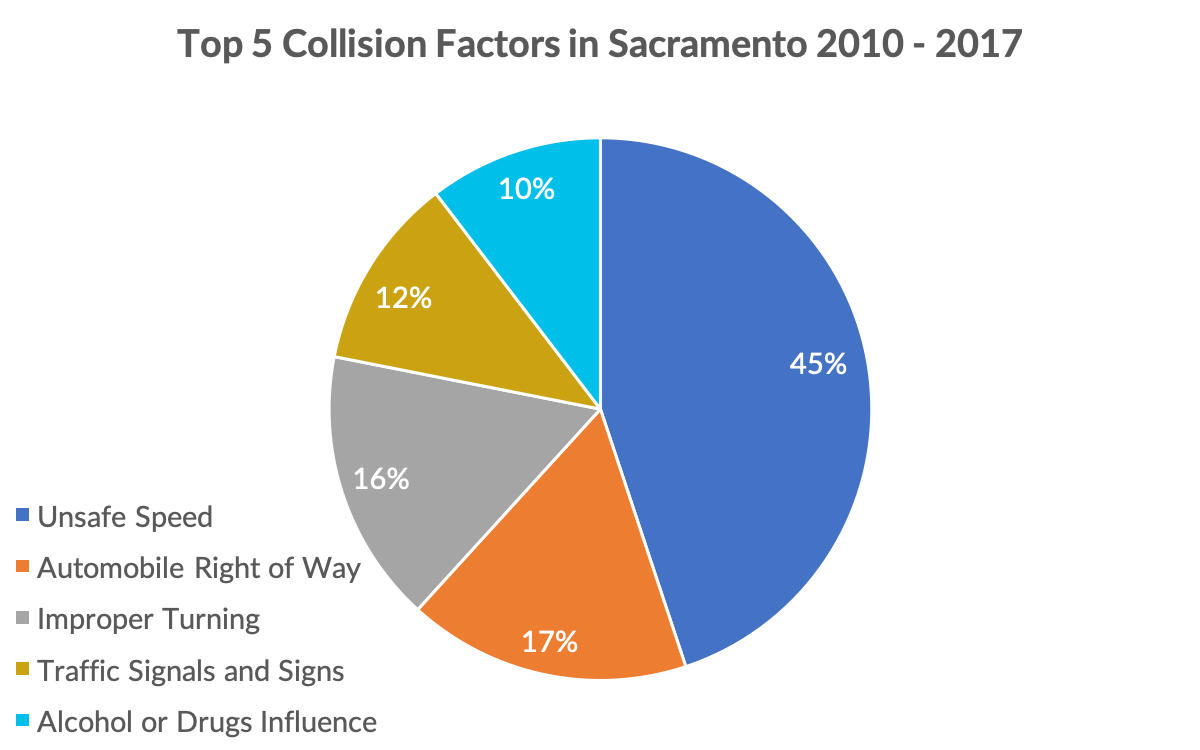 We can see that driving at unsafe/illegal speeds causes the majority of car collisions in Sacramento with 45%. Followed by Automobile right of way (17%), Improper turning (16%), Traffic Signals & Signs (12%), and finally, the influence of Alcohol and Drugs (10%).
The Total Number of Collisions and Injuries By Year [2010 – 2017]
Next, we looked at collisions and injuries statistics by year. The year 2016 recorded the highest number of collisions and injuries in Sacramento with 12,681 injuries from 8,831 collisions. It was the peak of an uptrend that started around 2012. The year 2017 saw a decline in the trend with 11,582 injuries from 8,169 collisions.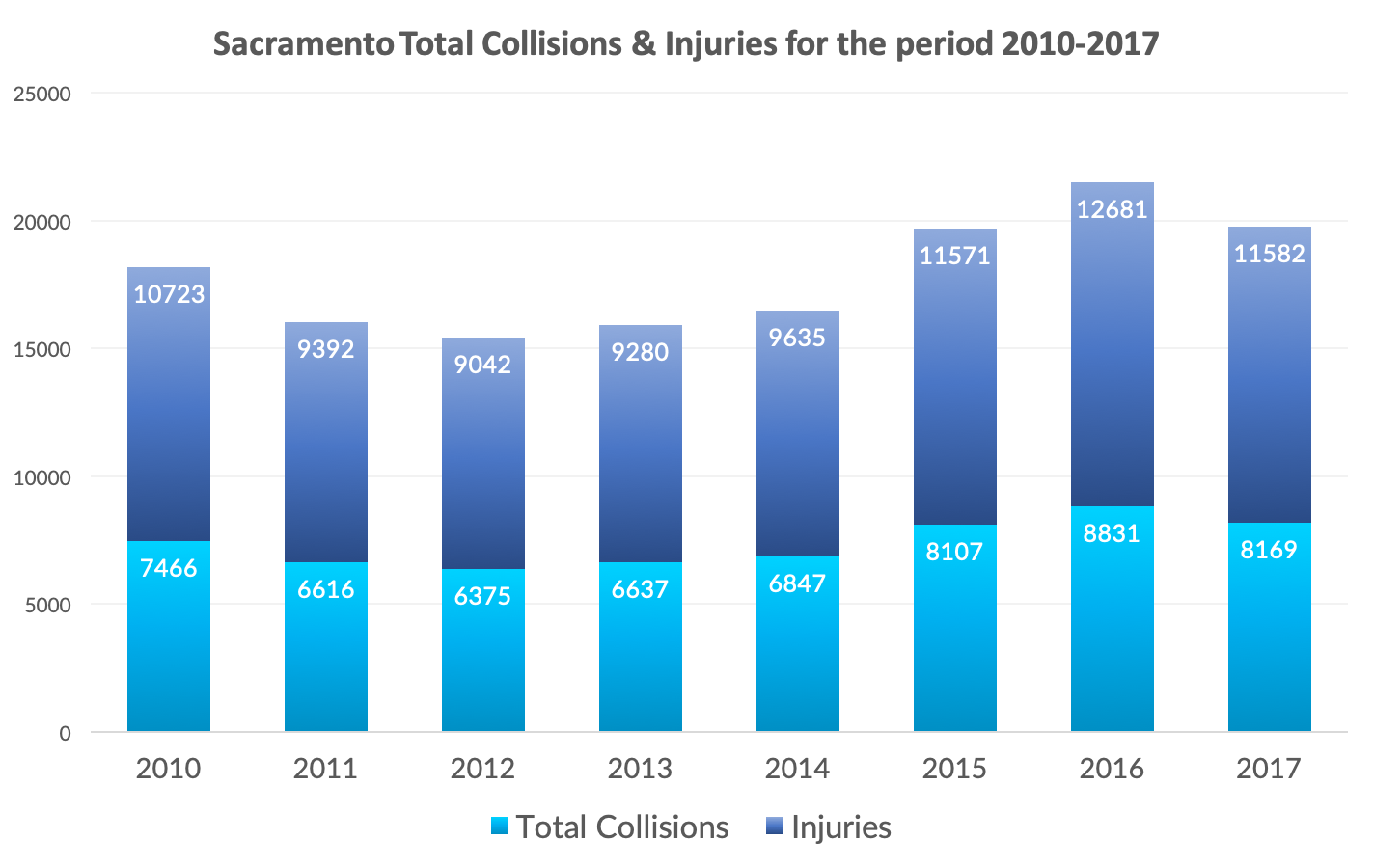 The Total Number of Traffic Fatalities By Year [2010 – 2017]
Although the number of collisions and injuries started declining in 2017, the number of fatalities rose by 3 for a total of 172 car collision fatalities.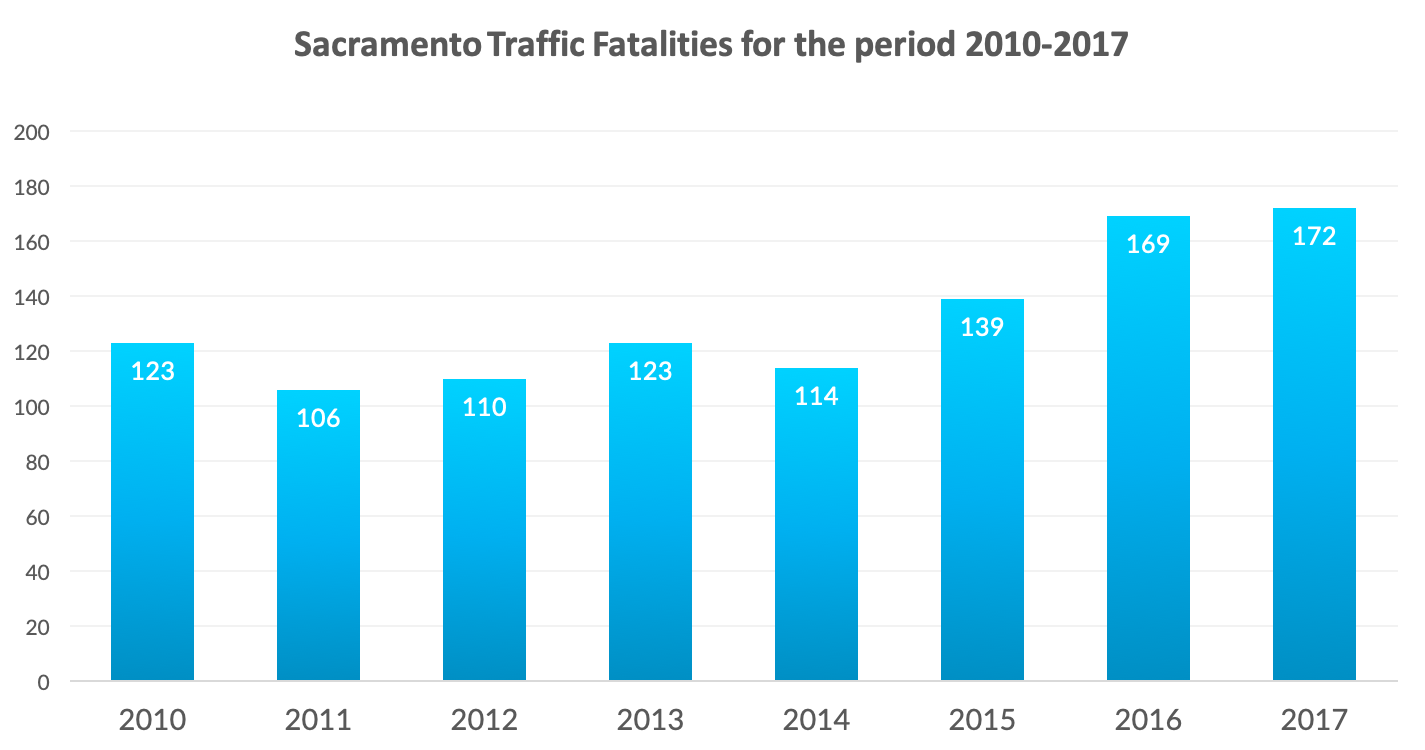 The Percentage of Crash Victims by Victim Role
Finally, we looked at the roles of auto accident victims to have a better sense of the data. Unsurprisingly, the highest percentage of crash victims were the drivers of the automobile with 64%. Followed by passengers (26%), with Pedestrians & Bicyclists splitting the remaining 10%.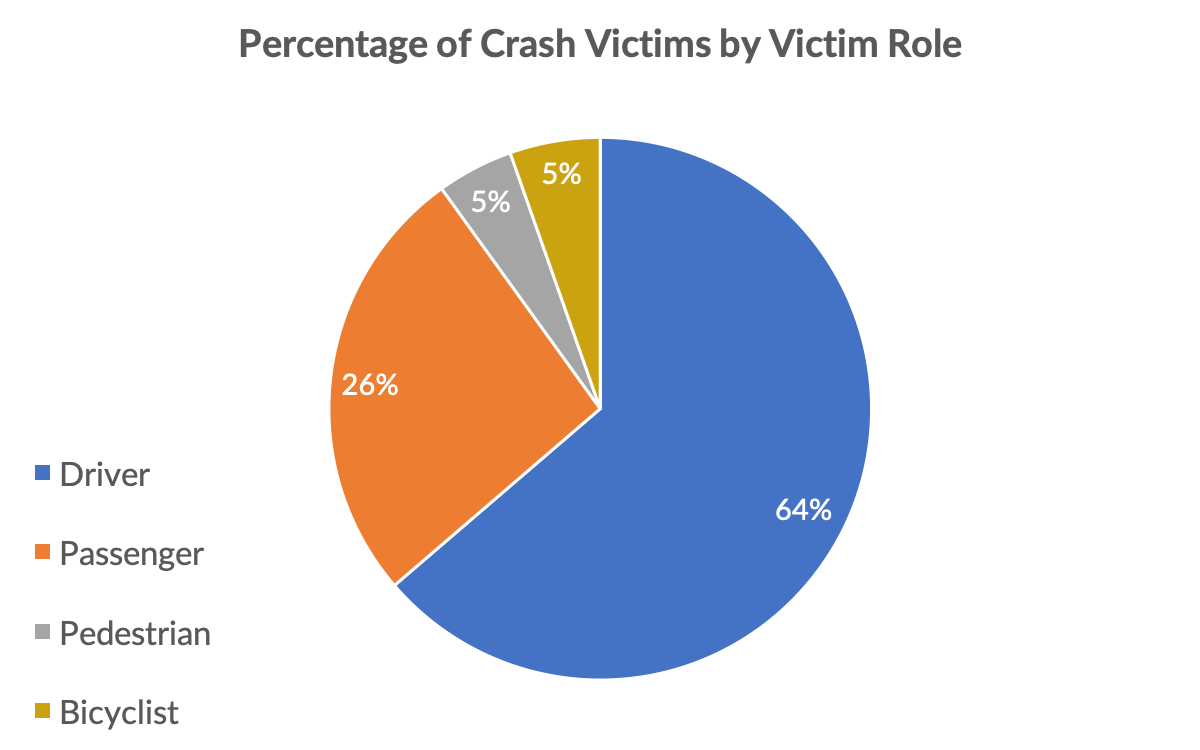 Contact a Trusted Sacramento Car Accident Lawyer Today
For over 25 years, the legal team at Rosenthal Law has handled complex serious injury cases, including auto accidents, truck and big-rig accidents, commercial vehicle accidents, motorcycle accidents, bicycle accidents, pedestrian accidents, boat and personal watercraft accidents, and ATV accidents in Sacramento County, CA. Some of our vehicle cases also involve product liability, such as defective vehicle design or a flawed road design that creates a dangerous condition on public property. Our Sacramento auto accident lawyers know how to investigate any accident to fully evaluate and protect your rights.
At Rosenthal Law, many of our clients who have suffered serious injuries have a long road to recovery that requires full-time focus and dedication. Our law firm wants to take the burden of dealing with the legal issues off of your plate. We want you to focus on getting well and getting your life back together. Call us at (916) 774-7200 or contact us online to schedule your free consultation. There are no risks involved in discussing your options and you pay no fees until we win your injury case. We proudly serve Sacramento County and surrounding areas, including Elk Grove, Citrus Heights, and Rocklin.
"David got me more money than I ever expected. He kept me informed on all the matters of my case." – Sue Denton