Sacramento Road Construction Zone Injury Attorney
Road construction zones can be extremely dangerous for workers. With heavy equipment on all sides and impatient drivers who often act irresponsibly, the potential for serious accidents are quite common. If you have suffered serious injuries or if someone you love has suffered wrongful death in a work zone accident, make sure you work with a qualified Sacramento construction accident attorney with the tenacity to help you obtain the compensation you deserve.
At Rosenthal Law, we can help. Our legal team brings decades of experience to every case we accept. We understand the hazards road construction workers face on the job, and we understand all the types of injuries they can suffer. You can rely on us to provide the skillful representation necessary to obtain a favorable result on your behalf.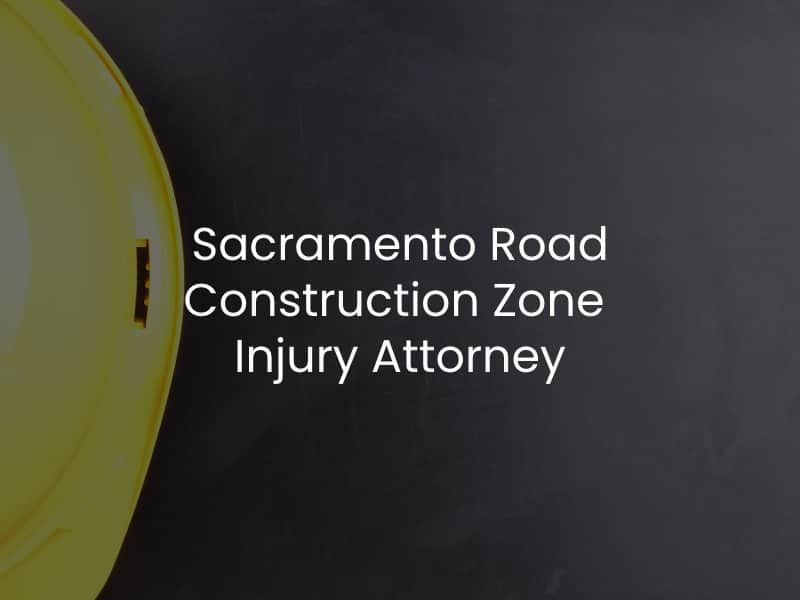 Representing Clients in All Types of Construction Zone Accidents
Our Sacramento injury lawyers represent clients in road construction accidents arising from any cause, including:
Dangerous roadway conditions: When a road is damaged due to construction or is littered with out-of-place traffic cones and other construction paraphernalia, it creates significant risk and danger for drivers.
Obstructions: Another significant danger involves construction materials, vehicles, and equipment left within the driving areas. Especially when two-way traffic is passing through the area, cars colliding with these obstructions or swerving to avoid them results in frequent auto accidents in work zones.
Construction vehicles: In many construction areas, construction vehicle and equipment operators need to pull in and out of blocked off area into the roadway.
Other vehicles: Anyone who has done any driving in California knows that sometimes drivers in this region get a little impatient when the roads are stalled, and they tend to make ill-advised and unsafe driving decisions. This is especially true in construction work zones where traffic can be extremely slow.
Why Are Construction Zones Dangerous?
When most people get behind the wheel of their vehicle, they operate purely based on their driving routine. In a sense, drivers operate on autopilot when they are behind the wheel of a vehicle. This can be a problem, particularly when there are construction zones to contend with.
Construction zones completely change the normal routine that people are used to when it comes to driving. A construction zone can change the flow of traffic, result in traffic coming to a complete stop, and change the type of surface a person is driving on. Some of the most common hazards associated with construction zones include the following:
Sudden or unexpected detours
Loose gravel or debris in the area
Poor road conditions or roadway drop-offs
Pooling water
Road barriers
Road shifts and merging lanes
Construction workers near the roadway
Aside from dangers directly associated with roadway construction, other drivers on the roadway can pose significant threats when it comes to operating near construction zones. It is not uncommon for other drivers to cause crashes in these zones because they were driving while distracted, tailgating other drivers, speeding, or operating while impaired by alcohol or drugs.
What to do After a Construction Zone Accident?
If you or somebody you love has been involved in a construction zone accident, the number one priority must be to seek medical care. Even if the injuries do not seem particularly severe, it is crucial for victims to let a doctor evaluate them. Not only does this ensure the crash victim's well-being, but it also establishes a direct link between the incident and the injuries. Please understand that even seemingly minor injuries may be more severe than initially realized. It is not uncommon for a crash victim to feel no pain right after the incident, only to discover that they have been severely injured in the hours or days that follow the crash.
If it is safe to do so at the scene of a crash, those involved can use their phones or other devices to take photographs of everything at the location. This can include:
Vehicle damage
Roadway construction
Traffic and weather conditions
Debris around the scene
Injuries
Additionally, those involved in roadside construction site accidents should get the names into contact information of any eyewitnesses. In these cases, in particular, it is important to look at the names of any construction companies that may be present at the scene. This can be confusing because there are often many contractors and subcontractors present at the roadside at the same time.
Who Can Be Held Liable?
There may be various parties that could be held liable for a roadway construction accident. This can include the following:
The construction company responsible for the roadway site
Government agencies responsible for overseeing roadway construction
Subcontractors involved with the construction site
Other drivers on the roadway
It is crucial to let a skilled Sacramento construction zone accident attorney help with these cases. An attorney can use their resources and legal expertise to fully investigate what happened and properly assess liability.
Discuss Your Road Construction Accident Claim with a Lawyer
If you have been hurt while working in a construction zone, call us right away for a free consultation. The sooner you call us, the more we can do to build a compelling case on your behalf. You can reach us by phone at (916) 774-7200 or fill out a contact form to schedule a free consultation at our office.