Sacramento Rear-End Accident Attorney
Drivers are responsible for knowing what is going on around them and operating their vehicles accordingly.  If a driver's negligence causes you or a loved one injuries in a rear-end collision, an experienced rear-end accident attorney in Sacramento can help you get the compensation you deserve.
At Rosenthal Law, we know not all rear-end collisions are minor accidents. Rear-end collisions can result in serious, sometimes life-altering injuries. Our attorneys are ready to:
Guide you through the complex claims and litigation process
Fight for your right to receive fair and just compensation
Represent you with compassion and integrity from start to finish
Meet with our Sacramento accident attorney at no cost to discuss your claim. At Rosenthal Law, we handle all cases on a contingency-fee-basis, meaning you pay nothing unless we win.  If you are injured and hospitalized, one of our attorneys will come to you.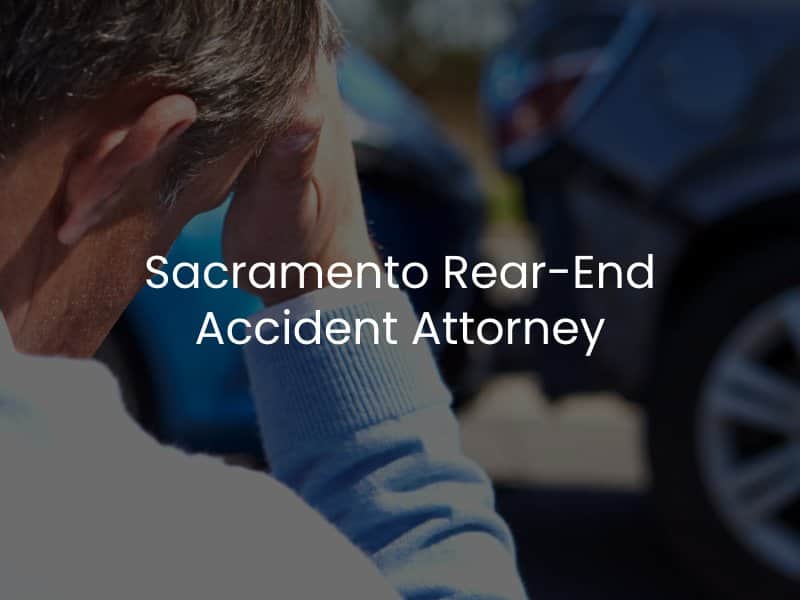 What Can a Sacramento Rear-End Collision Attorney Do For Me?
Even if liability is evident in your rear-end collision, the insurance company will likely attempt to settle for less than your claim is worth. Insurance companies work hard to keep their clients happy, and their payouts low.
When Rosenthal Law represents you, we work hard for you and your best interests. Our rear-end collision attorneys will:
Make sure you get needed medical care
Collect evidence and investigate fault for the collision
Negotiate with the insurance company for your full claim value
If required, appear in court on your behalf.
Most rear-end collision claims settle during negotiations. However, if the insurance company refuses to negotiate a settlement, we will proceed to trial. There are time limits to file rear-end collision claims, so contact Rosenthal Law today.
Common Injuries Suffered in Rear-End Collisions
Rear-end collisions most often result in whiplash. Whiplash is a neck injury resulting from forceful movement of the neck back and forth like the motion of cracking a whip. Victims of whiplash suffer from neck pain, stiffness, and headaches.
Most whiplash symptoms resolve within a short time. However, severe cases may result in symptoms for months or years after the rear-end collision.
Other injuries caused by a rear-end collisions include:
Concussions and traumatic brain injuries
Herniated discs
Broken bones
Internal organ damage
Burns to the face or scalp
Facial disfigurement
Who Is Responsible in a Rear-End Accident?
Determining who is responsible for a rear-end collision can be complicated. Often, you will hear people say that a driver who rear-ends another vehicle will always be the one at fault. This is not always true. While it is very likely that the rear driver will be at fault for the incident, there are various scenarios that could lead to the front driver or another party possibly sharing fault. To understand who may be at fault for a rear-end collision in Sacramento, we want to look at driver negligence.
Rear-end collisions can become chain-reaction collisions. In other words, it could be the case that one vehicle initially strikes the rear of another vehicle, which then pushes that front vehicle into another vehicle, and so on and so forth. Determining fault in these collisions can be tricky. While it may seem cut and dry that the initial driver who struck the first vehicle will be the one at fault, that is not always how these incidents play out when it comes to insurance carriers or during a lawsuit.
We also want to talk about other parties that may be negligent in these cases. Specifically, there are times when construction companies, subcontractors, or even municipal agencies could share liability in a rear-end collision. This is particularly true in some of the following scenarios:
Causes of Rear-End Collision in Sacramento
Rear-end collisions are the most reported car accident in the United States each year. Driver negligence is the most common cause. Common types of driver negligence are the following:
Tailgating
Road rage
Texting
Driving under the influence of drugs or alcohol
Speeding
Failure to use turn signals
Drowsy driving
Rear-end collisions are usually the fault of the following driver. However, there are some rear-end collisions where the lead driver is at fault. These may include:
The lead car stopped illegally
The lead car stopped abruptly
The lead car made a sudden lane change
The lead car was traveling in reverse at the time of the accident
Collecting Evidence
In the aftermath of a rear-end collision in Sacramento, it will be critical to gather various types of evidence in order to prove liability. The evidence collection typically begins very soon after a crash occurs. If you are the victim of a rear-end crash, you may be able to gather some of this evidence, but only if you do not have to go seek immediate medical attention.
Some of the things you can do at the scene of the crash include using your phone or another type of camera to take photographs of everything that you see. This includes vehicle damage, possible causes of the crash, any injuries, debris, traffic conditions, weather conditions, skid marks, and more. These photographs can help paint an overall picture of what happened.
We also suggest that any person involved in a rear-end collision look around and see if there are any surveillance cameras on nearby homes or businesses. Often, these cameras are pointing in the direction of the crash and may have captured footage of what happened. A picture may be worth 1,000 words, but a video is worth 1,000 pictures.
Additionally, you should get the names and contact information of any eyewitnesses to the crash, including other drivers and passengers as well as bystanders who may have seen the incident.
Finally, the police need to come to the scene to investigate and fill out a police report that can be used by the insurance carriers. Often, the police officer will note who they think was at fault for the incident. While a police report may not contain all of the evidence necessary to win a case, it is a good starting point.
How to Prevent a Rear-End Collision
There are simple strategies to employ while driving to avoid a rear-end collision.  Always stay alert and do the following:
Allow plenty of room between you and the driver in front of you
Keep your eyes on the road
Brake early
Always use your turn signal
Use your mirrors
At Rosenthal Law, we want you to stay safe when behind the wheel. In the unfortunate event that you or a loved one are injured, we want you to seek experienced legal advice right away.  The sooner an experienced Sacramento rear-end collision attorney starts working for you, the sooner you and your loved ones can move on with your lives. Contact us today to schedule a free consult.