Sacramento Truck Accident Lawyer
When you or a loved one suffer injuries in a truck accident, the skilled Sacramento truck accident attorneys at Rosenthal Law will fight aggressively for the full and fair compensation you deserve. Schedule your free initial consultation today. There are no upfront fees to get started on your truck accident claim.
At Rosenthal Law, our personal injury law firm only gets paid if and when we secure payment for you. The truck accident lawyers at Rosenthal Law have over 25 years of experience successfully handling complicated cases. Our legal team will:
Apply our extensive knowledge of the laws and regulations governing the trucking industry from the Federal Motor Carrier Safety Administration (FMCSA) to the facts of your truck accident case
Work quickly to determine liability for your truck crash
Preserve any evidence against the at-fault party
Help you find medical care and a medical provider if you need one
Employ experts to evaluate your injuries and determine their effect on you in the future
Our compassionate Sacramento personal injury lawyers care about you as an individual and want to create the best legal plan for you and your family. We keep our clients updated and involved in their trucking accident cases. Call Rosenthal Law today.
Content
How Can a Sacramento Truck Accident Lawyer Help My Case?
A truck accident attorney is an invaluable asset when trying to prove fault and damages for your trucking accident claim. Truck accident claims are unlike car accidents claims because they often involve more severe injuries and more significant compensation amounts.
At Rosenthal Law, our Sacramento truck accident lawyers may do the following:
Collect all the evidence related to your truck accident including law enforcement accident reports, witness statements, photos and notes from the accident scene, trucker logs, black box data, cellphone records for the driver, and safety records for all the parties involved
Identify and pursue all liable parties for your trucking accident
Monitor your medical treatment and evaluate your medical records to ensure you are getting the proper treatment, as well as document your injuries
Hire medical and financial experts to evaluate all losses from your personal injury. They will calculate the cost of needed future treatment, medications, and long-term care. They will also factor in how much income you will lose throughout your lifetime as a result of your serious injuries
Fight for a maximum settlement or a jury verdict
Never give an insurance company a statement or sign any documents without speaking with a Sacramento truck accident attorney. Rosenthal Law can communicate with any insurance companies, trucking companies, and creditors on your behalf. Call our personal injury law firm today to learn your legal rights and options for recovery after a collision with a truck or big rig.
What Compensation is Available for Truck Accident Victims?
Compensation for a truck accident often depends on the extent of a victim's injuries. There are different types of compensation available to victims of trucking accidents: economic damages, non-economic damages, and punitive damages.
Economic Damages
Economic damages are for items that have an assignable dollar amount.  These might include, but are not limited to:
Current and past medical bills
Physical therapy
At-home nursing care
Property damages
Lost wages
Non-economic Damages
Non-economic damages are difficult to calculate because these are intangible items.  Non-economic damages include:
Pain and suffering
Mental and emotional trauma
Loss of enjoyment of life
Punitive damages are rarely available. Courts award punitive damages to make an example of a negligent driver or trucking company for knowingly or willfully ignoring safety laws and regulations or exhibiting extreme signs of dangerous driving.
What are Common Injuries from Truck Accidents?
Truck accidents often result in catastrophic injuries. Victims of truck accidents may suffer from chronic pain and a decreased quality of life.
Examples of truck accident injuries include:
Back and neck injuries
Broken bones
Head injuries and traumatic brain injury
Whiplash
Internal injuries to organs
Cut and lacerations
Rib and torso injuries
Seat belt injuries
Spinal cord injuries and paralysis
Commercial truck accidents are ten times more likely to kill a victim than a passenger car accident. Collisions with large trucks, such as big rigs or commercial vehicles, can result in serious, life-long injuries.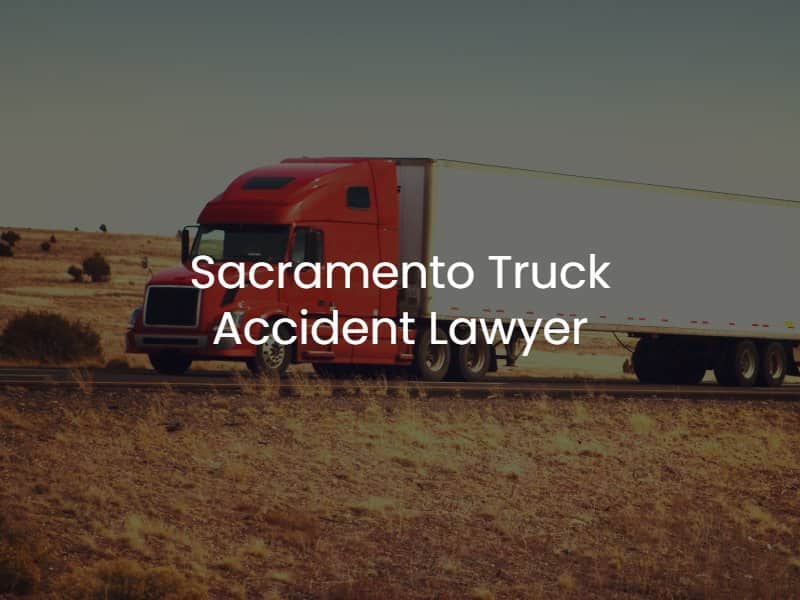 What are Common Causes of Truck Accidents?
Commercial vehicles are large, carry heavy loads, and take significantly longer to stop than passenger vehicles. Accidents involving commercial trucks can result in massive amounts of property damage, serious injuries, and even death.
Common causes of large truck accidents include, but are not limited to:
Driver fatigue from driving through breaks and between shifts instead of resting, also known as drowsy driving. This slows a driver's reflexes, and a driver may even fall asleep at the wheel.
Mechanical failure due to faulty equipment or improper maintenance of a vehicle including loss of cargo and tire tread, defective brakes, and outdated safety equipment.
Distracted driving or multi-tasking behind the wheel including eating, texting, talking on cellphones, adjusting GPS systems and using the CB radio.
Lack of training from the trucking company and inability to drive in weather or terrain.
Driver medical conditions like sleep apnea, heart disease, diabetes, and high blood pressure may contribute to truck accidents. Truck drivers are more likely to develop these conditions because of their lifestyle.
Many truck crashes are the result of truck drivers fail to check their blind spots. Therefore, it is crucial drivers of smaller vehicles be aware of a truck driver's blind spots.
The main blind spots on a commercial truck are:
The front of the cab
Behind the truck driver's window
On the right side of the truck
Directly behind the storage area and behind the driver
Car drivers need to operate smartly around large trucks and give truck drivers adequate space. Both a car driver and a truck driver are potentially liable in a blind spot accident. Onboard truck cameras and surveillance camera video often record accidents and serve as evidence for liability.
Contact Our Truck Accident Attorney for a Free Case Evaluation
Call a Sacramento truck accident lawyer from Rosenthal Law and find out if you are entitled to compensation under the law in California. There are time limits to recover for a truck accident lawsuit, so do not delay. Never let financial and medical stress overwhelm your life. Contact our law firm today to explore your legal options for filing an injury claim in Sacramento county.