Roseville Wrongful Death Lawyer
Wrongful death can be devastating for a family. Not only are you losing someone close to you, but you may also have to cope with the loss of your family's breadwinner. The financial issues your family endures after the sudden loss of a loved one can be overwhelming. At Rosenthal Law, we represent families during wrongful death civil claims. Our Roseville wrongful death lawyers can help you fight for maximum compensation from the party at fault for your loved one's death. Learn more today during a free consultation at our local law firm.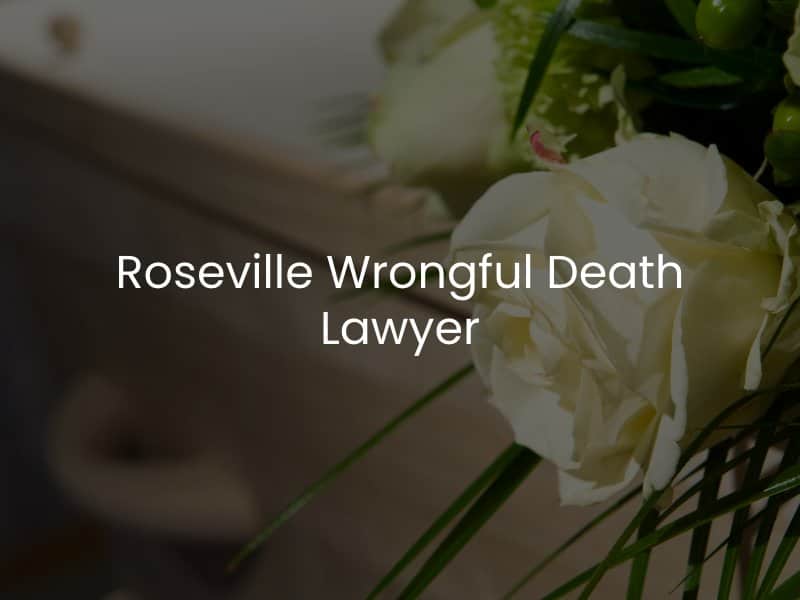 Content
Why Choose Us?
Our lawyers have helped families throughout California recover fair compensation for their losses for more than 25 years.

Our Roseville wrongful death attorneys have a reputation for going the extra mile. Our ability to go to trial is what helps us achieve

top results

for our clients.

Our lawyers do not charge clients upfront for their services. Our law firm operates on a contingency fee basis, with no fees assessed unless we win.
Who Can Bring a Wrongful Death Lawsuit in Roseville, CA?
If you tragically lost a family member, spouse or another relative in an unexpected accident in Roseville, you may have grounds to file a wrongful death lawsuit. Under California Code of Civil Procedure 377.60, a deceased person's surviving spouse, domestic partner, child or issue of deceased children may file for wrongful death. If these parties do not exist, anyone entitled to the decedent's property through intestate succession may file. 
If you are one of these parties, you may have grounds for a case if you believe someone else's negligence caused your loved one's death. Negligence is the failure to fulfill the reasonable and expected standards of care. In general, if your deceased loved one would have had grounds to file a personal injury claim, you will have the right to file a wrongful death claim in California.
How a Roseville Wrongful Death Lawyer Can Help
A wrongful death lawyer in Roseville could help by explaining your rights under California law. Your lawyer can take care of difficult and confusing legal tasks while you focus on grieving and healing. Most importantly, your lawyer can ensure someone else's insurance company does not take advantage of you. Your attorney will handle insurance negotiations using proven strategies to achieve maximum results on your behalf.
What Damages Are Recoverable in a Wrongful Death Lawsuit?
Damages recoverable in a wrongful death lawsuit refer to the types of financial compensation your family could receive from a negligent or at-fault party. The damages available will directly correlate with the losses you endured due to an unexpected death. In California, a family can recover damages for several types of losses in a wrongful death suit.
Reasonable funeral and burial costs

Lost wages, benefits and inheritance

The loved one's related medical bills

Loss of the loved one's company, love, care and guidance

Survivors' mental anguish
At Rosenthal Law, we know how hard a wrongful death can be for surviving loved ones. It is our goal to provide the care and support our clients need during this difficult time; not only legally, but personally. Part of our job is to seek financial compensation, but we aim to provide peace of mind beyond this as well. Our wrongful death attorneys in Roseville will be with you through every phase of your lawsuit.
How Long Do I Have to File a Wrongful Death Claim?
According to California's wrongful death laws, families and claimants have a limited amount of time in which to bring their claims. These deadlines are called statutes of limitations. The courts in California take their statutes of limitations very seriously. In general, you must bring your wrongful death claim within two years of your loved one's passing. Waiting longer than this could mean forfeiting your right to file.
What Accidents Can Cause Wrongful Death?
There are numerous ways in which wrongful death cases can arise in and around Roseville. At Rosenthal Law, our qualified attorneys have extensive experience helping family members who have lost loved ones in the following types of accidents:
Motorcycle accidents

Pedestrian accidents

Bicycle accidents

Uber and Lyft accidents

Autonomous vehicle accidents

Boating accidents

Defective product accidents

Construction accidents

Dog bite injuries

Premises liability

Slip and fall accidents

Swimming pool accidents

Birth injury incidents
This is certainly not an all-inclusive list of the ways that wrongful death cases arise in and around Roseville. We strongly encourage you to speak to an attorney with experience handling wrongful death claims in California so that a thorough analysis can be conducted on your case. 
Who Can Be Held Liable in a Wrongful Death Case?
There are various individuals, businesses, or entities that can be held accountable for wrongful death. Anytime the careless, negligent, or wrongful actions of one person or entity caused the death of another person, they could potentially be held liable in civil court. Some of the most common examples of those who can be held responsible in these cases include the following:
Individuals

Private companies

Public companies

Public agencies

Cities, counties, or the state 

Hospitals

Nursing home care facilities

Medical professionals 
It is crucial to work with an experienced wrongful death lawyer in Roseville who can conduct a complete investigation into your case and determine which party can be held liable. In some cases, there may be more than one party that holds liability.
How Does Wrongful Death Differ from California Survival Action?
There is often confusion between a wrongful death lawsuit and a survival action in California. Both a wrongful death claim and survival action are governed by state law, though the statutes that pertain to these claims are different. In general, though, a wrongful death claim and a survival action will be filed at the same time. 
Survival actions differ from wrongful death claims in that a survival action is a claim made on behalf of the deceased. In other words, a survival action revolves around a lawsuit that the deceased would have been able to file against the person that caused their personal injury, had they survived. Survival actions are not brought directly by the family members of the deceased. Instead, they are typically brought forth by the executor of the deceased's estate. 
Additionally, the compensation awarded for a successful survival action will provide different types of compensation from a wrongful death claim. Some of the most common types of compensation awarded in a survival action include the following:
The cost of any pre-death medical bills

Pain and suffering endured by the victim after their injury but before their death

Lost income for the period of time between sustaining the injuries and death 
The total amount of compensation awarded for a survival action will vary depending on the amount of time that a person survived from when the accident occurred until their death. In some cases, this is a short period of time. However, it is not uncommon for a person to live days, weeks, or even months after they are involved in an accident caused by the actions of somebody else. 
Contact a Roseville Wrongful Death Lawyer for Free Today
Wrongful death is a tragedy no family should have to endure. If the worst has happened, you have an advocate in Rosenthal Law. Contact our lawyers for a free initial consultation in Roseville, California. We can guide your family through the legal procedures required to achieve justice, closure and financial compensation. Call (916) 774-7200 today.