Roseville Pedestrian Accident Lawyer
Accidents involving pedestrians often result in major injuries, but victims often struggle to recover the compensation they need from other parties. At Rosenthal Law, we are here to help if you need a Roseville pedestrian accident lawyer by your side. If another party caused your injuries, we will vigorously pursue compensation from the insurance carriers or through a personal injury lawsuit against the at-fault party. Let us get to work on your claim as soon as possible so we can secure the compensation you need.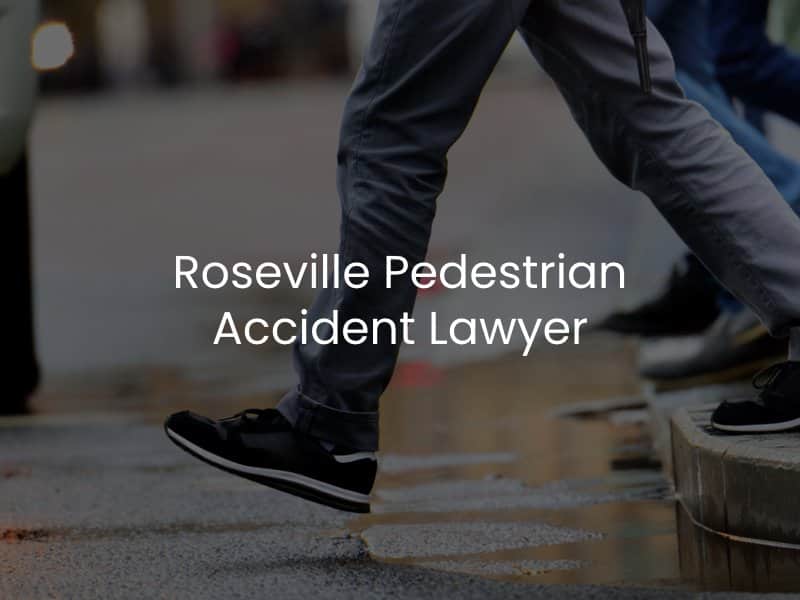 How Can a Roseville Pedestrian Accident Attorney Help My Case?
Pedestrian accident claims are often very challenging, particularly for those without skilled legal assistance. At Rosenthal Law, we understand the importance of little details. That is why our Roseville pedestrian accident lawyers take the time to learn about your claim. We have an entire team of Roseville personal injury lawyers dedicated to investigating these incidents, and we make sure clients are evaluated by trusted economic and medical professionals.
Our goal is to handle every aspect of pedestrian accident claims on behalf of our clients. This includes handling all negotiations with other parties and even fully preparing the case for trial if that is what it takes to recover fair compensation.
What Damages Can I Recover?
Pedestrian accident victims in the Roseville area may be able to recover various types of compensation if their claim against another party is successful. We seek to recover both economic and non-economic damages on behalf of the clients we assist.
Economic damages. These are the types of losses we can calculate by using receipts, invoices, and bills the victim receives after the incident occurs. The most common economic damages recoverable include:

Hospital emergency expenses
Medications and medical devices
Follow-up doctor visits
Physical therapy or rehabilitation
Lost income or loss of future earnings
Property damage expenses

Non-economic damages. These types of losses are more immeasurable because there are often no receipts or bills to adequately measure a pedestrian accident victim's loss of enjoyment of life or pain and suffering. However, these types of damages are equally as important as the economic losses mentioned above, and we work with trusted experts to help adequately calculate these damages.
Types of Pedestrian Accidents
Data from the California Office of Traffic Safety shows us that there were more than 10,000 total pedestrian injuries resulting from vehicle collisions during the latest reporting year. The reality is that these incidents occur in a wide variety of ways. Often, a pedestrian accident is caused by a direct impact with a larger vehicle. However, pedestrian accidents can also occur due to collisions between the pedestrian and a bicyclist, motorcyclist, scooter rider, or other object on or around the roadway.
If you have any questions about whether or not to move forward with your pedestrian accident claim, we encourage you to reach out to a Roseville pedestrian accident attorney for a free consultation. A lawyer will examine the facts of your case and help you understand your best options moving forward.
Contact an Experienced Roseville Pedestrian Accident Attorney Today
If you or a loved one have been injured in a pedestrian accident caused by the negligent actions of another party in the Roseville area, turn to the team at Rosenthal Law for help today. We have extensive experience handling complex vehicle accident claims throughout the state, and we know what it takes to help individuals recover compensation for their losses. When you need a Roseville pedestrian accident lawyer, you can contact us for a free consultation by clicking here or calling us at (916) 774-7200.