Sacramento Pedestrian Accident Lawyer
Were you or a loved one injured in a pedestrian accident in Sacramento?  If so, do not hesitate to call Rosenthal Law. Our experienced Sacramento pedestrian accident attorneys will answer your accident-related questions and explain your legal options.
If you were injured because of a driver's negligence, we will work to ensure that you are fully compensated for your pain and suffering, medical expenses, lost wages, and any other losses that arise from your accident. Call an experienced pedestrian accident lawyer at (916) 774-7200 to learn more about your legal options.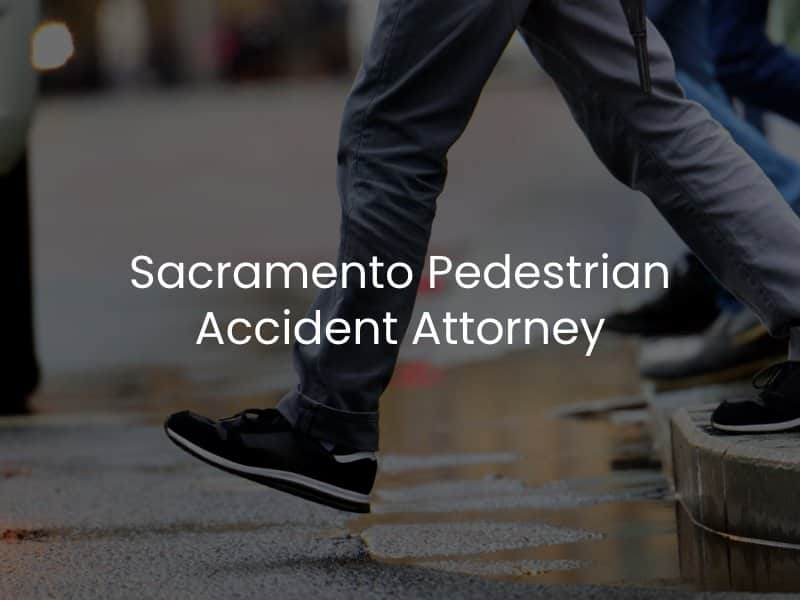 Content
Do I Need a Pedestrian Accident Attorney?
Hiring a pedestrian accident attorney may seem like a significant expense and legal fees can be expensive with long-term litigation. Our law firm offers free consultations to every potential new client. A consultation will help an injured pedestrian understand the value of his or her claim and the available legal options for recovery. In some personal injury cases, plaintiffs may even be able to recover their legal fees as damages.
The average person will not have the experience, time, resources, or energy to handle an intense legal battle without assistance after a pedestrian accident. Additionally, there are strict deadlines to file pedestrian accident lawsuits, so call Rosenthal Law today.
Our pedestrian accident attorneys will:
Investigate your accident
Gather any available evidence
File your legal case
Work with any necessary experts to value your financial and medical losses
Speak with your creditors
Negotiate with insurance adjusters
If needed, take your case to trial
Our compassion and integrity are what sets us apart. At Rosenthal Law, we want you to get the legal representation, medical treatment, and compensation you deserve.
What Damages are Recoverable in a Pedestrian Accident Claim?
Pedestrians involved in a serious accident are more likely to incur severe, debilitating, lifelong injuries. They may require extensive medical care, several months of rehabilitation, or at-home nursing care. Chronic injuries and pain could limit or eliminate the ability to work.
Compensation for a pedestrian accident injury includes both economic and non-economic damages meant to restore the victim as close to the position they were before the accident.  The damages received may include payment for:
Medical bills
Nursing care
Property damage
Lost wages
Reduced earning capacity;
Disability
Pain and suffering
Anxiety and depression
Emotional trauma
Disfigurement
Embarrassment
Loss of consortium
Loss of enjoyment of life
Wrongful death
At Rosenthal Law, we want you to get the full amount of compensation due to you under the law. We take great care when valuing your injuries and losses. We want to ensure any settlement takes into account not only your losses to date, but also your future expenses. Our law firm will seek full compensation for all of your losses, including current and future medical bills, property damage, loss of income and any other losses that occurred because of your accident.
While no amount of money can make up for human loss, you should never pay out of pocket for the negligence of another. If you lost a loved one in a pedestrian accident, speak with a Sacramento wrongful death attorney about pursuing a wrongful death case.
Why Trust Rosenthal Law with Your Pedestrian Accident Claim?
A pedestrian accident can involve catastrophic injuries, wrongful death, and significant economic loss. A victim may also suffer such severe injuries that a relative or loved one must take legal action on his or her behalf during recovery. People in these situations need aggressive legal representation with the experience and resources to fully explore all available channels of compensation. The accident and injury attorneys at Rosenthal Law have more than 25 years of experience handling civil claims for our clients.
It's crucial to find a Sacramento personal injury attorney who has a strong reputation in the local legal community for a successful result in any civil claim. An attorney in a pedestrian accident case should know the court where the trial will take place and know the judge hearing the case.
Our Sacramento pedestrian lawyers are:
Very familiar with the justice system in Sacramento and our firm works with experts, legal professionals, and consultants all over the country to provide the best representation possible for every client
Aggressive in representing our clients both in and out of the courtroom
Dedicated to making sure our clients get the medical treatment and compensation they deserve
Detailed in gathering evidence to prove liability and damages
What are Common Pedestrian Injuries?
Pedestrians do not have the protective surrounding of a vehicle, nor do they benefit from the safety gear enjoyed by motorcyclists or cyclists. With little to shield them in an accident, pedestrians often suffer significant injury when struck by a car or motor vehicle. the accident can cause very serious injuries, including:
Soft tissue injury
Broken bones
Brain injury
Spine injury
Thoracic injury
Eye injury
Amputation
Paralysis
Death
An injured pedestrian in such an accident may require immediate emergency care and long-term recovery. It's also possible for a pedestrian accident to cause catastrophic injuries like traumatic brain injuries or spinal cord injuries. Any damage to the brain, spinal cord, or other parts of the nervous system can cause permanent damage and possibly even disability.
An individual who suffers severe injuries in a pedestrian collision may require long-term hospitalization, physical therapy, and other forms of rehabilitation to regain motor function and other faculties. It's also possible for a pedestrian accident to prevent the victim from working for an extended time or work at all in the future.
Common Causes of Sacramento Pedestrian Accidents
While pedestrian accidents have numerous causes, the most frequently reported reasons are the following:
Distracted driving due to cell phones, passengers, or radios
Distracted pedestrians looking at cell phones and listening to earbuds or headphones;
Aggressive driving such as ignoring speed limits, illegally changing lanes, and making illegal turns
Not knowing the rules of the road including who has the right of way and if there are any special rules or laws that apply to pedestrians or vehicles
Driving under the influence of drugs or alcohol
Walking under the influence of drugs or alcohol
Limited visibility and blind spots of large cars and SUVs
Duty of Care Owed to Pedestrians
Every driver on the road has a duty of reasonable care to prevent accidents and follow the traffic laws. Part of this duty of care is to yield the right of way to pedestrians because pedestrians are much more vulnerable on the roads. While pedestrians also have a duty of care to follow relevant traffic signals like stop signs and crosswalk lights, drivers have a higher duty of care to prevent injuries to pedestrians.
Drivers also have a special duty of care to children. This applies to driving near schools, parks, playgrounds, and within residential areas. Drivers need to exercise care in sensitive areas like these. For example, the posted speed limit in a residential area may be 30 mph but it may not be safe for a driver to travel at this speed with poor visibility during the hours when children are walking to or from their bus stops. Drivers should remember that children do not possess the same level of situational awareness as adults so drivers need to be extra cautious when children are walking nearby.
California Pedestrian Accident Statistics
The California Department of Public Health reported an 11% increase in fatality rates for pedestrian accidents from 2007 to 2013. About one-fifth of all persons killed in traffic accidents were pedestrians during those years. Pedestrians accounted for about 5.7% of all injuries from traffic accidents. This indicates that pedestrian accidents are a major concern for Californians. It is essential for drivers to exercise appropriate caution near pedestrians. It's also important for pedestrians to walk safely and pay close attention to their surroundings to avoid accidents.
Pedestrian Accidents in Crosswalks
Some of the most common pedestrian accidents occur in crosswalks or at intersections where no crosswalk has been provided. Drivers have the responsibility to be aware of and recognize pedestrians' rights. Though the insurance company will try to say that it was the victim's lack of reasonable care that caused the accident, we will present a compelling case in support of your claim for damages.
Our Sacramento pedestrian accident attorneys will work diligently to prove the negligent party's fault. As part of our investigation, we will work to determine whether issues like defective auto parts or poorly constructed roads contributed to the cause of your accident. We will use that information to identify the responsible parties. We will develop a strategy designed to secure the maximum level of compensation for your injury claim.
Holding Liable Parties Responsible for Pedestrian Accidents
Pedestrian accidents can happen anywhere and whether you were injured in the city or while hiking in the mountains of California, the Sacramento pedestrian accident lawyers at Rosenthal Law understand how difficult it can be to recover from such a serious accident. We have represented victims who have suffered life-changing injuries. We have also represented families whose loved ones have been taken in these tragic accidents. Our dedicated focus on personal injury law assures our clients that their cases are in the hands of skilled professionals who take a personal interest in the outcome of every case.
Insurance companies will do anything they can to place blame on the accident victims despite compelling evidence showing their insured's negligence. Our pedestrian accident lawyers hold careless and negligent drivers accountable for the harm they cause. We use effective strategies to overcome the insurance company's attempts to avoid its responsibility in these personal injury cases and we diligently pursue full and fair compensation for each client.
Call Our Sacramento Pedestrian Injury Attorney
Rosenthal Law has a well-earned reputation for our commitment to obtaining the best possible outcome for our clients. While we always attempt to reach a fair settlement, we prepare every case as if it is going to trial. If the insurance company is not willing to negotiate in good faith, we are fully prepared to go to court. We will advocate for your interests there.
Contact us to discuss your case with a qualified Sacramento pedestrian accident lawyer and learn more about how we can help you. You can reach us by phone at (916) 774-7200 to schedule a free consultation. If you are unable to come to our law offices, a pedestrian lawyer from our law firm is happy to meet you at home, in the hospital, or another location that is convenient for you. We are passionate advocates for pedestrian accident victims and serve Sacramento county and the surrounding areas.