Sacramento Side-Impact Collision Attorney
If you or a loved one suffered injuries or died as the result of a side-impact collision, the attorneys at Rosenthal Law can help you. Side-impact collisions regularly result in severe injuries or even death.
The aftermath of a severe accident is overwhelming while trying to recover or grieve the loss of a loved one.
The Sacramento side-impact collision attorneys at Rosenthal Law can handle the legal issues, medical bills, and claims adjuster on your behalf so you can focus on recovery. Our attorneys are:
Experienced in helping victims of all types of car accidents
Aggressive in dealing with insurance adjusters in negotiations
Dedicated to recovering the damages you are entitled to by law
Contact Rosenthal Law and schedule your free claim review. We have more than 25 years of legal experience and a success record that speaks for itself.  If you are in the hospital, one of our Sacramento auto accident attorneys will come to you.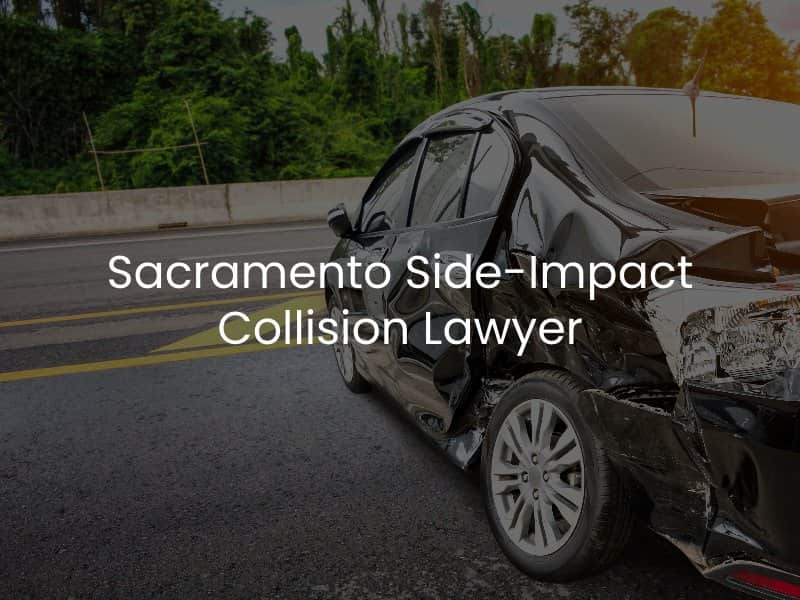 A Sacramento Side-Impact Collision Attorney Can Help
Side impact collisions often happen at intersections and leave witnesses confused.  Often witnesses disagree about what occurred. At Rosenthal Law, our side-impact collision lawyers go beyond witness statements to build you the most persuasive case possible for recovery.
Our attorneys will take action by:
Intervening to secure video evidence
Investigating the crash scene
Taking depositions of witnesses
Evaluating your financial and personal losses to determine the value of your claim
Negotiate with any insurance company(s)
Take your case to court if there is no agreeable settlement
Evidence quickly disappears after an accident, so it is important to contact Rosenthal Law today. The faster we can begin work on your claim, the better your chances are for success.
Types of Side-Impact Collisions
Side-impact collisions are sometimes known as "T-bone" collisions.  A T-bone collision happens when one vehicle's front end directly impacts the side of another vehicle.  The resulting shape of the vehicles is the letter "T."
Side-impact collisions also include sideswipe collisions. In a sideswipe collision, one vehicle glances off the side or near-side of another vehicle. The impact is lateral instead of horizontal and often happens during lane changes.
A broadside collision involves a vehicle spinning sideways and colliding with an obstacle or getting hit by another vehicle.
Common Injuries Caused by Side-Impact Collisions
Side-impact collisions are particularly damaging for both passengers and vehicles. Drivers and passengers hit from the side have little or no warning of the impact. The side of a vehicle does not provide as much insulation or protection from an impact as other areas of the vehicle.
The severity of injuries and property damage resulting from a side-impact collision depend on:
The types of vehicles involved
Safety features of the vehicles
Speed of the vehicles
Common injuries caused by a side-impact collision include the following:
Head and brain injuries, including traumatic brain injury
Neck and back injuries
Broken bones
Soft tissue injuries
Whiplash
Spinal cord injuries
Compensation for Side-Impact Collisions
Compensation amounts for side-impact collisions vary but typically consist of reimbursement for medical and property damage and money for injuries of a more personal nature. Examples of compensation are:
Medical bills for hospital and doctor visits, prescriptions, and physical therapy
Lost wages for missed work
Loss of income for missed future employment
Pain and suffering
Mental and emotional trauma
Loss of enjoyment of life
Wrongful death of a loved one
An experienced Sacramento side-impact collision attorney, like those at Rosenthal Law, can evaluate your accident claim and its potential value. At Rosenthal Law, we can also explain all types of compensation to you in-depth and let you know which ones apply to your claim. To learn more, contact us.