Sacramento Motorcycle Accident Attorney
If you or a loved one were seriously hurt or killed in a Sacramento motorcycle accident due to someone else's negligence, contact the motorcycle accident lawyers at Rosenthal Law today. Our law firm is experienced and compassionate and will respond promptly to meet with you and begin work on your claim. If you lost a loved one, we could help guide you through filing a wrongful death claim.
At Rosenthal Law, our legal team provides you:
Over 25 years of excellence in representing personal injury clients, including those injured in motorcycle accidents
A proven track record of obtaining compensation for injured individuals
The integrity you expect in a law firm you want representing you and your family's best interests
Schedule your free consultation today and learn how Rosenthal Law can offer you the individual support and information you need to recover from your injuries.  There are no upfront fees, and we only get paid if you win.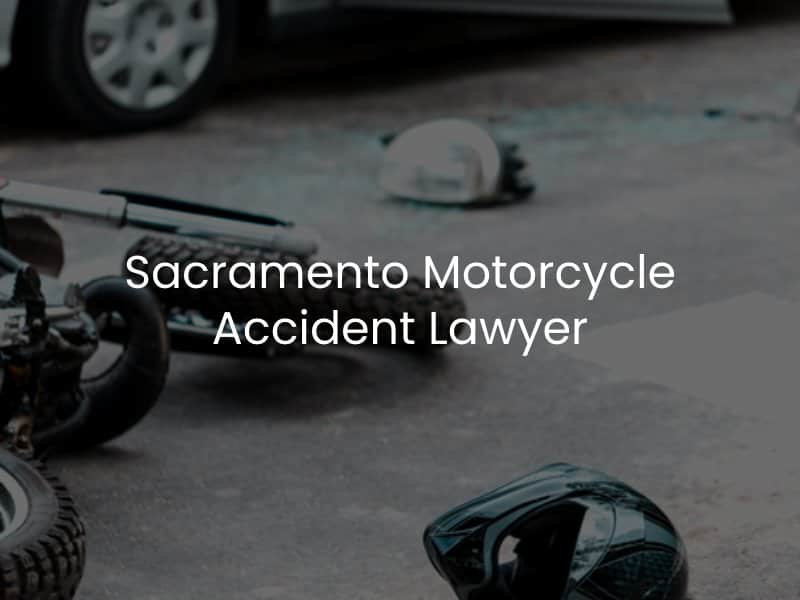 Content
How a Sacramento Motorcycle Accident Attorney Can Help
At Rosenthal Law, we believe no one should pay for an accident that results from someone else's negligence. When you do receive a settlement, it should make you financially whole. That is why you need an experienced Sacramento motorcycle accident lawyer.
Insurance companies will offer lower settlements than you deserve. Insurance companies do what is best for their clients. Your attorney does what is best for you.
The experienced motorcycle accident attorneys at Rosenthal Law will also:
Investigate your motorcycle crash and identify who is legally responsible
Identify all insurance coverage applicable to your accident and injuries
Ensure you have any needed support including medical referrals and creditor assistance
Calculate your past, current, and projected costs and losses from the motorcycle collision
Aggressively negotiate with the insurance company for payment of maximum compensation
File a personal injury lawsuit to demand compensation from any liable party
Take your case to court if needed
Call Rosenthal Law today, and let us review the details of your case. There are time limits to file a lawsuit. The sooner a Sacramento motorcycle crash lawyer can begin working on your case, the better your chances are of a successful personal injury claim.
Do I Need a Lawyer for a Motorcycle Accident?
If you have suffered injuries in a motorcycle crash, then it's in your best interest to start working with a Sacramento personal injury attorney. Generally, the sooner you can hire a lawyer, the better. California's statute of limitations on personal injury and wrongful death cases only gives you two years from the date of your accident to file a claim before you use your right to fair compensation. Contacting a motorcycle accident attorney in Sacramento within a week or two of the accident can give your claim the best chance of success.
Another advantage of hiring a Sacramento motorcycle accident lawyer early is to prevent costly mistakes, especially those with insurance companies. Insurance companies can contact you before you even have time to process your accident– sometimes on the same day. Making a statement to an insurance broker or agreeing to a settlement offer can prevent you from receiving the full extent of your compensation. An experienced Sacramento motorcycle collision attorney can help you avoid these problems.
How Much Is My Motorcycle Accident Injury Claim Worth? 
Motorcycle collisions often entail substantial damages. Most motorcycles do not make it out of serious crashes intact. Motorcycles will often require full replacement, and motorcycle riders have little protection from crash forces. A motorcycle accident can easily lead to significant economic damages, and if you plan to take legal action for a recent motorcycle accident it is wise to have some idea of how to calculate the value of your claim.
Calculating Economic Damages
A motorcycle accident injury claim will likely entail economic and noneconomic damages. Economic damages are the direct financial effects of an accident and noneconomic damages typically pertain to intangible damages and losses like pain and suffering and emotional trauma.
Vehicle repair and replacement costs would qualify as economic damages. If an at-fault driver completely destroyed the claimant's motorcycle, the claimant would have the right to claim compensation for the full value of the motorcycle. Other types of property damage would also be covered under economic damages.
Medical expenses typically form the bulk of an injured motorcyclist's damages. When a negligent driver causes a motorcycle accident, the accident victim can pursue compensation for immediate and future medical expenses, including hospital bills, emergency room fees, and long-term medical costs for things like physical therapy.
Wage loss may also form a portion of a claimant's economic damages if the accident leaves him or her unable to work for an extended time. In the event an accident causes a permanent disability, the accident victim may claim compensation for his or her lost future income.
Economic damages are generally easy to prove; the claimant simply produces documentation that proves the extent of his or her losses and expenses and his or her Sacramento motorcycle accident attorney helps establish causation between those damages and the defendant's actions. Noneconomic damages, on the other hand, are harder to prove. It can be difficult to predict how much a plaintiff will receive.
Calculating Noneconomic Damages
The physical pain and trauma associated with a motorcycle collision can be worse for a victim than the economic losses. The justice system allows plaintiffs to recover compensation for physical pain, emotional distress, and mental anguish resulting from a defendant's negligence. However, different courts use different methods for calculating pain and suffering damages. The nature of the plaintiff's damages may also influence his or her pain and suffering compensation.
Some courts will use a multiplier method to award pain and suffering compensation as a lump sum. For example, if a plaintiff suffered a severe bodily injury and incurred $20,000 in medical bills, the court may multiply this number by three to reflect the pain associated with the motorcycle injury and award $60,000 in pain and suffering compensation. For another example, a plaintiff who only suffered minor injuries may only receive a small amount of pain and suffering compensation, such as an additional $5,000 for $5,000 worth of medical bills for treating a bodily injury that will fully heal with minimal recovery time.
Other courts use a per diem system to award pain and suffering compensation. Instead of a lump sum, a plaintiff receives compensation for every day spent in recovery until reaching maximum medical improvement. For example, if it took a full year, or 365 days, to recover from a bodily injury, and the jury awarded $100 per day in pain and suffering compensation, the plaintiff would effectively receive $36,500 in pain and suffering compensation. Working with an experienced Sacramento motorcycle accident lawyer can help maximize the amount of recoverable damages.
Punitive Damages
Some motorcycle accident cases involve illegal activity on part of the defendant, such as drunk driving, or the defendant's negligence exceeds the scope of typical negligence. In such cases, courts often award punitive damages to further punish the defendant's wrongdoing and enhance the plaintiff's recovery. Some states place limits on the amount a plaintiff may win in punitive damages. Punitive damages count as taxable income for the plaintiff unlike the other damages associated with his or her physical injuries. Ultimately, it is very difficult to predict how much a motorcycle accident injury claim is worth without analyzing the specific details of the situation.
Common Causes of Sacramento Motorcycle Accidents
Although motorists have the same obligation of safety to motorcyclists as to the drivers of other cars and trucks on the road, most motorcycle accidents involve collisions with motorists violating a motorcyclist's right of way.
While there are many contributing factors to motorcycle crashes, the following include the most cited reasons:
Speeding
Tailgating
Distracted driving
Failure to yield
Failure to stop
Unsafe lane changes
Improper passing
Improper turns
Crossing the centerline
Poor road conditions
In the event of a motorcycle accident, if able, obtain witness information and preserve any evidence of the motorist's liability.
Common Motorcycle Accident Injuries and Long-Term Effects
Due to the nature of motorcycle accidents, their victims often suffer multiple injuries. Motorcycle crash injuries are often severe or even fatal.
Some of the most common injuries are listed below:
Road rash
Broken bones
Amputation
Death
The long-term effects of motorcycle injuries are sometimes physically and financially devastating.  Severe physical injuries may result in the following consequences for victims:
Loss of income
Massive medical bills
Loss of quality of life
Chronic pain
Mental and emotional trauma
Costs for medical equipment and rehabilitation
Loss of consortium
After a motorcycle accident, it is vital to call a Sacramento motorcycle accident attorney. Let Rosenthal Law take the legal responsibilities of a motorcycle accident off of your shoulders so you can focus on recovery. We make every effort to recover the highest settlement possible for your injuries.
What If the CHP or Police Report Says I Was at Fault?
A police report can be a helpful piece of evidence in a motorcycle accident claim, especially if the report determines that the other party is liable for your injuries. However, police reports don't always rule in your favor. You may just be the at-fault party according to the cops. Thankfully, this doesn't mean you don't have a valid motorcycle accident claim.
Police reports can contain both facts and opinions. Details of when and where the collision happened are facts but an officer's determination of fault may be inaccurate, especially since he or she didn't watch the accident occur. Instead, the officer determines fault based on the accounts of the involved parties and evidence on the accident scene, which may lead to inaccuracies.
If the PHP or police report names you as the liable party, there are other ways to prove fault in your motorcycle accident case. Evidence from the scene and witness testimonies can help determine the events of the incident. The court may rule differently from the police report during your personal injury claim. Our motorcycle accident attorneys have the resources to investigate your injury case and correctly determine fault.
Who Is Liable in a Motorcycle Accident?
Like many other types of personal injury cases, liability in motorcycle accidents works under the laws of negligence. If a driver acts thoughtlessly or carelessly and harms another person, then the driver or the driver's insurance company is liable for the victim's motorcycle accident injuries.
Often, motorists are negligent by not following the rules of the road, driving while distracted, or not paying attention for motorcycles on the road. Likewise, a motorcycle rider can also be the liable party if he or she also doesn't obey traffic laws. Not wearing a motorcycle helmet can also make the motorcycle rider liable for any head injuries. If the accident occurred due to a manufacturing error, then the manufacturer will be liable.
It's possible for the involved parties to share liability for a motorcycle accident. When this happens, the injured parties can still seek fair compensation but the court will reduce the final damages reward by how much the injured person contributed to the accident.

Contact a Motorcycle Accident Lawyer in Sacramento Today
When a motorcyclist is involved in a collision, he or she often faces prejudices after the incident. Drivers often view motorcycle riders as reckless risk-takers and unsafe drivers. Our office does not accept the argument that a motorcyclist "came out of nowhere" or that the other driver simply "didn't see the motorcyclist" – these are not acceptable excuses for negligent drivers.
Through the years, our motorcycle crash lawyers have succeeded in getting the best possible outcome for our clients. Whether that was at the negotiating table with the insurance company or in the courtroom, we deliver the best results possible. Contact us online or call (916) 774-7200 to speak with one of our qualified Sacramento motorcycle accident attorneys and get started on your case today. Our accident lawyers offer a free case evaluation.
Our personal injury law firm will help pursue your legal right to fair compensation while you focus on seeking medical treatment to recover. All personal injury claims are handled on a contingency basis, which means you pay no attorney fees unless you win. We proudly serve motorcycle accident victims in the Sacramento area.