Sacramento Balcony, Deck, and Stairway Injury Lawyer
Property owners carry the responsibility of ensuring that the stairways, balconies, and decks at their homes or places of business are safe for use by visitors. Proper repairs and improvements must be made on an ongoing basis. When they fail to do so and people suffer serious injuries as a result, property owners can and should be held accountable for any losses their victims suffer. Speak with an experienced Sacramento lawyer after sustaining injuries due to a balcony, deck, or stairway.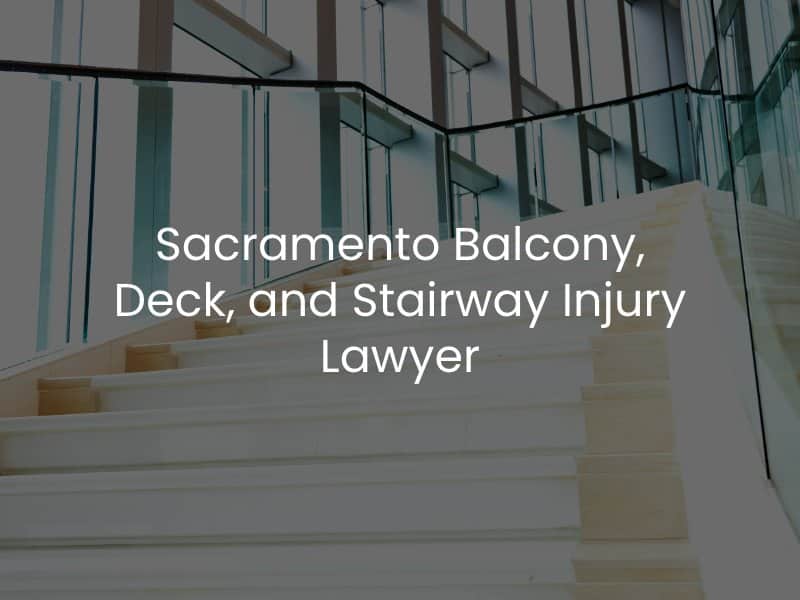 Fighting For Victims Who Have Been Injured
If you or a loved one has been injured in any kind of stairway fall or deck or balcony collapse, the Sacramento premises liability attorneys at Rosenthal Law are ready to help. We dedicate our entire practice to helping Roseville and Sacramento area injury victims. We understand the conditions that can lead to these types of accidents, and we are committed to obtaining the maximum level of compensation available for your claim.
Why Hire an Attorney
After an incident involving a defective balcony, deck, or stairway in Sacramento, we strongly encourage you to reach out to a skilled Sacramento stairway lawyer as soon as possible. Unfortunately, these claims can become challenging for the injury victim as they were to recover compensation for their losses. The role of a premises liability attorney will be multifaceted and include the following:
Initiating an investigation into the incident, which includes obtaining property unit records, evidence related to the incident, speaking to eyewitnesses, and more.
Ensuring their client is evaluated by trusted medical professionals who will not only treat the injuries but will help provide an estimate for expected medical costs.
Enlist assistance from trusted economic and financial experts to adequately calculate all other economic and non-economic damages.
Engage in difficult negotiations with insurance carriers and the at-fault party to recover a fair settlement.
Fully prepare the case for a personal injury trial by jury if a trial becomes necessary.
Most individuals who sustain injuries in these circumstances will not have the necessary legal skills to pursue compensation against well-funded insurance carriers. When you have an experienced Sacramento personal injury attorney, you will have an advocate with the resources needed to handle every aspect of your claim from beginning to end. This helps give you peace of mind as you work to recover from your injuries and move forward with your life.
Recoverable Damages for a Balcony, Deck, or Stairway Injury
There may be various types of compensation available for those who sustain injuries as a result of a faulty deck, balcony, or stairway in Sacramento. Our team works diligently to recover both "special" and "general" damages for every client that we assist.
Special damages are often referred to as economic damages, and this refers to relatively calculable expenses injury victims will likely endure after these incidents. By adding up receipts, invoices, or bills that come to an injury victim, our team will work to adequately calculate the following:
EMS and emergency room expenses
Any ongoing doctor or hospital needs
Rehabilitation and physical therapy
Any necessary surgical costs
Prescription medications or medical devices
Lost income for those who are unable to work
Property damage expenses
Compensation for out-of-pocket losses
General damages are often referred to as non-economic damages, but these types of losses are quite different than the economic damages. There are typically no bills, receipts, or invoices that apply in these situations because these are more unseen types of losses. Our team will work with trusted economic and medical professionals to adequately calculate a victim's:
Physical pain and suffering
Psychological or emotional pain and suffering
Loss of enjoyment of life or loss of quality of life
Understanding the Cause Of Your Accident
There may be different ways that stairway, balcony, or deck accidents occur in the Sacramento area. Often, flawed construction or defective materials are to blame for these incidents. Additionally, it is not uncommon for these types of areas to fall into disrepair as a result of negligent maintenance by the property owner. Your attorney will conduct an extensive investigation to determine exactly how the balcony, deck, or stairway caused the injury.
Types of Injuries
Unfortunately, individuals often sustain severe injuries as a result of these incidents. Some of the most common types of injuries that we help clients with after these circumstances include the following:
Spinal cord trauma with or without paralysis
Amputation injuries
Crash injuries
Severe lacerations and puncture wounds
Internal bleeding or internal organ damage
Fractures or dislocations
Our team works with trusted medical experts and life planning specialists to help determine the level of care individuals in these circumstances will need in the immediate aftermath of the incident as well as throughout their life if they sustain a disability.
Who Can Be Held Liable?
Investigations into these incidents can be complex, and there may be multiple liable parties. Some of the possible liable parties include the following:
Property Owners
The property owner may be held liable if they failed to maintain the balcony, deck, or stairway in a safe condition or neglected to address known defects. They have a duty to ensure that the premises are reasonably safe for visitors, and their negligence in fulfilling this duty could make them liable for any injuries caused by the defect.
Property Manager or Landlord
If the property is managed by a property manager or rented out by a landlord, they may be held liable if they were responsible for inspecting and maintaining the balcony, deck, or stairway. Their failure to identify and repair defects or their failure to respond to tenant complaints about the condition of these structures could contribute to their liability.
Construction or Maintenance Contractors
If the balcony, deck, or stairway was recently constructed or underwent maintenance work, the contractors involved in the project may be held liable if their workmanship or repairs were negligent or defective. Improper installation, the use of substandard materials, or failure to follow building codes and safety regulations could establish their liability.
Manufacturers or Suppliers
If the defect in the balcony, deck, or stairway can be traced back to a manufacturing or design flaw, the manufacturers or suppliers of the components or materials used in the construction may be held liable. This can include defects in the materials used, such as weak or substandard materials or faulty design that renders the structure unsafe.
Architects or Engineers
If the design of the balcony, deck, or stairway was inherently flawed and contributed to the defect that caused the injury, the architects or engineers involved in the design process may be held liable. Their professional responsibility includes ensuring the structural integrity and safety of the design, and any negligence or errors on their part could make them liable.
Maintenance or Repair Contractors
If the defect in the balcony, deck, or stairway arose from inadequate or improper maintenance or repairs, the contractors responsible for maintaining or repairing these structures may be held liable. Additionally, the failure to conduct regular inspections, perform necessary repairs, or address reported issues can contribute to their liability.
It's important to note that liability in such cases may vary depending on jurisdiction and specific circumstances. Consulting with an attorney who specializes in premises liability can help assess the case and determine the parties who may be held liable for the injuries caused by the defective balcony, deck, or stairway.
Injuries on Government Property
If a deck, stairway, or balcony injury occurs on government property, individuals should still be able to recover compensation for their losses. In this state, there is a law called the California Tort Claims Act (CTCA). This law allows individuals to file lawsuits against a government entity. Government entities are typically granted immunity from certain types of lawsuits, but not in these circumstances. If the negligent actions of a government entity or a government employee cause harm to a citizen, then the injury victim can file a lawsuit, but there are specific procedures that they must take.
A claim must be submitted within six months after the personal injury incident occurs, and the individual must give notice to the government entity that allegedly caused the injury. The claims process for CTCA cases is more challenging than a traditional personal injury lawsuit. We strongly encourage you to work with a skilled personal injury lawyer in Sacramento who has experience handling injury claims against government entities in this state.
What To Do After Suffering An Injury On Dangerous Stairs
There are various steps that you can take after sustaining an injury on a stairway (or a deck or balcony):
Seek Medical Care
The first priority after an injury occurs in these areas is medical treatment. Even if individuals do not feel much pain or any pain at all right away, they should go to the doctor or an emergency clinic for an evaluation. Not only does this help treat any immediate or unseen injuries, but it also establishes a link between the incident and any injuries that do arise.
Report the Incident
Individuals should report the injury to an employee or whichever government entity is in charge of the area where the injury occurred. Most property owners and every government agency have specific reporting processes after they receive information about an injury, and this can help establish a paper trail of the incident.
Gather Evidence
Individuals can gather evidence if they are able to do so. At the scene of the injury, this can include taking photographs of the hazard that caused the injury, the injury itself, and the surrounding area. Make note of any surveillance cameras you see because your attorney may be able to help gather surveillance footage. If there were any eyewitnesses, make sure that their names and contact information get written down as soon as possible.
Call an Attorney
A Sacramento stairway, deck and balcony injury lawyer needs to get involved in these cases as soon as possible in order to help individuals recover the compensation they are entitled to.
Discuss Your Injury Claim With One Of Our Dedicated California Lawyers
Contact us to schedule a free initial consultation with one of our attorneys today. We are available to meet during regular business hours and at other times by appointment. You can reach us by phone at (916) 774-7200 or contact us online for an appointment. If you are unable to come to our office, we are happy to meet at your home, the hospital or another location that is convenient for you.