Sacramento Burn and Electrical Injury Attorney
At Rosenthal Law, we are a premier personal injury law firm with more than 25 years of litigation experience serving injury victims in the Sacramento area. With a sophisticated, detailed approach to negotiation and trial work, our Sacramento burn and electrical injury attorneys know how to build a winning case to help you obtain the compensation you need to provide for yourself and your family and recover from your injuries.
Electrical accidents and fires on construction sites result in catastrophic injuries, including burns, scarring and disfigurement, and wrongful death in the most serious cases. After suffering a serious injury from fires or electrical accidents, you will be facing a number of serious issues. How will you continue providing for your family if you are unable to work? How long will it take to recover? Whom should you seek out for legal representation?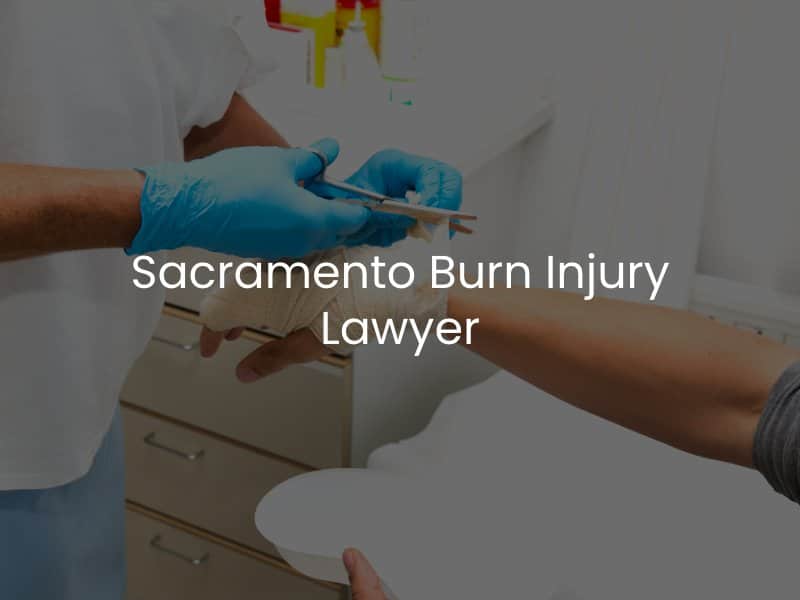 How Can a Sacramento Burn Injury Lawyer Help My Case?
Burn injury claims can become complicated, which means it can be challenging for individuals to recover compensation from another party. A skilled Sacramento burn injury lawyer will have the resources you need to handle every aspect of your claim. Your Sacramento injury lawyer will be responsible for:
Conducting a full investigation into the incident and obtaining any evidence needed to prove liability
Ensuring that you are evaluated by a medical professional who can treat your injuries and help calculate your total expected losses
Handling any communication with other parties, including legal teams and insurance carriers throughout the entire case
Filing all paperwork with the court system and handling the discovery process with the other legal team
Preparing your case to be heard in front of a jury if that becomes necessary
What Compensation Can I Recover for My Burn Injuries?
Individuals who sustain burn injuries caused by the negligent or intentional actions of other parties should be able to recover a wide range of compensation. Our Sacramento burn injury attorneys work diligently to recover both economic and non-economic losses for every client that we assist. This includes:
Economic Damages
When a burn injury occurs, individuals are likely to sustain a wide range of losses that are relatively calculable by gathering bills and receipts that come in after the incident. Some of the most common economic losses that burn injury victims incur include the following:
Any emergency medical expenses
Any needed surgical procedures
Physical therapy or rehabilitation
Follow-up doctor care
Various out-of-pocket expenses
Lost wages if a burn victim cannot work
Prescription medication costs
Non-Economic Damages
These types of losses are different than the economic damages mentioned above. Non-economic damages often do not have any direct bills or receipts that can be added up to adequately calculate the amount. However, these damages are just as real, and they must be included. This includes a burn injury victim's:
Physical pain and suffering
Emotional and psychological distress
Loss of quality of life
There is no set amount of money that a burn injury victim in Sacramento will receive. Rather, the total amount of burn injury compensation paid out will vary depending on several factors, including the severity of the burn injuries, the length of the recovery time, whether or not there are any long-term disabilities, and partial fault. We encourage you to work with a skilled burn injury attorney who can enlist assistance from economic and medical professionals to help calculate total expected losses.
How Much Does a Burn Injury Lawyer Charge?
One of the main reasons that individuals do not turn to lawyers is that they think they cannot afford them. However, a Sacramento burn injury lawyer at Rosenthal Law will handle your claim on a contingency fee basis. This means that we will absorb all of the costs associated with the case, and you will not have to pay any legal fees until after we successfully recover the compensation you are entitled to. If we do not win, you do not pay anything. If we do win, you will pay an agreed-upon percentage of the total settlement or jury verdict for legal fees.
Causes of Burn and Electrical Injuries
Do not wait to talk with a construction accident attorney in Sacramento. Especially in catastrophic construction site accidents, evidence can become compromised over time, making it more difficult to bring a claim. Further, almost every personal injury claim has a statute of limitations, so if too much time passes, you might not be able to bring a claim at all.
Our burn and electrical injury lawyers represent clients injured in construction site electrical and fire accidents involving:
Construction worker negligence: In too many cases, construction workers without adequate training or electrician licensing will work with electrical equipment incorrectly and increase the danger of electrical accidents or fires.
Faulty construction: When a home or other building is not being built up to code, fires and electrical accidents are much more likely.
Dangerous equipment: One of the most common issues resulting from malfunctioning construction equipment is an electrical failure. Loose electrical cables or faulty wiring can result in electric shocks, electric fires, overheating of equipment and other major accidents.
Burn injuries: We represent clients in accidents involving construction site fires and explosions, overheating power tools, electrical accidents and other accidents that result in burn injuries.
Wrongful death: Our lawyers also represent families of those who have been killed on construction sites due to fires and electrical accidents.
Degrees of Burn Injuries
Burn injuries are classified ranging from first-degree to fourth-degree, according to WebMD:
First-degree. These types of burns affect only the outer layer of a person's skin. Most commonly, individuals sustain first-degree burns when they are out in the sun too long. This may be red and painful, but it likely will not cause any blisters or long-lasting damage.
Second-degree. These types of burns will affect the outer layer of skin as well as the next layer, called the dermis. This can lead to swollen and red skin, and it may cause blisters. This could lead to some scarring, but usually does not.
Third-degree. This is often called a full-thickness burn, and this level of injury will destroy the top two full layers of skin. This could cause the skin to become red, but it could also appear yellow, white, brown, or black. Oddly enough, this type of injury will typically not hurt right away because the burn damages the nerve endings. This level of injury will certainly lead to scarring.
Fourth-degree. This is the most severe type of burn a person gets the stain, and is typically life-threatening. This level of burn will destroy all layers of skin, and will affect the muscles, tendons, or bones.
Burn Injury Complications
There are various types of complications that individuals can sustain in the aftermath of a burn injury. First and foremost, the initial injury and pain and suffering caused by the burn injury can be extreme. However, many individuals do not think of the complications beyond the initial emergency, which can include:
Infections that can enter the bloodstream as a result of the exposure caused by the burn
Extreme fluid loss or low blood volume
Breathing problems caused by inhalation of hot air or smoke
Scarring or ridging of areas caused by the overgrowth of scar tissue
Bone and joint problems, which can be caused by the shortening or tightening of muscles, tendons, or skin
Low body temperature caused by the initial injury
The aftermath of a burn injury can be precarious, particularly for more severe third or fourth-degree burns. Individuals are often placed into intensive care units for weeks or months at a time while they recover. The risk of infection remains high, particularly if a person's body is exposed because their skin has not completely healed.
Types of Burn Injuries
There are various types of burn injuries that can affect individuals. This includes:
Thermal burns. These types of burns occur as a result of heat sources that raise the temperature of the skin and can lead to skin cell death or charring. Some of the most common causes of thermal burns include hot liquids, steam, hot metals, and flames. Anytime these causes of burns come into contact with the skin or come close enough to the skin, they can lead to a burn injury.
Radiation burns. Radiation burns are caused by extended exposure to ultraviolet rays of the sun or other sources of radiation, including X-rays. Most individuals are familiar with these types of burns if they have been on the beach or near the pool without sunscreen.
Electrical burns. Electrical burns are caused by electrical currents, either alternating current or direct current. Electrocution injuries typically occur when a person touches an exposed electrical wire or outlet.
Chemical burns. These types of burns happen when a person comes into contact with various types of materials, including detergents, alkalis, strong acids or solvents, etc.
Cold burns. Anytime a person's skin comes into contact with a cold object or environment, this can also lead to a burn, more commonly known as frostbite.
Friction burns. These types of burns occur when a harder object rubs off a portion of a person's skin. In other words, the friction with the other object leads to injury. These injuries are common in bicycle and motorcycle accidents.
What to Do After a Burn Injury
In the aftermath of sustaining a burn injury, there are various steps that you can take to help ensure your well-being and that you recover compensation if the injury was caused by the negligence of another individual or entity.
The first step is ensuring that you receive medical care immediately. Delaying medical treatment after a burn injury occurs can be incredibly detrimental, particularly because this will allow time for an infection to occur. Go to the hospital for an evaluation by a doctor so your treatment can begin.
If it is possible, you should gather as much evidence as you can related to the incident. Have someone take photographs of the causes of the burn injury, the injury itself, and the area surrounding where the incident occurred. If there were any eyewitnesses to the burn injury incident, get their names and contact information written down as soon as possible.
You should reach out to a skilled Sacramento burn injury lawyer as soon as possible. If another individual or entity caused your burn injury, an attorney can examine every aspect of the claim on your behalf. They will take over the case, including the investigation, handling communication with other parties, and preparing your case for a trial by jury.
Learn More About How We Can Help You Secure Fair Compensation
Call us to schedule your free initial consultation with an experienced burn injury attorney from Rosenthal Law about your burns and electrical injuries. We take weekend and evening appointments, and we will travel to meet you if you cannot make it into our office. You can reach us by phone at (916) 774-7200 or contact us via email to schedule a free consultation.