Sacramento Rollover Accident Attorney
If you were a victim in a rollover accident, a Sacramento rollover accident lawyer from Rosenthal Law can help you explore your legal options.
Almost any car or truck will roll over if it is struck in a certain way, with sufficient violence. But one vehicle type is uniquely susceptible to flipping in an accident — the popular sport utility vehicle, or SUV. The SUV design is so vulnerable to rollovers that the auto industry has installed electronic stability controls in most models. While this innovation has reduced the susceptibility of rollovers on test tracks, SUVs continue to roll over in the real world.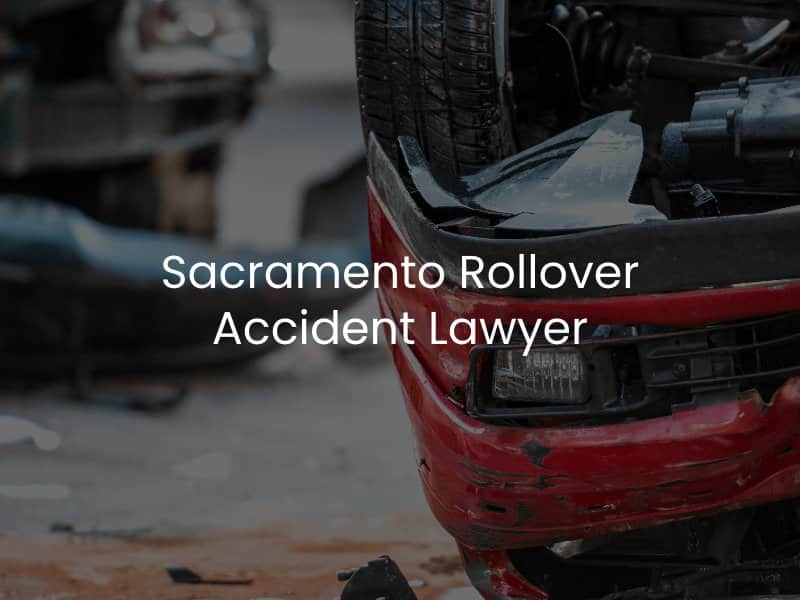 How a Sacramento Rollover Accident Attorney Can Help
The process of recovering compensation after a rollover incident in Sacramento can be challenging. In order for an injury or property damage victim to recover the compensation they need, they must prove the fault of the other party or parties. It is essential to work with a skilled Sacramento car accident lawyer who has extensive experience handling catastrophic vehicle accident claims.
Determining liability involves gathering evidence. Various types of evidence can be used to prove what happened, but each particular case will involve particulars that your rollover accident attorney will need to navigate. Some of the most common types of evidence used in these situations include:
Photographs taken at the scene of the crash
Video surveillance from nearby cameras
Statements from any eyewitnesses or other drivers and passengers
The police or incident report
Citations issued by law enforcement to at-fault drivers
Mobile device data
Vehicle data recording devices
Due to the complex nature of these incidents, it may be necessary for an attorney to enlist assistance from an accident reconstruction expert. These individuals will use their expertise, the evidence already gathered, and computer 3D models to help show exactly what happened.
All of this takes time and resources, and a skilled rollover accident lawyer in Sacramento can help every step of the way.
Compensation Available in a Rollover Accident
There may be various types of compensation available for individuals who have been involved in a rollover accident. If the incident was caused by the actions of another driver, the victim may be up to file an insurance claim against the at-fault party's insurance carrier. In the event the insurance carrier denies the claim or refuses to offer a fair settlement amount, it may be necessary for the injury victim to file a personal injury lawsuit in civil court against the at-fault party.
Regardless of the route by which compensation is secured, the goals of our Sacramento rollover accident lawyers are the same – to secure as much compensation as possible for our client. This includes coverage of economic and non-economic damages.
Economic Damages
Rollover collision victims will likely incur various calculable expenses that they need compensation for. When we gather bills and receipts related to the incident, we can properly calculate the following types of losses:
Emergency and hospital medical bills
Any follow-up doctor visits
Transportation to and from medical facilities
Rental vehicle expenses
Lost wages and loss of future earning potential
Various out-of-pocket expenses
Non-Economic Damages
These types of losses are a bit different than the calculable expenses mentioned above. Non-economic damages are not as easily measurable as the economic losses, typically because there aren't any bills, receipts, invoices, or estimates that can be used to calculate. However, non-economic damages are just as real and include compensation for a victim's:
Mental and emotional distress
Physical pain and suffering
Loss of enjoyment of life
Loss of consortium
There is no set amount of compensation paid to rollover accident victims in Sacramento. Rather, there are various factors that will be examined to help legal teams and insurance carriers settle on an adequate amount. Some factors that can affect total compensation payouts include the severity of any injuries and how long it takes a person to recover. Lost wages will hinge on how long a person is away from work or whether or not their ability to perform their job is affected by any disabilities.
Proving Liability in a Rollover Accident
Determining liability after a rollover collision in Sacramento can be challenging but the process will revolve around gathering as much evidence as possible. In order to prove the negligence of one or more parties, evidence such as photographs taken at the scene of the incident, statements from eyewitnesses, the police report, any available video surveillance footage, and more will all help.
The days and weeks following a rollover collision can be challenging when it comes to continued investigation. It is not uncommon for the at-fault party's insurance carrier or legal team to step in and try to shift some or all of the blame onto the injury victim in order to pay less compensation.
We encourage all rollover accident victims to work with a skilled attorney who can fully examine their claim and continue the investigation into the incident. A Sacramento injury lawyer will work to show that the other party owed the victim a duty of care and that they breached this duty and caused injuries or property damage.
How Long Do I Have to File an Accident Claim?
Rollover accident victims in Sacramento have a limited amount of time to file a lawsuit in court. The California personal injury statute of limitations is two years from the date an injury occurs. This means that car accident victims must file their claim within this two-year window, or they will lose their ability to recover the compensation they are entitled to.
Additionally, every insurance carrier involved in the claim will have its own reporting deadlines. In general, insurance carriers want incidents to be reported within a day or two after they occur or they could deny or at least delay the claim. If you have any questions about the time frames involved with your rollover accident claim, please speak to an attorney who has experience handling these matters.
Causes of Rollover Accidents
When we examine information available from the Insurance Institute for Highway Safety (IIHS), we can see that rollover collisions can result from an impact with another vehicle or a fixed object. These types of collisions lead to a higher likelihood that vehicle occupants will be ejected, increasing the chance of fatalities and severe injuries.
In 2020, there were 7,182 rollover accidents reported across the country, and 76% of these were associated with a rollover impact with another vehicle or fixed object. Some of the most common causes of rollover accidents include the following:
Drowsiness or fatigue
Looking away from the road
Aggressive driving or road rage
Overcorrection
Lack of driving experience
Lack of familiarity with the road
Improperly loaded or overloaded cargo on a truck
Speeding or driving too fast for conditions
These are all factors that can affect individual drivers, whether we are discussing the driver whose vehicle rolled over or another driver who may have caused an impact. However, there are other factors that increase the likelihood that a rollover collision will occur. This includes the type of vehicle involved. In general, and even though any type of vehicle can roll over, we find that taller and narrower vehicles, such as SUVs, pickup trucks, and vans, are more likely to roll over.
Additionally, drivers who operate off-road (either recreational off-roading or as part of employment requirements) are more likely to experience rollover collisions due to uneven terrain. Rollover collisions are also more likely to occur when there are unsafe roadway conditions, either caused by inclement weather, debris, or construction.
Rollover Injuries
As we mentioned, rollover collisions are much more likely to involve a driver or passenger becoming ejected from the vehicle, significantly increasing the likelihood that there will be a catastrophic injury or fatality. Additionally, even if an ejection does not occur, rollover collisions often place extreme forces on individuals inside the vehicle, which can lead to them sustaining severe injuries as a result of impact with internal vehicle parts.
Some of the most common injuries associated with rollover collisions include, but are not limited to, the following:
Broken or Dislocated Bones
The energy associated with a rollover collision typically throws drivers and passengers around inside the vehicle, and any of their bones can sustain impacts with harder surfaces inside the vehicle or with the ground or other objects if injection occurs. This increases the likelihood that bones will be broken or dislocated.
Spinal Cord Trauma
Spinal cord injuries are a significant concern related to rollover collisions. Any area of the spinal column can sustain severe trauma as a result of these incidents.
Traumatic Brain Injuries
Traumatic brain injuries can occur in a variety of ways as a result of a rollover collision. This can include injuries that occur as a result of the head whipping back and forth or from striking a fixed object inside or outside of the vehicle.
Severe Lacerations or Puncture Wounds
Any time an area of our body strikes an object hard enough, it can lead to lacerations or puncture wounds, but these injuries are more likely to occur in the process of the rollover when the skin comes into contact with sharper surfaces that may arise due to the collision.
Internal Organ Damage or Internal Bleeding
The force of these collisions is likely to cause some type of internal damage or internal bleeding that must be treated immediately even if it may not be visible.
Many drivers imagine that roll bars on an SUV roof make the vehicle more stable, more protective in a crash. The opposite is actually true. Roll bars increase the height of the vehicle, making them more likely to tip over and roll.
Rollover accidents are usually not the fault of another driver (though they can be). More often, these are product liability cases in which the manufacturer is held responsible for a design that is inherently dangerous.
Call a Sacramento Rollover Accident Lawyer Today
When you suffer an injury or lose someone you love in a rollover crash, you want a rollover accident attorney in Sacramento with deep experience in this and other types of crash injuries. Around Sacramento, that means Rosenthal Law. Respected in the courts and feared by opponents on the insurance side, we are the gold standard for personal injury work in our market.
Call us today for a no-charge, no-obligation case evaluation. There is no risk to you for contacting us. If we take your case, you won't owe us anything until we produce positive results for you.