Sacramento Spinal Cord Injury Attorney
If you or a loved one has suffered from a spinal cord injury caused by another's negligence, you may be entitled to significant compensation. The Sacramento spinal cord injury lawyers at Rosenthal Law are ready to help.
Spinal cord injuries are often devastating for victims and families. These severe injuries can completely alter a person's ability to live a normal life, and they can lead to tremendous expenses. Our law firm has extensive experience handling catastrophic injury cases and is ready to investigate every aspect of your case in order to secure the compensation you need.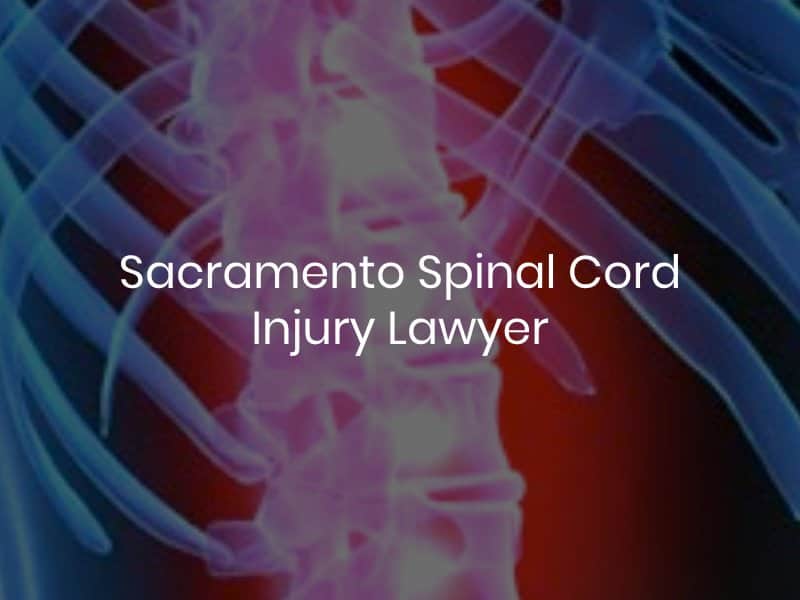 Content
How Can a Spinal Injury Lawyer Help?
Spinal injury cases can become incredibly complex. In most cases, a spinal injury victim or their family members will not have the legal experience or resources necessary to pursue maximum compensation for their personal injury claim. A skilled spinal cord injury attorney in Sacramento will be able to handle every aspect of your claim. An injury attorney will be responsible for:
Obtaining all evidence related to the incident, including any video surveillance, car accident reports, eyewitness statements, and more.
Working with trusted medical professionals and personal injury specialists to ensure you receive adequate care and that your total expected losses are properly calculated.
Negotiate with every party involved, including insurance companies, to ensure you receive fair compensation for your severe injuries.
How Much is My Spinal Cord Injury Case Worth?
It can be difficult to understand how much each individual case is worth. There is no standard amount that is awarded to victims who sustain spinal injuries. The total amount of damages a victim will receive depends on the specifics of their particular personal injury case. Depending on the severity of the injury, total compensation may vary widely.
According to data available from the National Spinal Cord Injury Statistical Center (NSCISC), we can see that the costs associated with spinal cord injury cases are significant. According to the NSCISC, medical costs associated with these injuries range from $375,196 to $1,149,629, depending on the severity of the injury (with total paralysis costing the most).
The NSCISC breaks down an estimated total lifetime cost of these injuries based on the age of the victim. For example, a 25-year-old victim who sustains spinal cord injury can expect the lifetime costs of medical care to range anywhere from $1,700,000 to more than $5 million. A 50-year-old victim who sustains a spinal injury can expect lifetime medical treatment costs to range from $1,200,000 to nearly $3 million.
What Damages Can I Recover?
When examining the figures provided by their NSCISC, we can see that an injury victim may be entitled to significant damages if their injury was caused by another's negligence. There are various types of compensation that may be available for these cases, including the total cost of medical care discussed above.
However, it is important to understand that these figures only include medical costs, and not other "hidden expenses" related to spinal injuries. Other types of damages that may be recovered in a personal injury case include:
Lost income if a victim can no longer work.
Out-of-pocket expenses related to travel to and from medical visits.
Costs associated with home or vehicle modification to aid in a victim's mobility.
Loss of personal enjoyment damages.
Pain and suffering damages (mental anguish, depression, anxiety, etc.).
Determining the total costs that a spine injury victim incurs can be incredibly difficult. While many of the expenses mentioned above are calculable, others cannot be as easily calculated. For example, medical expenses can be calculated by gathering medical bills, and lost wages can be calculated by looking at various income statements. However, calculating an injury victim's pain and suffering and loss of enjoyment of life is much more subjective. These damage amounts are often calculated by taking the total economic losses and multiplying them by a certain number (1.5 to 3).
Types of Spinal Injuries
Not all spinal cord injuries are the same. The NSCISC breaks down four levels when it comes to spinal injuries:
Incomplete tetraplegia (47.2%)
Incomplete paraplegia (19.6%)
Complete paraplegia (20.2%)
Complete tetraplegia (12.3%)
Tetraplegia, also known as quadriplegia, is generally described as the condition of someone who sustains a spinal injury anywhere from the C1 vertebrae (cervical vertebrae) to the T1 vertebrae (thoracic vertebrae). This type of injury often results in a loss of feeling and/or movement of all four limbs as well as the torso.
Paraplegia is a spinal cord injury that is defined as the loss of lower limb movement but does not generally affect the arms. Paraplegia generally occurs when a person sustains an injury the spinal cord anywhere from the T2 vertebrae to the S5 vertebrae (sacral vertebrae).
It is important to understand that spine injuries vary in their levels of severity for victims. Two people who sustain an injury to their T2 vertebrae may experience completely different levels of injury severity. One may make a full recovery while the other may sustain a permanent disability.
What are the Major Causes of Spinal Cord Injuries?
The National Spinal Cord Injury Statistical Center says that there are around 18,000 new spine injury cases each year in the United States. The NSCISC states that vehicle accidents are the leading cause of spinal injuries, but that these injuries occur in a variety of ways. Their data shows the following as the top causes of spinal injuries:
Vehicle accidents (38.6%)
Falls (32.2%)
Violence (14%)
Sports and recreation incidents (7.8%)
Medical or surgical mistakes (4.2%)
Other (3.2%)
When discussing vehicle accidents, it is important to note that this includes all types of traffic crashes, including the following:
Auto accidents
Motorcycle accidents
Bus accidents
Falls that cause spine injuries can occur in a variety of locations, and these incidents are often linked to workplace accidents. Falls are also commonly caused by the negligence of property owners that results in harm to visitors.
The NSCISC says that the average age of a spinal cord injury victim in the United States is 43 and that males are much more likely to sustain spinal injuries (they make up 78% of new cases each year). According to the data, non-Hispanic white individuals are more likely to suffer from spinal cord injuries (58.9%), followed by non-Hispanic black individuals (23.9%), and Hispanic individuals (12.8%).

Proving Liability in a Sacramento Spinal Injury Case
Anytime a spinal injury is caused by the careless or negligent actions of another person, entity, or business, one of the most important things will be to establish liability. Spinal cord injuries will need to prove various elements in order to recover compensation in these cases. This includes showing that the at-fault party owed a duty of care to the victim. Victims must then show that there has been a breach of duty.
For example, vehicle drivers owe a duty of care to other drivers and passengers around them on the roadway. If they fail to operate a vehicle safely (i.e. drunk or distracted driving), then they have breached their duty to others around them. After showing that a duty of care existed and that the duty was breached, a victim will need to show that the breach of duty caused the accident that resulted in the spinal cord injury.
This is just one example of how these cases could arise and how liability could be proven. Every case is different. Other injury cases may involve employer negligence or medical malpractice. However, the basic fundamentals of each case will remain the same – duty, breach, injuries, and damage.
Is there a Time Limit for Spinal Cord Injury Claims in California?
Each state is responsible for setting a time limit on how long victims have to file lawsuits against alleged negligent parties to recover damages. In California, the statute of limitations for personal injury claims is typically two years from the date the injury occurred. The statute of limitations for injuries caused by medical negligence is three years from the date the injury occurred or from the date that the medical negligence was discovered.
It is vital to keep these statutes of limitation in mind when pursuing personal injury claims to secure compensation. An experienced Sacramento spinal cord injury lawyer will ensure that all claims are filed on time and that all court deadlines are met.
Contact Our Sacramento Spinal Cord Injury Attorney
If you or somebody you love has sustained a spine injury that was caused by the negligence of another person, company, or entity, seek legal assistance from our law office as soon as possible. At Rosenthal Law, our skilled and experienced spinal cord injury attorneys will get to work investigating every aspect of your case in order to secure the compensation you need.
We will not hesitate to take on aggressive insurance carriers. We have no problem taking your case all the way to trial if necessary. When you need a Sacramento spinal cord injury lawyer, you can contact our law firm online for a free consultation of your case or call (916) 774-7200. We are passionate about helping our clients recover financial compensation for their serious injuries.