Senior Pedestrian Safety
One of the most common tips that doctors give the senior citizen is to walk if they are able to, and to do so regularly. In fact, there is a reason that so many fitness companies are marketing products like step counters and exercise apps to seniors. This is a growing and healthy trend. However, pedestrian safety for senior citizens has become a serious concern, particularly in and around major urban areas. Pedestrian accidents can lead to significant injuries, but there are various safety tips that can help increase senior pedestrian safety.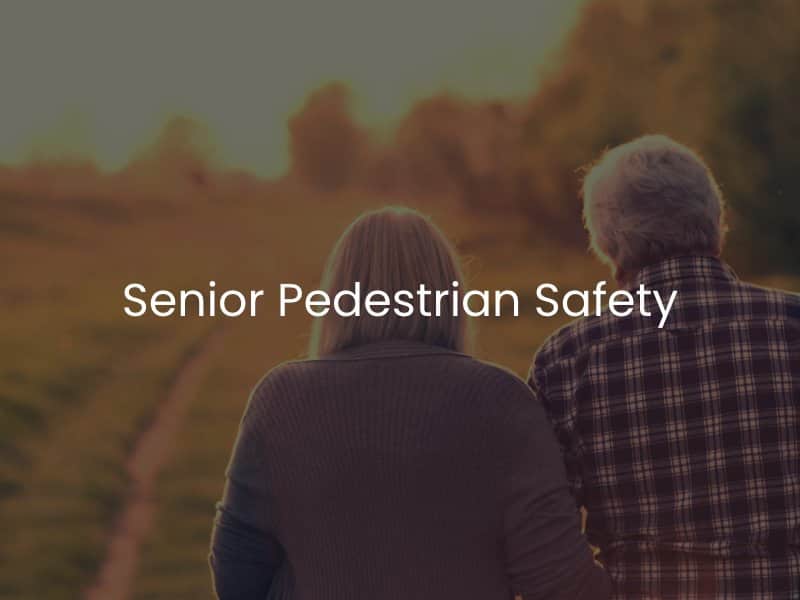 The Main Dangers That Senior Pedestrians Face
There are some significant dangers that pedestrians can face, though these dangers will vary depending on the exact type of location (i.e. urban, rural, suburban, etc.):
No sidewalks present. When there are no sidewalks, this presents dangers to any person in or around the roadway.
Intersections without lights or areas with no intersections at all. If there are no traffic lights at intersections or if there are no intersections at all, this can create confusion about who has the right-of-way.
Fast-moving traffic. Anytime vehicles are moving at a high rate of speed, this poses a significant risk to senior pedestrians. When traffic is moving quickly, drivers are often unable to stop when a pedestrian is on the roadway.
Evening or nighttime walking. Anytime a senior citizen is walking at night, they have to contend with the limited visibility of drivers.
Impaired drivers. Drivers impaired by alcohol or drugs are much more likely to crash into a pedestrian in or around the roadways.
Safety Tips for Senior Pedestrian Safety
The number one way to achieve pedestrian safety is to develop good habits when you go out walking or exercising. Senior citizens should always take care to:
Cross streets at designated crosswalks or intersections. Senior citizens should try to avoid walking in areas where there are no crosswalks or intersections. These designated areas will give a person more time to cross the street.
Make eye contact with drivers. Anytime you are in or around the roadway and a driver is nearing, make eye contact with them before crossing the street.
Give extra time to cross the street. Yes, senior citizens slow down a little bit as they age, so they need to give themselves some extra time to cross the street.
Walk only in areas where there are sidewalks. If at all possible, senior citizens should try to walk only where there are sidewalks to reduce the chances of walking near moving vehicles.
Increase visibility. Whether you are walking during the day or the evening, you should wear brightly colored clothing or even reflective clothing so drivers can see you.
Pedestrian Accidents Are Not Uncommon
Data available from the California Office of Traffic Safety shows that there were more than 14,000 total pedestrian accident injuries during the latest reporting year across this state. During that same year, nearly 1,000 people lost their lives in pedestrian accidents. Those who survive these incidents often sustain severe injuries, including traumatic brain injuries, spinal cord trauma, broken and dislocated bones, internal organ damage, and more.
Pedestrian safety is critical for all age groups, and senior citizens are no exception. Walking, jogging, and running are essential for your health, but so is safety. Follow the tips that we mentioned here and you will be one step closer to preventing a serious accident.