Can You Recover Damages For Falling on an Uneven Sidewalk or Street?
Sustaining a slip or trip and fall injury as a result of an uneven sidewalk or street often results in serious injuries. However, is it possible to hold other individuals responsible when recovering compensation for these types of incidents? Here, we want to discuss the process of recovering damages after an injury caused by an uneven street or sidewalk in California.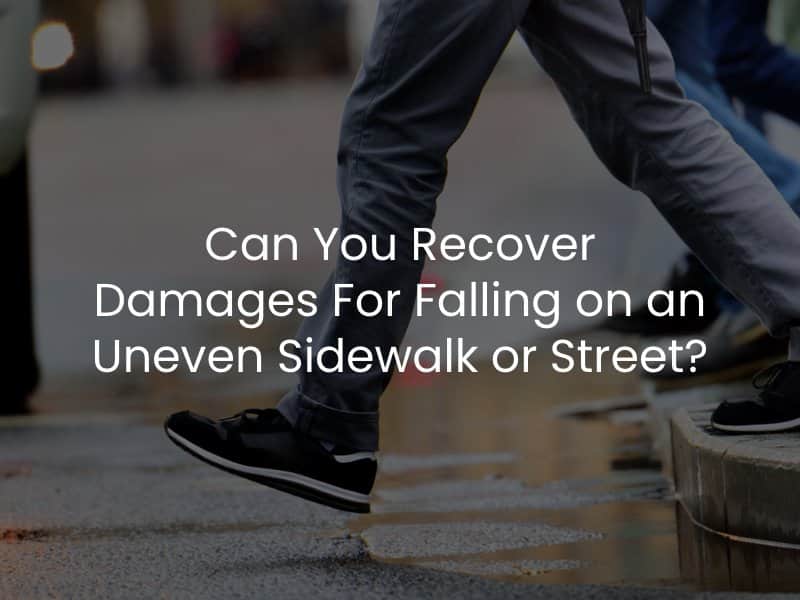 Slip and Fall Injuries Caused by an Uneven Street or Sidewalk
Walking along an uneven surface is treacherous but often necessary, depending on your particular needs and where you need to go. However, in many cases, individuals may not even see uneven walking surfaces or streets before they trip over the hazard.
Streets and sidewalks are particularly dangerous areas when it comes to trip and fall incidents. When a person trips as a result of an uneven walking surface, they often have nowhere to go on the way down except for another hard surface. Unfortunately, trip and fall incidents that occur on streets and sidewalks are likely to cause one or more of the following injuries:
Fractured or dislocated bones
Significant sprains or strains
Major bruising or contusions
Lacerations or puncture wounds
Traumatic brain injuries or a concussion
Road rash
Any type of injury that occurs as a result of a slip and fall on an uneven street or sidewalk is likely to result in significant medical expenses for the person involved. They need to have a way to recover compensation.
Examining The At-Fault Party
The issue with a slip and fall or trip and fall incident is determining who is liable for causing the hazardous condition in the first place. In almost all situations, there will be some type of entity, whether that be a private entity or government entity, responsible for the maintenance of the sidewalk or street area.
In the event a private individual, company, or entity is responsible for the sidewalk or street where the trip and fall incident occurred, it may be possible to file a civil personal injury lawsuit against the at-fault party to recover compensation. In these situations, it needs to be shown that the individual or entity had a duty to ensure that the street or sidewalk area was safe for any person who had a right to be there. If it can be shown that they breached this duty of care and that this breach caused the injury, then the victim may be able to recover compensation for their losses.
In the event a government entity is responsible for the area where the trip and fall incident occurred, the process of filing the claim will be more challenging but certainly not impossible. Claims against a government entity in California must be filed through the California Tort Claims Act, which allows government entities to be held responsible in limited circumstances.
In order for a person to bring a lawsuit against a government entity in California, they must file a claim with the agency within six months from the date the injury occurred. The process of the government claim is more challenging than a traditional personal injury lawsuit. We strongly encourage you to work with a skilled Sacramento premises liability attorney regardless of whether or not your claim is with a government entity or a private entity.