What to do After a Boating Accident
If a person sustains an injury or property damage in a boating accident caused by the negligent or intentional actions of another party, they should be able to recover economic and non-economic compensation for their losses. However, there are various steps that boat accident victims should take both immediately following the incident as well as in the days and weeks that follow to help ensure their claim goes smoothly.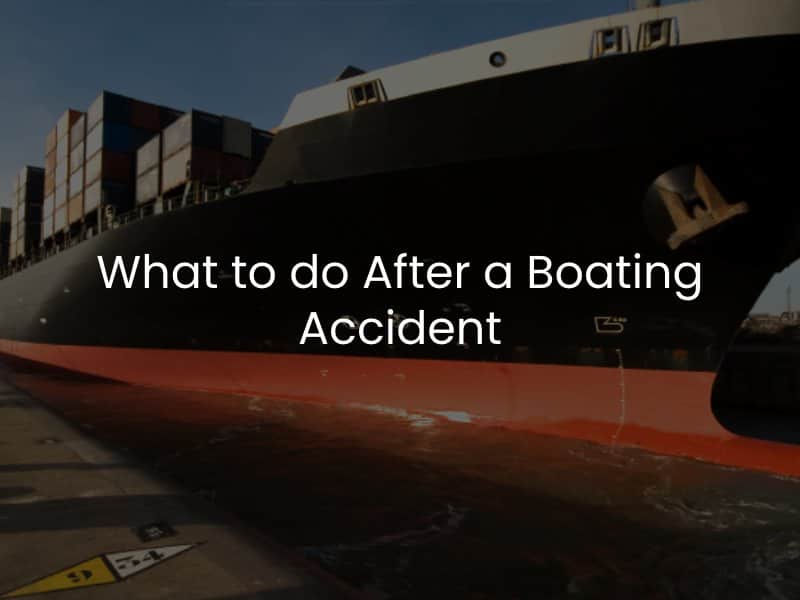 Ensure Everyone's safety
The first priority after a boating accident is to ensure everyone's safety. Check if anyone is injured and call for medical help if necessary. If someone is in the water, make sure they have a life jacket and try to bring them to safety.
Document the Accident
Using a phone or another camera, take photos of the boat accident scene, including any damages to the vessels involved, injuries, and the surrounding area. Write down the date and time of the accident, the location, and the weather conditions. This information can be helpful when dealing with insurance claims and legal proceedings.
Exchange Information
Exchange information with the other party involved in the accident, including names, contact information, boat registration numbers, and insurance information. This will be helpful when filing insurance claims and determining liability.
Report the Accident
In California, it's mandatory to report a boating accident if someone is injured or killed or if there is property damage exceeding $500. You must report the accident to the California State Parks Division of Boating and Waterways within 48 hours of the accident.
Seek Medical Attention Quickly
Even if you feel fine after the accident, it is important to seek medical attention. Some injuries may not show signs or symptoms right away, and it is better to be safe than sorry. Your health is the priority. Medical records will also be useful in insurance claims and legal proceedings.
Continue all medical treatments recommended by your doctor. Discontinuing care before a doctor recommends doing so could jeopardize any eventual compensation you are entitled to.
Contact Your Insurance Company
Contact your insurance company soon after the accident. Provide them with all the information you have gathered, including photos, witness statements, and police reports. Your insurance company will initiate the claims process. When you talk to your insurance carrier, you do not need to go into very many details at first. Let the insurance carrier know that the incident occurred and that you were seeking treatment for your injuries. Refer any further questions from insurance carriers to your attorney.
Consult with an Attorney
If you or anyone else was injured in the boating accident, it is important to consult with a boat accident attorney. An attorney can help you understand your legal rights and options and guide you through the legal process.
When you work with an accident attorney, you will have someone by your side handling the entire claim. This includes conducting the initial investigation and any ongoing investigation needed, speaking to all eyewitnesses involved, and obtaining assistance from trusted professionals. Your attorney will handle all negotiations with any person involved in the boating accident and dispersing compensation. If necessary, your lawyer will file a personal injury lawsuit on your behalf against the alleged negligent parties.