Is Paralysis Always Permanent?
Accidents can lead to severe injuries, including spinal cord trauma or a nerve injury that causes paralysis. When most people think of paralysis, they think that this is a permanent condition that a person will have to adapt to. In truth, there are times when paralysis is permanent. However, there are also times when victims are able to regain movement in paralyzed areas. Recovery from paralysis depends on a range of factors, including the severity of the original injury, how quickly a person was able to receive medical care, and the intensity of the rehabilitative treatments.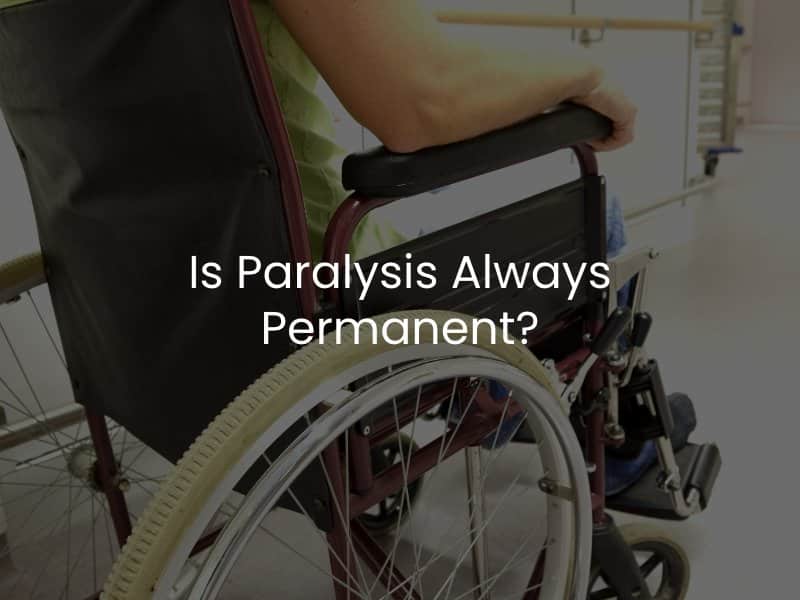 Understanding Temporary Paralysis
Paralysis occurs anytime a person loses movement or sensation in a part of their body. In general, we will see that there are two main types of paralysis – localized paralysis and generalized paralysis.
Localized paralysis impacts a specific part of the body
Generalized paralysis can affect different areas of the body
All paralysis injuries can range in severity. Sometimes, paralysis is only temporary, and a person is able to regain function after undergoing medical care and rehabilitative treatments. However, there are times when injuries are so severe that the paralysis results in a permanent loss of function.
When paralysis is temporary, a medical treatment plan can help a person regain movement, sensation, and strength.
What are Some Causes of Temporary Paralysis?
Temporary paralysis can occur in a wide variety of ways. In some cases, temporary paralysis is caused by an injury to a certain part of the body. Some of the most common causes of temporary paralysis include vehicle accidents, slip and fall accidents, defective product incidents, medical malpractice, sports and recreation accidents, violence (including assault and gunshot wounds), and more.
However, there are also times when temporary paralysis is caused by a genetic mutation or condition that a person has had since birth. It is not uncommon for individuals to suffer from temporary paralysis early in their life and then regain movement as they grow older and undergo treatment and rehabilitative therapy.
Can You Recover Compensation for Temporary Paralysis?
If a person sustains temporary paralysis due to the careless or negligent actions of another individual, it is entirely possible for them to recover compensation for their losses. The truth is that temporary paralysis can result in hundreds of thousands of dollars in medical bills for the victim. Medical care and rehabilitative treatment can be incredibly costly, as can the lost wages a person may incur if they cannot work due to the temporary paralysis. Additionally, any person who loses mobility or sensation in part of their body will likely suffer from extensive emotional and psychological drama as a result of the paralysis.
With assistance from a skilled Sacramento spinal cord injury attorney who specializes in paralysis cases, injury victims may be able to recover a significant amount of compensation for their losses. An attorney will fully investigate the incident in order to determine liability. They will pursue all routes of securing compensation, which can include settlements with insurance carriers or a personal injury trial against the at-fault party. There will be various types of compensation available for those who are successful in their case against an at-fault party, including:
Complete payment of medical bills related to the temporary paralysis
Recovery of lost wages if a victim cannot work
General household out-of-pocket expenses
Pain and suffering damages
Loss of enjoyment of life damages
The total amount of compensation will vary based on the facts related to each particular situation. A personal injury attorney will work with trusted medical and economic experts to properly calculate the total losses.