How to Find Out If Someone Has Car Insurance
California law mandates that all vehicle owners carry insurance to ensure that there is someone to pay expenses in the aftermath of an accident. State law requires that all drivers carry at least $15,000 of bodily injury liability coverage per person and $30,000 of bodily injury coverage per incident. Additionally, drivers must carry $5,000 in property damage liability coverage.
However, how can you find out if someone has auto insurance after an accident occurs? Additionally, what happens if the at-fault driver does not have insurance?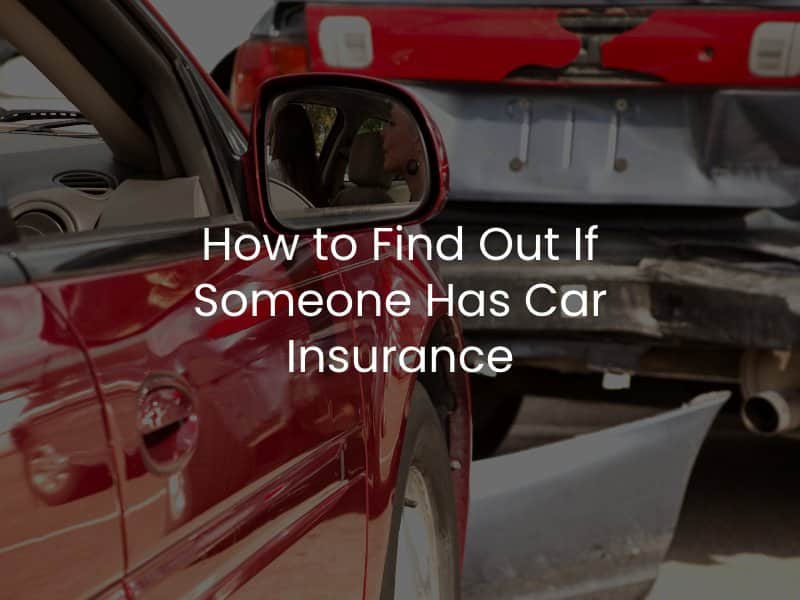 How to Find Out if a Driver Has Insurance
You really do not need to know if a person has auto insurance unless you are involved in an accident with them. When an accident occurs, it is crucial that you report the accident to law enforcement officials so they can come to investigate. Just about every accident that occurs in California must be reported to the police, particularly if there are injuries, a death, or even relatively minor property damage.
The police officer that comes to the scene to fill out the report will gather the insurance information of all drivers at the scene. This information will be put into the police report that will be made available to those involved a few days or up to a week after the incident occurs.
In many cases, drivers may feel comfortable talking to the other person at the scene and asking other drivers to provide their insurance company name and policy number. However, if there is any hostile party at the scene of the incident, you need to let law enforcement officials handle this process.
If property damage is relatively minor and there are no injuries, it may be possible to proceed forward without involving the police. However, you still need to obtain the insurance information of other drivers involved and filed a claim with your insurance carrier.
If you fail to obtain the other driver's insurance information for some reason, you may be able to call their insurance carrier and ask if they have any insurance. You will need to provide the insurance carrier with as much information as possible about the incident and the other driver involved, and you will need to give them a valid reason as to why you are asking.
If you have been involved in an accident, you will typically report the incident to your personal insurance carrier and explain the situation to them. You can give them as much information as you have related to the other driver, and your insurance carrier will try to obtain the other driver's insurance information.
What if the Driver is Uninsured
In the event the other driver was uninsured, this can leave you in a tricky spot. The reality is that recovering compensation from uninsured drivers is difficult, if not nearly impossible. We encourage all drivers to opt into carrying uninsured and underinsured motorist coverage for these situations. If you have uninsured motorist coverage, he will be able to file a claim with your own insurance carrier, even if the other driver caused the incident. Your uninsured coverage will provide some compensation, up to the limits of your policy.