Does Homeowners' Insurance Cover Trampoline Injuries?
Trampolines are incredibly popular, and not just with children. Adults enjoy some trampoline time as well. More and more, we see "trampoline parks" pop up in larger industrial buildings to cater to this love of trampolines. However, you need to know whether or not homeowners' insurance will cover trampoline injuries. This is especially important if you plan to have a trampoline in your own backyard or if you allow your kids to go to a house where there is a trampoline.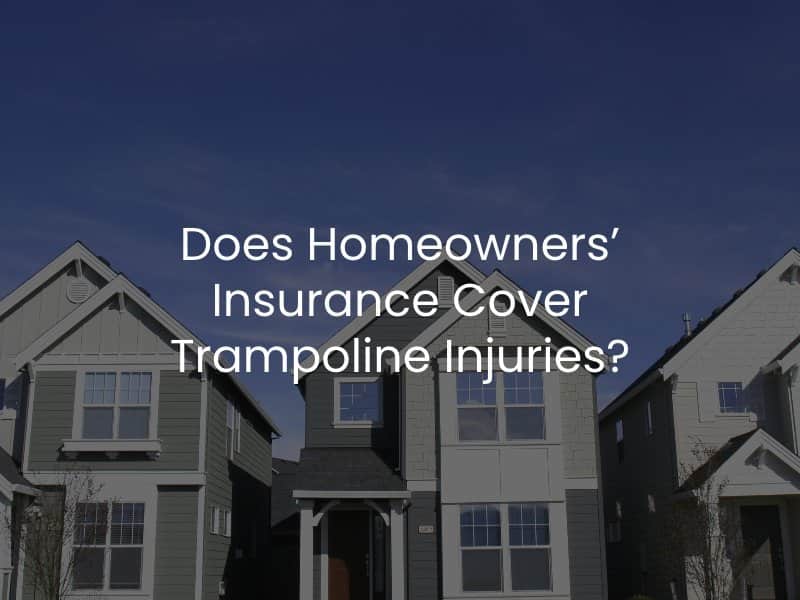 Trampoline Injury Data
It may not come as a surprise that an incredible number of injuries occur each year as a result of trampoline incidents. As trampolines, both in backyards and at trampoline parks, become more popular, injuries have increased. Information available from OrthoInfo indicates that there were more than 300,000 individuals treated for trampoline injuries during a recent reporting year.
Trampolines can lead to a wide variety of injuries. Information from the Cleveland Clinic shows that smaller children are much more likely to get hurt on trampolines than bigger children and that three-quarters of all trampoline injuries occur when there are multiple kids jumping at one time. Injuries can occur on the actual trampoline itself or as a result of individuals flying off the trampoline and hitting other objects or the ground.
Some of the most common types of injuries that occur in these scenarios include spinal cord trauma, traumatic brain injuries, broken or dislocated bones, severe sprains or strains, lacerations or puncture wounds, internal organ damage, and more.
Will Homeowners' Insurance Cover Trampoline Injuries?
Trampoline injuries can become incredibly costly for homeowners because their homeowners' insurance may not actually pay the damages associated with the injuries. Because of the tremendous expense and risk associated with a trampoline, some homeowners' association policies refused to cover trampoline-related incidents and injuries.
Not all homeowners' insurance policies are exactly alike. Often, there is specific language written into a policy regarding incidents like this. Sometimes, insurance carriers flat-out refuse to cover trampoline incidents, while others may cover injuries only if certain requirements, such as installing safety equipment, have been met.
Often, trampolines are not the only type of incident not covered. Sometimes, bouncy houses, those types that are popular at birthday parties, are also not covered. Insurance carriers could drop coverage if they discover that an individual has a trampoline or another type of excluded item on their property.
We strongly encourage you to speak to your homeowners' insurance carrier if you plan on putting a trampoline in your backyard. The last thing that any homeowner needs is their own child or other children sustaining injuries on the property, particularly when the injury will not be covered by the insurance policy. If an injury does occur to a person's own child or another child on the property, then the homeowner will likely have to pay out of pocket for these medical bills and other expenses related to the injury. Speak to an experienced personal injury lawyer in Sacramento to explore your legal options after you or a loved one was injured due to a trampoline.
If your homeowners' insurance coverage refuses to pay for trampoline incidents, we strongly recommend against putting a trampoline in the backyard.