California Wrongful Death Laws
California law allows the family members of those who have lost their lives due to the careless or negligent actions of others to file lawsuits in order to recover compensation. Wrongful death laws can be hard to understand, which is why we want to briefly summarize the most important aspects of these statutes for you here. If you have any questions about your particular case, we strongly encourage you to reach out to a skilled Sacramento wrongful death attorney in your area who can help you with every aspect of your situation.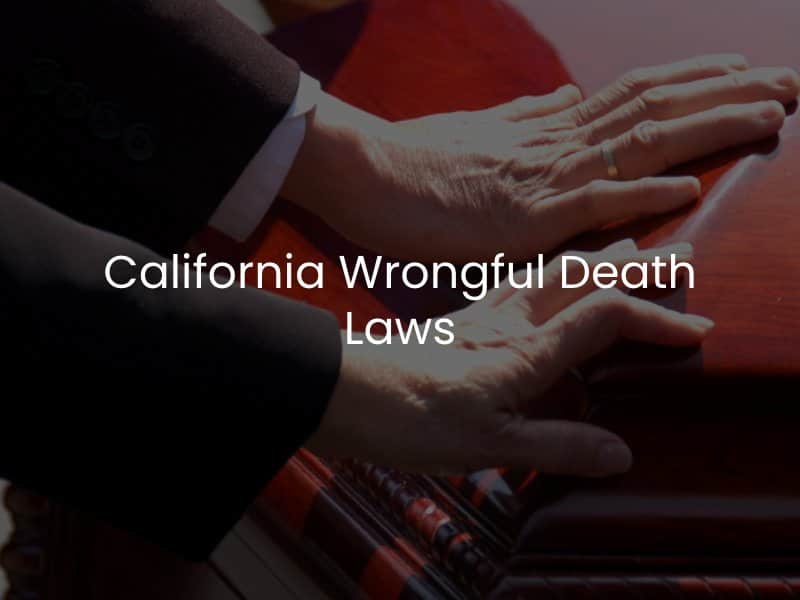 Where to Find California's Wrongful Death Law
Individuals looking to find the exact language for California's wrongful death law should look to the Code of Civil Procedure 377.60. This law specifically states that wrongful death claims can arise if a person loses their life due to "the wrongful act or neglect of another."
Who Can File a Wrongful Death Claim in California?
California law is very specific about who was allowed to file wrongful death claims in civil court. Under state law, the following family members or their personal representatives are allowed to file these lawsuits:
Surviving spouses or domestic partners
Surviving children
Surviving grandchildren (if the grandchild's parents are also deceased)
Other minor children, including stepchildren, who were dependent on the deceased for 50% or more of their financial support
Any other person may be entitled to the decedent's property through California's intestate succession laws
California Wrongful Death Statute of Limitations
In California, family members and personal representatives have a limited amount of time to file wrongful death claims in civil courts. The statute of limitations for wrongful death lawsuits is two years from the date of the deceased's passing. Failing to file these claims within the required two-year timeframe could result in family members or the personal representatives being unable to recover compensation for the death.
However, there are various reasons that these claims may be delayed, which could allow victims to file claims past this two-year timeframe. It is incredibly important to speak to a skilled attorney who has extensive experience handling these situations.
Damages Recoverable for a California Wrongful Death Claim
Damages recoverable through wrongful death claims in California are designed to compensate the heirs of the deceased for the value of the support they would have reasonably expected to receive had the deceased lived their full life.
In general, we will see that the heirs will be able to receive both economic and non-economic compensation in these situations.
Economic Damages
For a wrongful death claim in California, economic damages refer to the various types of compensation that are relatively calculable in these cases. This can include:
The financial support the deceased would have provided to their family during their lifetime
The loss of any benefits or gifts the heirs would have expected to receive from the deceased
The reasonable value of household services the deceased would have provided had they lived
Funeral and burial expenses
Non-Economic Damages
These types of losses are more immeasurable because they do not come with bills or receipts that can be directly added up. Non-economic damages in a wrongful death case can include the loss of the deceased's:
Protection
Moral support
Training and guidance
Affection
Society and companionship
Sexual relations
There is no set amount of money awarded to the heirs in these situations for economic or non-economic damages. There is also no cap or limitation in place for either economic or non-economic wrongful death damages.
What about punitive damages for a California wrongful death claim?
Punitive damages are not available through a California wrongful death claim unless the deceased lost their life as a result of a felony homicide for which the defendant has already been convicted. However, punitive damages are available through "survival actions," which are another type of civil action brought on behalf of the deceased's estate.
Are Survival Actions Different?
There is often confusion about how survival actions differ from wrongful death claims in California. These are two separate types of claims. Survival actions are brought forth under California Code of Civil Procedure 377.30.
Wrongful death claims are designed to compensate the deceased's surviving family members for their losses, but a survival action allows heirs to file a lawsuit on behalf of the deceased's estate. The compensation available through a successful survival action is designed to pay for:
Claims for the injury that caused the death, so long as the person survived their injuries for some period of time after they occurred (regardless of how short the time frame was).
Claims unrelated to the death for which the deceased had the right to sue for at the time of their death.
Another difference between wrongful death claims and survival actions is the timeframe involved with filing the claim. For a survival action, the estate of the deceased has two years to file the claim from the later of:
The date of an injury that caused the death
Six months after the death
Understanding the difference between a survival action and a wrongful death claim can be confusing, particularly because family members and the estate of the deceased are often filing these claims at the same time. We strongly recommend that you work with a skilled attorney as soon as possible in order to recover the compensation you are entitled to.
Working With an Attorney for a Wrongful Death Claim
If you have lost a loved one as a result of the careless or negligent actions of someone else in California, you need to reach out to an attorney as soon as possible. These cases can become incredibly challenging, but an attorney will be able to handle every aspect of the claim on your behalf. This will include investigating the incident, determining liability, and handling the entire wrongful death or survival action claim.