California Motorcycle Insurance Laws
The Golden State is one of the best places to ride motorcycles in the country. California offers incredible scenery that varies from beaches to mountains. In fact, California has more registered motorcycles than any other state in the country.
However, it is crucial for motorcyclists to understand that there are laws in place regarding insurance for motorcycles. A motorcyclist in this state cannot solely rely on their traditional automotive insurance policy. Here, we want to discuss the motorcycle insurance laws in California that you need to know about.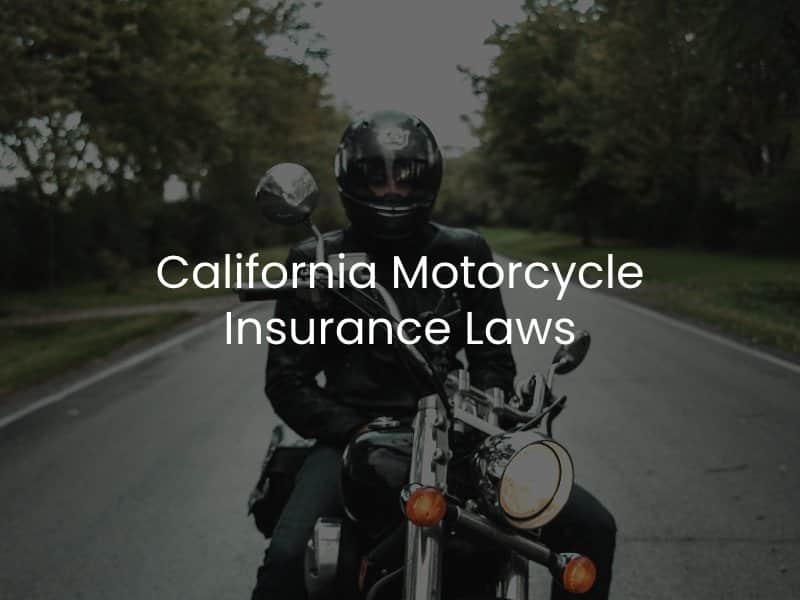 Types of Motorcycle Insurance Laws
Motorcyclists in California absolutely have to have insurance. Not only is this the smart thing to do, but motorcycle insurance is also required by law in this state. In California, every registered motorcycle must have liability coverage if it is going to operate on the roadway. This ensures that motorcyclists are able to pay for property damage and bodily injuries if they cause an accident.
However, as we discuss the types and amount of insurance that each motorcyclist must have, it is important to note that the minimums we talk about here will not cover the motorcyclist's own injuries or property damage in the event they are involved in a crash that they cause. Motorcyclists should consider purchasing additional insurance to ensure that they and their passengers are fully protected.
In California, the insurance minimums that motorcyclists must carry are the exact same as they are for those who drive traditional passenger vehicles in California. However, just because they are the same amounts does not mean that a motorcycle rider only needs to have their auto insurance policy. Any person who owns a motorcycle must have a separate insurance policy specifically for their motorcycle. The minimum insurance requirements for motorcyclists in California include the following:
$15,000 for bodily injury incurred by another person
$30,000 for bodily injury to others involved in the accident
$5,000 for property damage caused by a collision
The amounts that we mentioned above are only the minimums required, and we recommend that all Sacramento motorcycle riders purchase additional coverage to ensure that every party is protected in the event a collision occurs. Particularly, we strongly recommend that motorcyclists purchase uninsured and underinsured (UI/UIM) motorist coverage. This is not mandatory but will be crucial if a cyclist is struck by an uninsured or underinsured driver.
Additionally, motorcycle drivers in California should consider purchasing collision coverage to help cover property damage expenses if they are at fault for an accident as well as MedPay coverage to cover personal injury costs if they cause a crash.
How an Attorney Can Help After a Motorcycle Crash
If you or somebody you care about has been injured in a motorcycle crash caused by the careless or negligent actions of another driver on the roadway, you need to speak to a skilled motorcycle accident lawyer in Sacramento as soon as possible. These cases can become incredibly complex, and it is often difficult for a motorcyclist to prove the liability of the other driver(s) involved.
However, an attorney can use their resources and legal expertise to obtain any evidence needed to prove viability and help secure full compensation for your losses. An attorney will be your advocate and will stand up to aggressive insurance carriers and at-fault parties so you can focus on recovering and being with your family.