Airbag Injuries
An automobile's airbags should save lives and prevent serious injuries, not cause them. Yet every year, crash victims suffer painful and debilitating physical injuries when they collide too hard with airbags or when these safety devices malfunction.
If a medical examiner or crash investigator determines you suffered your injuries because of an airbag, consult with the personal injury attorneys at Rosenthal Law. You may be eligible for compensation for your injuries from the airbag manufacturer or another party.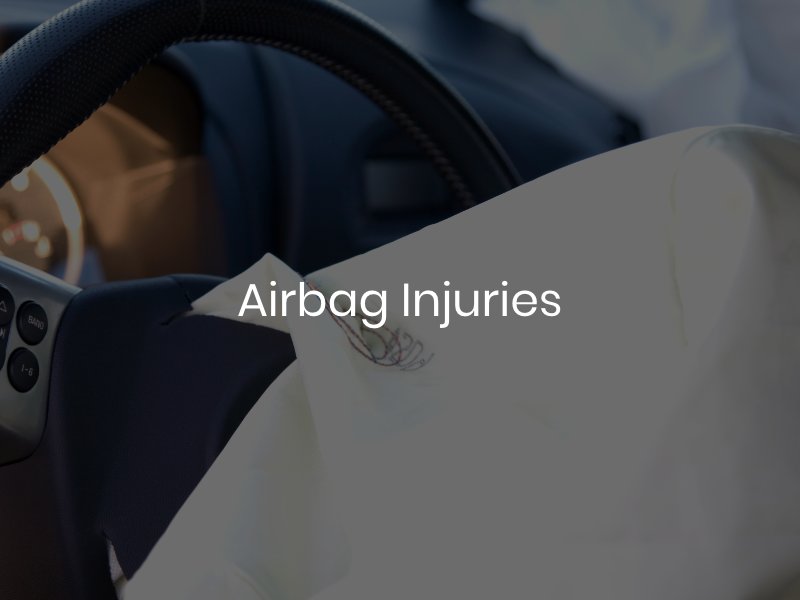 Common Types of Airbag Injuries
Airbag injuries can stem from the airbag striking the passenger with too much force, the chemicals used to deploy the airbag causing burns or skin irritation, the airbag failing to deploy, the airbag deploying spontaneously, or the airbag exploding due to a product defect. Throughout the past few decades, the number of airbag-related injuries has increased due to widespread product defects. A defective airbag could cause many different injuries in an auto accident.
Chemical burns
Explosion and shrapnel injuries
Chest and lung injuries
Face, eyes and head injuries
Bone fractures
Hand and arm injuries
Scars and disfigurement
Internal organ damage
Most injuries from a correctly operating airbag involve the chest, face, arms, and hands. Abrasion burns from the high speed of the airbag are also common and relatively normal. Severe or lasting chemical burns, however, may be a sign of something wrong with the airbag, such as faulty chemicals. Airbag explosion injuries also point to a defect within the device.
Airbag Injury Prevention
You can decrease your risk of suffering airbag injuries by using the device properly. Sit back from the steering wheel as much as possible. Sitting too closely can increase your risk of impact injuries if the airbag deploys. Always wear your seat belt. Vehicle manufacturers meant for seat belts and airbags to work together to protect a passenger. Never put a child in the front passenger seat without first disabling the airbag. Children are too small for airbags to work for them safely. Airbags can cause serious child injuries and deaths in car accidents.
Can You File a Claim for Airbag Injuries?
Whether or not you will have the right to file a claim after suffering airbag-related injuries will depend on the nature of the accident. If the airbag performed as it reasonably should have in an accident, you generally will not have grounds for a defective product lawsuit. If it experienced an issue or malfunction that caused or contributed to your injuries, however, the airbag manufacturer might be liable for your damages.
A common example of a defective airbag is Takata's exploding airbags. The airbag manufacturer Takata recalled roughly 56 million defective airbags due to a defect that is causing them to explode when deployed. Long-term exposure to heat and humidity can cause a breakdown of the propellant in these defective airbags. Upon deployment, the propellant can burn too quickly and create too much force, causing the airbag to explode. Defective Takata airbags have caused at least 250 injuries and 16 deaths in the U.S. alone.
What Damages Can You Recover for an Airbag Injury?
Bringing a product liability cause of action against an airbag manufacturer could result in payment for your related past and future damages. The manufacturer of the defective device could be strictly liable for your medical costs, pain and suffering, lost wages, property damages, and other losses. Your attorney will not need to establish proof of negligence in a strict product liability claim. You could receive a settlement or jury verdict in the amount you deserve for the economic and noneconomic damages you suffered due to the defective airbag without needing to prove fault.
Contact an Airbag Injury Lawyer Today
Airbag injury cases can sometimes be difficult to win. The airbag manufacturer may try to refute liability by blaming you for the injuries. Our attorneys can help you combat comparative negligence defenses and go up against large and powerful airbag manufacturers, including Takata, in pursuit of fair compensation. We can help you join a class action or mass tort, if applicable, or file an individual lawsuit. Learn about your airbag injury case today. Contact us for a free consultation.