What Is a DOT-Recordable Accident?
Accidents involving semi-trucks and other commercial vehicles can result in massive property damage and serious injuries. When a collision between traditional passenger vehicles and larger commercial trucks occurs, there will certainly be an investigation by law enforcement officials and insurance carriers. However, commercial truck accidents also involve other reporting requirements, as these are "DOT-recordable" incidents. Here, we want to discuss what a DOT-recordable incident is and stress the importance of working with a skilled truck accident attorney if you have been involved in a commercial truck accident.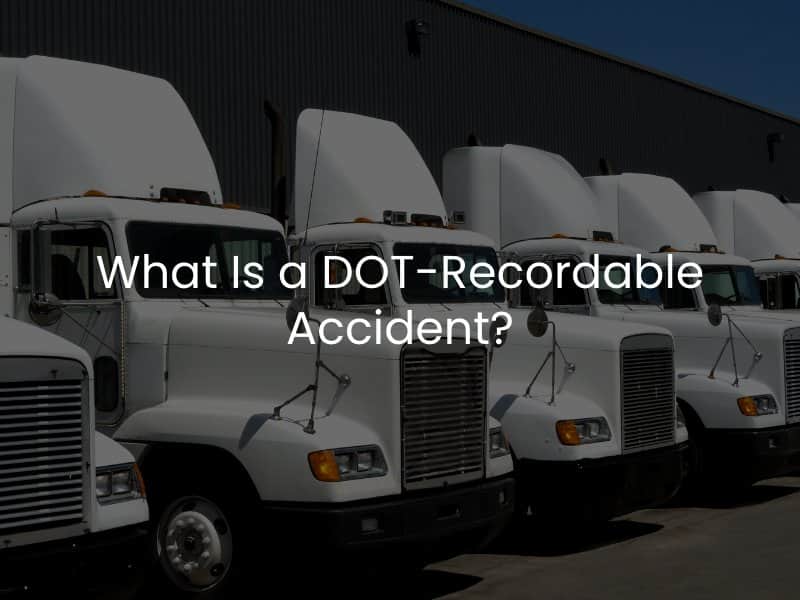 What Accidents are Considered DOT-Recordable in California?
In the state of California, nearly every vehicle accident that occurs and needs to be reported to the police. However, a typical vehicle accident that occurs on the roadways is not the same thing as a DOT-recordable accident.
When we turn to the Federal Motor Carrier Safety Administration (FMCSA), the agency that oversees commercial truck activity in California and throughout the US, we can see exactly what is defined as a DOT-recordable accident.
Turning to the Federal Motor Carrier Safety Regulations (FMCSRs), Section 390.5, a DOT-recordable accident is "an occurrence involving a commercial motor vehicle operating on a highway in interstate or intrastate commerce" that results in:
A death
A bodily injury to an individual who receives medical treatment away from the scene
One or more vehicles becoming disabled as a result of damage from the incident that leads to one or more vehicles being towed away
DOT-recordable incidents do not include any accidents that involve only the loading or unloading of cargo. These incidents often occur at distribution centers or when a truck is transferring cargo after reaching its destination.
What Information Will be in the DOT Report?
Any accident that qualifies as a DOT-recordable incident has to include the motor carrier's accident register, which is an internal document created and maintained by specific motor carriers. The motor carrier's accident register has to include the following information about each incident, according to federal law:
The date of the incident occurred
The driver's name
The name of the city or nearest city where the incident occurred
The number of injuries
The number of fatalities
Whether or not there was any hazardous material involved in the incident (aside from the fuel in the truck) released in the crash
Work With a Lawyer After a Truck Accident
We strongly encourage any person involved in an accident with a larger commercial truck to work with a skilled accident attorney as soon as possible. These claims can become incredibly challenging, particularly when working to recover compensation. Due to the size and weight of larger commercial trucks, it is not uncommon for individuals inside traditional passenger vehicles to sustain severe injuries as a result of these incidents. This can include traumatic brain injuries, spinal cord trauma, broken or dislocated bones, severe lacerations, and more.
A skilled attorney will handle every aspect of the claim, including conducting a complete investigation in order to gather evidence. An attorney will engage in negotiations with the truck company's insurance carrier and legal team in order to recover fair compensation on behalf of their client.