How Long Does The Insurance Company Have to Respond to My Claim?
When you file a valid insurance claim, you expect to receive compensation, at least to the limits of the insurance policy. However, individuals often wonder how long insurance companies have to respond to a claim. This time frame differs in various states throughout the country, but California has very strict laws about insurance company responses and payouts that you need to be aware of.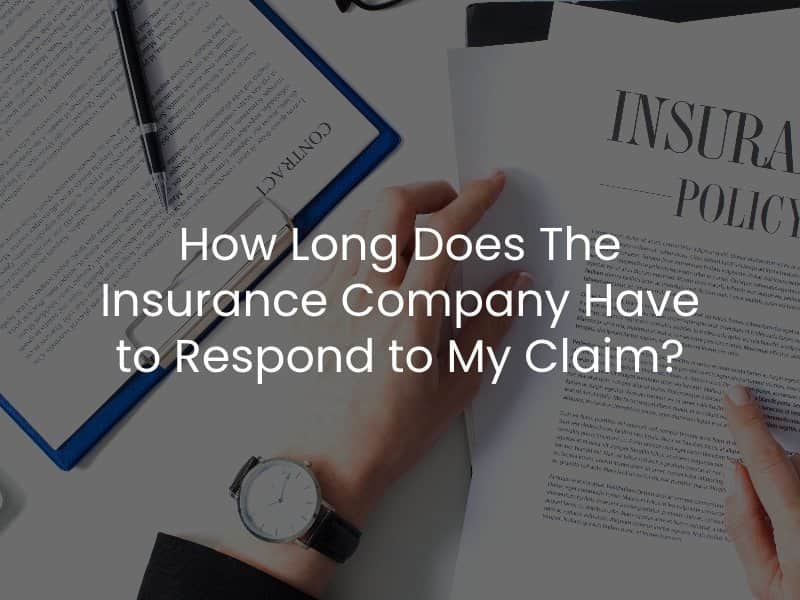 Insurance Carrier Timelines for California
There are various timelines that insurance carriers in California have to abide by, and failing to do so could result in the insurance carrier getting in trouble with regulatory agencies in the state.
15 Days
Insurance carriers have 15 days to acknowledge any claim that is sent to them. During these 15 days, they need to send the policyholder the required paperwork and instructions on how to proceed forward. At this point, the insurance carrier does not have to accept or deny a claim. This is simply an acknowledgment that a claim has been made.
40 Days
After receiving documentation from the claimant, including a completed proof of loss form(s), insurance carriers will have 40 days to make a decision. However, there are situations where the insurance carrier could extend this time frame, including if they have a legitimate reason to question the information or if they need to ask for additional information.
30 Days
If a claim is approved, the insurance carriers have 30 days to make the final payment to the claimant.
There are various factors that can affect the exact timelines involved in these cases. First, please understand that these timeframes involve business days, so it could take a few more days on top of the timelines mentioned above for an insurance carrier to respond.
Claims involving severe or multiple injuries could take longer to settle. Additionally, after incidents like vehicle accidents, there must be communication between the insurance carriers with all parties involved. If there is poor communication, this process could be slowed.
Speak to your Sacramento injury attorney about your insurance settlement. In many cases, the quickest route to a compensation check is not always the best row. Insurance carriers are notorious for offering low settlements in an attempt to get individuals to settle the claim quickly when in reality, victims should receive much more compensation.
What if the Insurance Carrier Acts in Bad Faith?
Insurance carriers are required by California law to act in "good faith and fair dealing" with claimants. If a person files a legitimate claim, then the insurance carrier is required to pay the claim per the policy agreement. Even though there are legitimate reasons that insurance carriers may deny a claim, incidents of bad faith do occur. This can include the insurance carrier taking an unreasonable amount of time to respond to a claimant or to pay out a claim.
Individuals who believe that their insurance carrier or another party's insurance carrier is acting in bad faith need to speak to a skilled attorney as soon as possible. If a bad faith claim is successful, individuals may be entitled to various types of compensation. Not only does this include the compensation they should have originally been paid, but also additional types of compensation as a result of the bad faith insurance practices.