California Collision Repair Laws And Regulations
Accidents can lead to substantial vehicle damage, and it is crucial for individuals to be able to repair or replace their vehicles promptly and properly. However, there are various laws and regulations that crash victims need to be aware of when they begin the process of getting their vehicle fixed. These laws revolve around estimates, authorized repairs, unfair practices, mechanic's liens, and more.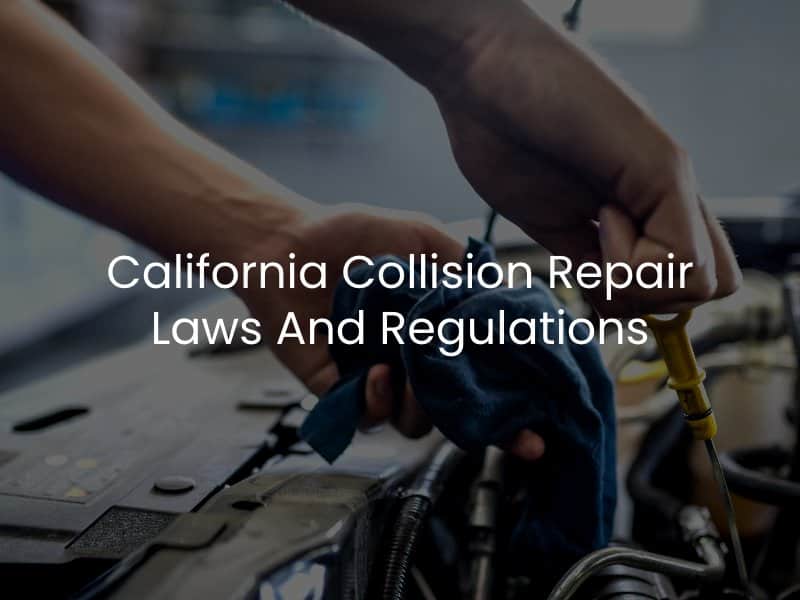 Getting Repair Estimates
Most states are going to require mechanics to provide consumers with an estimate on pricing before they begin any work on the vehicle. Some repair shops may indeed charge a fee to provide an estimate, but they must notify the customer about these fees before beginning any work. By receiving an estimate beforehand, this gives the consumer a choice to shop around for better prices. Additionally, consumers may also be burdened with requirements by the insurance carrier to get the costs lower.
Authorized Repairs
As a consumer, you do have the right to approve or deny proposed services on your vehicle. If the mechanic calls and gives you an estimate and you tell them not to move forward with repairs, they are required to comply with your wishes. If the mechanic proceeds to make the repairs and then demands payment, you will not have to pay for these unauthorized repairs so long as the repairs that were done were not a crucial part of another repair that you did order.
Unfair Practices
Consumers are protected from various types of unfair practices in California and throughout the country. It is against the law for mechanic shops to engage in unfair or deceptive practices. Some of these practices can include deceptive automobile sales or intentionally selling defective vehicles (lemons) without notifying the consumer about the defect. Repair shops must disclose certain types of information to consumers, including details of price estimates and whether or not the replacement parts were used or new.
Mechanic's Liens
If a vehicle owner does refuse to pay for repairs that have been approved and rendered, then the mechanic will have the right to keep the car. They can take out a mechanic's lean on the vehicle against the owner. These liens state that the mechanic will be the legal owner of the vehicle if the actual owner fails to pay what they owe for the repairs. A lien is a legal claim against the property, and the mechanic will have the right to either keep or sell the vehicle after a certain amount of time of non-payment.
More California Laws
California State law requires that a written price estimate be provided for any potential repair work as well as a detailed invoice that includes a breakdown of all work done and parts used for the repair. State law also requires that the owner be returned the replaced/damaged parts if they are requested at the time the repairs are ordered.
In this state, if the repairs cost more than the estimate, the mechanic must contact the vehicle owner, describe the situation that led to the higher costs, and get permission before moving forward.Vehicle owners in California that are unhappy with the quality of work will have the right to demand better repairs.
If you or a loved one was injured in a car accident and are unsure of next steps, contact an experienced Sacramento car accident lawyer to schedule a free consultation to explore your legal options.